The Dot-Com Degree Gets Real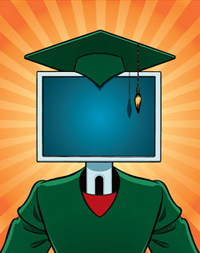 Elbert Rogers enrolled at Boston University in the fall of 1960. He graduated in 2007.
Rogers, now 64, was at BU for four years, but never earned enough credits for a diploma. Instead, he left and spent about 30 years working in corporate communications at IBM. He eventually moved to upstate New York, and while his wife became a licensed clinical social worker and their son earned a doctorate in cinema studies and became an art history professor in California, in the back of Rogers' mind there lurked thoughts of completing that degree.
"I always wanted to finish this thing that I started so many years ago," he says.
 
In 2005, when Boston University began an online undergraduate degree completion program, he got his chance. Completing a core of 16 courses ranging from biology to ethics to economics enables those with an associate's degree or equivalent credits from any college to earn a Bachelor of Liberal Studies in interdisciplinary studies. The program is part of a burgeoning catalogue of online offerings at BU, most of which are aimed at working adults beyond commuting range of Boston.
In the fall of 2002, the University had about 100 virtual students. Today, there are about 3,000, a number equal to almost 40 percent of the enrollment in the College of Arts and Sciences, bringing in around $26 million in tuition. All of this coincides with a nationwide trend. According to Boston-based education consultants Eduventures, the number of online higher education students jumped from 315,219 in 2001 to 1,518,750 in 2006, a year in which online students accounted for 8.5 percent of all students enrolled in postsecondary courses.
Just a few years after the bursting dot-com bubble seemed to doom the bold online education ventures born in the late 1990s, many universities have launched aggressive expansions. The University of Maryland already has 60,000 online students, while the University of North Carolina has 24,000 students in 90 online degree programs. Meanwhile, administrators at the University of Illinois recently announced plans to put $20 million into a Global Campus, which could enroll up to 70,000 students by 2018.
But while online programs are increasing in number, virtual degrees still suffer from an image problem. The brief history of online higher education is rife with high-profile failures and second-rate pedagogy, and its best-known incarnation is the University of Phoenix, a for-profit, publicly traded company with a largely part-time faculty guiding about 150,000 online students to a graduation rate of just 16 percent. More fundamentally, many educators and students remain dubious about how well ideas can be developed and critically evaluated without face-to-face interaction between students and their professors.
Advocates of online education argue that most of the problems have stemmed from a poor conception of what it means to teach and learn online. Today, they say, that understanding is much more developed, although it is still evolving and brimming with choices — what degrees should be offered via the Internet, how much of any given course should be Web-based, and what parts of a university should never go online. Not everyone at BU is coming up with the same answers.

Going virtual

BU's first online-only degree program, a master's in criminal justice, was developed five years ago by the Office of Distance Education with Metropolitan College. Since then, ODE has launched seven other degree programs, including a master's in management (with MET), a master's in occupational therapy (with Sargent College), and a master's and a doctorate in music education (with the College of Fine Arts), along with several certificates. Additional online offerings, which have arisen independent of ODE, include online courses in geriatric care developed by the School of Social Work and a smattering of courses from the School of Education and the College of Engineering.
"I think there's enormous potential out there for growth," says Susan Kryczka, ODE's director of distance education. "The real question is, how big do you want it to be?"
This question isn't simply rhetorical, because, as Kryczka says, putting together and administering a high-quality online course takes a lot of time, planning, and money, all precious resources at a university. In addition to providing 24-hour technical support, Kryczka's office pays professors $8,000 to develop an online course, and that process usually takes at least six months of consultation with one of ODE's instructional designers. The challenge is to translate the lectures, the assignments, and most important, the interactivity of a 13-week classroom experience into a 7-week online course. Professors almost always teach the online courses they develop, a service for which they're paid by their departments. Online students generally devote about 20 hours a week to each class, with most degree programs finishing in one to three years.
"It's a significant task," says David Whittier, a School of Education assistant professor and coordinator of the master's degree program in educational media and technology. "A lot of people have lost a lot of time and money underestimating that task." In 1999, for example, California Virtual University, a two-year-old joint venture between the University of California and the California State University systems, shut down for lack of funds. NYUonline and Virtual Temple were abandoned two years later.
Effective online teaching requires substantial reworking of traditional course design, says Whittier, who teaches a graduate-level online course about, as it turns out, designing online courses. "It's easy to think you can simply set up a discussion board and people will just start discussing things," he says. But to spur involvement, "discussions need to have very productive and purposeful prompts and questions. They also need to be graded."
In fact, BU's online courses tend to be very methodical, with weekly introductions and statements of learning objectives. A menu along the side of each course page includes links to discussions, assignments, chats, and assessments, most of which have deadlines, as do exams, which are typically done in one timed sitting.
In traditional classrooms, professors often interrupt their lectures with questions and requests for student response, while the online alternative is to break up lectures into multiple assignments or discussions prompted by a short text or a multimedia presentation.
For instance, when students in a Summer Term online arts criticism course rolled their cursor over highlighted phrases in selected published reviews, popup windows featured mini-lectures by their professor, arts critic Bill Marx, about why that particular phrase helps or hurts the review. Marx, a CFA lecturer, taught this same course in a brick-and-mortar classroom last spring. A big issue in the online course was knowing what to leave out in a realm of seemingly infinite space and contextual links, he says, and "how much of a more traditional lecture to use versus exploiting all the goodies that the Web and multimedia can bring."
        
The human touch
Another issue, Marx says, is the challenge of replacing the immediacy of a shared classroom with e-mails, webcasts, and discussion boards.
"In the classroom, I can look into students' eyes and tell them exactly what I think at the moment," he explains. "So the challenge is, how do you capture some of the intimacy you need in a writing class, to really roll up your sleeves and work on someone's sentences, but to do so long distance?"
This is what people in online education circles call "transactional distance." As Whittier puts it, the bandwidth of face-to-face interactions — their immediacy, energy, subtlety, and flexibility — simply cannot be duplicated online, no matter how fast your Internet connection.
"If you try to push ideas really hard online, there's a much greater risk of misunderstanding," he says. "An online course is not going to be the same as an on-site course. But it can be equivalent, and that's what we strive for."
Exactly how equivalent online classes are, of course, is debatable. Some professors, such as Abdulmaged Traish, a School of Medicine professor of urology and 2006 winner of the University's highest teaching honor, the Metcalf Cup and Prize for Excellence in Teaching, remain unconvinced.
"I think technology is a wonderful tool for supplementing lessons," says Traish, "but it cannot really be a substitute for provoking critical thinking and asking the tough questions that can't always be answered. For that you need the human touch."
But others believe that given the right elements of course design, students can be just as engaged with ideas encountered in cyberspace.
"I have not seen a degree that we couldn't successfully put online," says Kryczka. "Case studies, simulations, courses with a lot of interaction — we can do it."
"We've put in mechanisms so that the students are always interacting," says Karen Jacobs, a Sargent College clinical professor and director of the school's online occupational therapy degree programs, which added a doctorate program this fall. "There's interactive media in each week's material," she says, "so the student might be reading for three or four minutes, and then there's an opportunity to interact" or begin an assignment that most often "the student can apply to his or her own workplace."
To encourage that interaction, students are paired up with fellow classmates as "peer partners." They connect with one another via webcam to discuss course issues and assignments or simply to chat. Indeed, some online alums say the Internet is more conducive to learning than a traditional classroom.
Jennifer Wojcik (CFA'07), chair of performing arts at the Gunnery, a Connecticut boarding school, who earned an online master's in music education, says the flexible schedule allowed her to do classwork when she was alert. She contrasts her online experience with an on-site musicology master's she began (but never finished) at SUNY Stonybrook some years ago. The online students are better prepared, she contends, because reading-based discussions are mandatory, and a failure to speak up is even more conspicuous online than it is in a classroom.
"There is really no room in my life to sit in a 90-minute class starting at 7:30 p.m. with a bunch of tired teachers who don't do their homework," she says of her Stonybrook experience.
"I think that online you write at a deeper level than you might talk in a classroom," says Sheila Szafran (SAR'06), program manager of an occupational therapy practice in Maine, who earned a master's in occupational therapy online. "We had 24-hour-a-day access to each other, and so there was a real intensity of involvement and relationship-building and professional development. I don't think you can get that in a classroom."
But avid violinist and composer Tim Johnson (CFA'11), an engineer with AT&T in California, who is earning an online doctorate in music education, does see limitations in virtual classmates, even while he considers his courses "incredible, interesting, and challenging."
"I often find myself wishing I could meet my colleagues face-to-face, especially when controversial discussion takes place," Johnson says. Indeed, the 40-odd BU professors and administrators involved with teaching via the Internet also value face-to-face discussions. Last spring, under the auspices of BU's Center for Excellence in Teaching, they decided to meet periodically over lunch to discuss online education issues.
Tomorrow, part two: What Not to Web.
Vicky Waltz contributed to this story.
Chris Berdik can be reached at cberdik@bu.edu. Vicky Waltz can be reached at vwaltz.bu.edu.