Literature & Language
Literature
Getting Started on Literature on Africa
How to Not Discuss African Fiction by Ainehi Edoro
This excellent short piece by Ainehi Edoro highlights common biases that are made when evaluating African literature. A must read!
Tips and Ideas on teaching African Literature
A selection of books, poems, epics, and short stories to begin teaching African literature in elementary, middle or high school.
Criteria for Evaluating Materials on Africa
Africa Access has developed key questions and criteria to consider when assessing children's and adult literature on Africa.
A Guide to Selecting Multicultural Literature: Separating the Wheat from the Chaff
An article by Barbara Brown on using literature to foster an inclusive and culturally responsive curriculum.
Selecting Books on Africa, A Response to "Safari Sojourns"
This article, written by Barbara Brown, Lesego Malepe, and Jo Sullivan, published in Moral, Social and Civic Issues in 1996 discusses key criteria for using African children's literature, including an emphasis on children's lives, a focus on one country, and other useful approaches.
How to Write about Africa, by Binyavanga Wainaina
A good place to start with middle school or high school students may be Binyavanga Wainana's satirical essay that critiques the ways Africa has been written about in Western texts. Originally published in 2005, this short text has become a classic.
Literature on Colonialism


An annotated list of literature to use when teaching about colonialism and resistance.

African Literature Worksheet
A short list of questions to ask your students as they read texts about Africa, developed by Anne Sirkin.
African Literature Group at the African Studies Center, Boston University
This adult group has been meeting for over 10 years to read and discuss African literature. Click to see what books they have read over the years (with short summaries).
Children's Africana Book Awards
The Children's Africana Book Awards (CABA) are presented annually to the authors and illustrators of the best children's and young adult books on Africa published or republished in the U.S. Africa Access and the Outreach Council of the African Studies Association (ASA) created CABA in 1991 to encourage the publication and use of accurate, balanced children's materials about Africa.
CABA has three major objectives (1) to encourage the publication of children's and young adult books that contribute to a better understanding of African societies and issues, (2) to recognize literary excellence, and (3) to acknowledge the research achievements of outstanding authors and illustrators.
The awards are presented in three categories: Young Children, Older Readers and New Adult (books marketed to adults but suitable for mature teens).
Congratulations to the 2020 CABA Award Winners!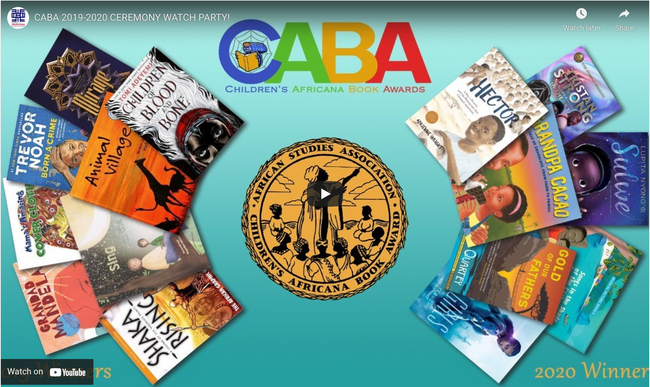 Bibliographies & Read-Alouds
Sankofa Read-Alouds 
This youtube Channel features hundreds of African and African American children's picture books, read-aloud in their entirety. For teachers seeking to provide e-books to students who may not have access to libraries or may not be able to buy them, this is a most excellent resource to promote engagement with African and African American literature.
Audiobook Excerpts: The Caine Prize in African Literature has a Soundcloud, with over 40 tracks of read excerpts from winners and shortlisted books.
Curriculum Units & Lesson Plans
Spoken Word Poetry Unit Featuring Malagasy Slam Poet Caylah


Created by high school teacher and 2018 Curriculum Development Grant recipient Lee Naughton, this unit plan on spoken word poetry emphasizes the importance finding one's voice in order to affect change. The unit includes an overview of Madagascar and Malagasy Slam Poet Caylah as a means by which to globalize youth issues such as representation and gender rights, among others, and encourage students to develop their own slam poetry in a culminating class project. 

Language as Evidence: Using Swahili to Understand East African History
World history teacher Eric Beckman created a resource-rich website for educators to teach about East African history and contemporary society through classroom study of the Swahili language. These lessons are useful for teaching about the Bantu migration, Indian Ocean trade network, imperialism, colonialism, and globalization. Includes multimedia resources and editable powerpoints and worksheets for classroom use.
South African Short Stories: Apartheid, Civil Rights, and You


Created by high school teacher Carol Marshall, these lesson plans will not only introduce students to a diverse group of South African writers and literature, but also help students to begin to understand how apartheid created discriminatory and despicable laws, boundaries, and limitations for those who lived in South Africa during this time period. Additionally, students will explore how race in America impacted citizens here in a profound way through a lesson plan on the Little Rock Nine.

Sundiata: An Epic of Old Mali

 

Reading Guide


This student reading guide features a timeline of the Empire of Mali, a character list from the reading, chapter by chapter comprehension questions, 

pulled

 quotations, and reading activities. 
Meet the Author
Interview with author Ifeoma Onyefulu
Meet the Author - Interviews
Language
Africa is a continent rich with language diversity. There are over 3,000 languages spoken in Africa, many of which have roots to the major language families:
Afro-Asianic includes Arabic ancestrally native to East and North Africa, and the Arabian Peninsula
Nilo-Saharan
Nilo-Congo (A) comprised of Niger-Congo's non-Bantu branches
Niger-Congo (B) mainly Bantu, Niger-Congo's largest branch
Khoi-San
Austronesian is intrusive from Southeast Asia
Indo-European (not shown on map) Afrikaans, native to the Southern tip of Africa, intrusive from Europe
Languages of Africa Series
There is immense linguistic diversity in Africa, where over 3,000 languages spoken. As an introduction to specific places and countries in the continent, it is useful to engage your students with the languages spoken. This may be an entry-point to discuss the role of indigenous knowledge, literacy, and the role of colonialism.
Languages of Africa Series
Experience the character of different African languages through these translated proverbs: