Research Archive
Book | South Asia 2060
The South Asia 2060 project will support dialogue among leading thinkers from within and beyond the region and from various disciplines and collect and publish the ideas generated by these thinkers on the future of the region in an anthology of essays.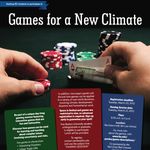 Task Force Meeting and Gaming Session | Games for a New Climate
An all day participatory game session aimed at linking action with knowledge in the context of growing climate risks. The event is sponsored by the Pardee Center in collaboration with by the Red Cross/Red Crescent Climate Center.

Research Program | Global Governance for Sustainable Development
This program brings together a series of projects related to multilateral and international institutions for the governance of sustainable development in all its aspects, including the social, economic, and environmental.
Research Program | Africa 2060
This program of activities, including a major conference and a series of publications, looks at multiple aspects of African development and the trends defining Africa's future.
Research Project | Searchlight: Visualization and Analysis of Trend Data Project
This project develops data analysis and visualization tools for futures foresight research and applies these to the Rockefeller Foundation's ongoing "Searchlight" project.
Sawyer Seminar Series | Energy Transitions
What were the cultural, social, and historical forces that generated past energy transitions? This project will bring an international group of scholars to Boston University throughout 2010–2011 for a series of seminars addressing questions related to energy transitions.
Book | Future of Energy
What might the energy-society relationship look like in 2100? The Pardee Center assembled an international team of energy experts and asked them to answer this question. Their answers will be published in a book.
Conference & Book | Where is China Headed?
Three Decades of Reform and Opening in China. Lessons for the Future. A Pardee Center conference led to an edited book based on papers presented at the conference.
Research Program | Governance in the Developing World
Tackling issues such as democratization, corruption control, and capacity-building, this cluster of research activities all seek to better understand the dimensions of governance in developing countries.