Pardee Center Cosponsors Event on Indian Immigrant Communities in US
The Frederick S. Pardee Center for the Study of the Longer-Range Future, in cooperation with the Center for the Study of Asia and the East Asian Studies program at Boston University, cosponsored an April 16th talk titled "Indian Americans: The Life and Work of a New Immigrant Community".  The event, part of BU's India-China Comparative Talk Series, featured a presentation by University of Pennsylvania professor and director of the Center for the Advanced Study of India Devesh Kapur, followed by comments by Boston University assistant professor and director of the BU East Asian Studies Program, Min Ye.
During his talk, Prof. Kapur highlighted characteristics of numerous immigrant communities, focusing in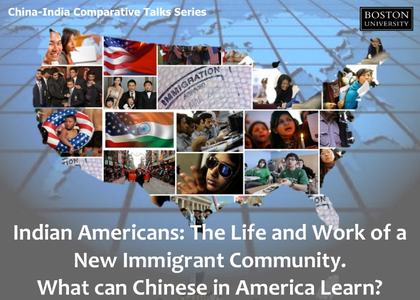 particular on the demographic traits, education and career choices, and English language fluency of Indian immigrants in the United States. He concluded that the exceptional success of Indian communities in the US is due in part to a simple "selection effect" where highly educated and financially secure Indian citizens move to the United States to pursue careers in lucrative STEM fields (science, technology, engineering, and math).
Prof. Min Ye closed the presentation with a discussion of what Chinese immigrants can learn from Indian Americans, citing a need for more open conversation among Chinese American students in the US and a continued focus on STEM education.
For more information on the future of India and other South Asian states, see the Pardee Centers 2013 publication South Asia 2060: Envisioning Regional Futures.