Boston Marathon Reflections – Resources and Events
The Boston Marathon tragedy was a year ago this April 15th. The University has several events and counseling resources planned surrounding this date.
Events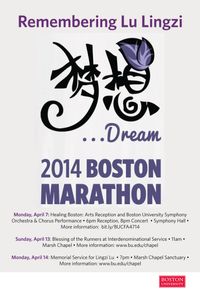 On Sunday, April 13th, this year's Boston Marathon runners will be blessed at the University's Interdenominational Service at 11am at Marsh Chapel.
On Monday, April 14th, Marsh Chapel will host a Memorial Service for Lu Lingzi at 7pm.
Counseling Resources
There will be a lot of media coverage of this anniversary, and you may find the coverage difficult to watch. It is understandable if you still feel anxiety, anger or sadness surrounding what happened last year. It may be helpful to talk to others about what you are feeling, and the University has several resources to help you do that.
There will be several Boston Marathon Bombing Support Groups held April 15-23. No pre-registration is required for these group counseling sessions, and they are open to the University community.
Individual support is available by contacting the following offices and individuals:
Mitzi Kane at Student Health Services, 617-353-3569
Bonnie Brown at the Center for Anxiety and Related Disorders, 617-353-9610.
The Danielsen Institute, 617-353-3047.
SARP, 617-353-7227.
For funded graduate students, Faculty and Staff Assistance Office, 617-353-5381.
Please watch BU Today and our site for more information about events and support during the next few weeks.