Making a Financial Difference
As a not-for-profit institution, the University is exempt from paying taxes. But we voluntarily pay millions of dollars.
We feel it's incumbent upon us to contribute as generously as possible to bettering the place where we have thrived for over a century. To this end, we've instituted a voluntary Payment-in-Lieu-of-Taxes agreement with the City of Boston. Last fiscal year, we voluntarily contributed $4.66 million and paid an additional $4.02 million in real estate taxes. We also launched an initiative to provide a number of additional benefits and payments which included $533,000 to the city in fees.
Our sense of civic duty extends to Brookline, where we made payments last year of $265,000, and $1.9 million in real estate taxes. In fact, despite our nonprofit status, we are Brookline's top taxpayer, contributing as much as we can to improving the quality of life for our nearest neighbors.
Boston University Total Employment in Massachusetts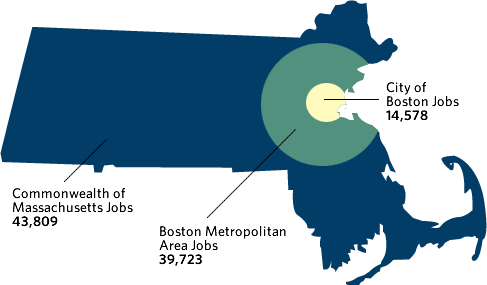 | | | | |
| --- | --- | --- | --- |
| | Commonwealth of MA | Boston Met. Area | City of Boston |
| Faculty and Staff | 11,416 | 10,938 | 2,997 |
| Casual Employees | 2,075 | 1,950 | 645 |
| Student Employees | 10,987 | 10,987 | 8,644 |
| Subsidiary Employees | 1,350 | 1,222 | 668 |
| Total Direct Employment | 25,828 | 25,097 | 12,954 |
| Indirect Employment | 17,981 | 14,626 | 1,624 |
| Total Employment | 43,809 | 39,723 | 14,578 |
MAKING A DIFFERENCE IN MASSACHUSETTS
Overview of Boston University's FY-2008 Economic Impact
City of Boston
Metropolitan Boston
Massachusetts
Boston University's direct spending for employee salaries and benefits and the purchase of goods
and services
$486,415,452
$1,275,009,208
$1,339,897,856
Direct spending by Boston University students and their out-of-state visitors
$248,876,822
$378,294,592
$383,886,085
Additional spending created by Boston University's spending and the spending by Boston University
students and their out-of-state visitors
$428,673,017
$1,823,423,719
$2,129,867,653
Total Economic Impact
$1,163,965,291
$3,476,727,519
$3,853,651,594