Making a Difference in Grade Schools
Boston University's generosity does not stop with Boston's public schools.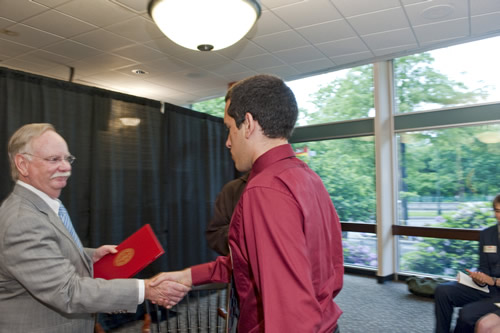 Since 1986, the University's Cardinal Medeiros Scholarship Program every year has recognized a select number of outstanding seniors graduating from the Archdiocese of Boston's parochial high schools. These students, chosen for their academic achievement, leadership skills, and contributions to their schools and communities, are often wooed by colleges from all over the country. We want to keep these students in Boston. So we have made a substantial commitment to this program by offering full-tuition scholarships representing a contribution worth more than $35 million to date. We know many students remain in the Boston area after graduation, contributing to a well-educated labor force.
We believe basketball players can be inspirational off court, too.
Our Holiday Reading Program was created in 1988 to expand children's horizons via literature. Since its inception, the program has grown to include hundreds of the University's varsity and club athletes visiting 11 of the Boston Public Schools. Athletes read aloud and discuss passages, providing the chance for kids not only to improve reading skills but an invaluable opportunity for them to benefit from role modeling. Last December more than 300 student athletes took part, giving away over 850 books to help persuade grade-schoolers that reading is cool.