Bettering the Community
The University makes a difference in other ways, too.
We treat our neighbors like family. In a sense, they are.
Boston University works to make Boston neighborhoods such as Allston, Brighton, and Kenmore Square, as well as Brookline, better places to raise families. BU sponsors many community initiatives, including distribution of computers to youth groups and centers in housing developments in Boston's South End and Lower Roxbury neighborhoods; Thanksgiving gift cards to families in underserved neighborhoods; and the Mayor's Summer in the City family day, which hosts as many as 2,500 Boston residents. The University also distributes free tickets to BU athletic and cultural events and contributes generously to a range of local charities.
Boston University students keep nearly 1,000 people a week from going hungry.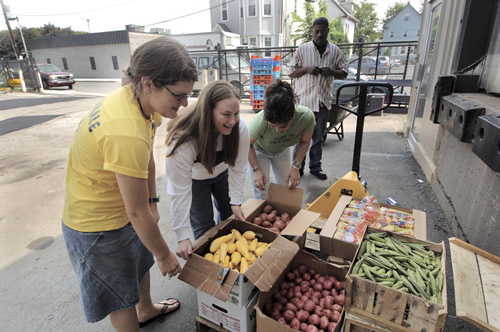 Boston University's Student Food Rescue is recognized as one of the most successful student-run food salvage programs in the country. Before classes and at night, student volunteers drive vans around the city, picking up over 150,000 pounds of food annually from local restaurants, markets, bakeries, and coffee shops—nutritious surplus food that would otherwise go to waste. They gather the food and distribute it to area meal programs, food pantries, and shelters so that hundreds can be nourished, including many small children.