2010 Celebrations of the 1910 World Missionary Conference in Edinburgh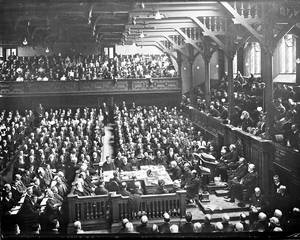 "In June 1910 the city of Edinburgh hosted one of the most defining gatherings in the entire history of Christianity. The 1910 World Missionary Conference was a climactic event of the 19th century missionary movement, and facilitated greater unity amongst the various strands of Christian witness" (about Edinburgh 1910). Four international conferences, each in its own way looking back to the Edinburgh 1910 meeting, were  convened in 2010. Organizers of the four meetings met last winter in Boston to compare notes and to pledge cooperation. All four meetings were part of a process of reflection and activism that will likely continue beyond 2010. Though constituencies and agendas of the four differ markedly, the organizers have expressed a commitment to work together and sent representatives to each other's meetings.
Faculty and students at the Boston University School of Theology are involved in numerous ways with the 2010 study and celebratory processes.
Professor Dana Robert was the opening keynote speaker at the Edinburgh and Boston conferences. She has written the 2010 mission study text for the United Methodist Church, entitled Joy to the World! Christian Mission in the Age of Global Christianity. Doctoral student Ruth Padilla DeBorst, Christian Reformed missionary in Costa Rica, was one of the six Bible study leaders at the Lausanne Conference in Cape Town. She also spoke at the Boston conference. The Rev. John Kaoma, Th.D. student from Zambia, was one of the eight Anglican representatives to the Edinburgh Conference, and presented a paper on "environmental mission." Boston University faculty and students were involved in planning a sociological survey of the participants in the Lausanne Conference. Dr. Liz Parsons and CGCM Fellow Dr. Jesudas Athyal were on the planning team for the Boston conference.
Global Mission Consultation & Celebration – From Edinburgh to Tokyo: Celebrating the Past and Embracing the Future
May 11-15, 2010
Witnessing to Christ Today: Centenary of the World Missionary Conference
June 2-6, 2010
Third Lausanne Conference on World Evangelization: God in Christ, Reconciling the World To Himself
October 16-25, 2010
The Changing Contours of World Mission and Christianity
November 4-7, 2010