BU Researchers #ShutDownSTEM to Combat Racism
STEM ON STRIKE
BU Researchers #ShutDownSTEM to Combat Racism
On June 10, non-Black members of BU's STEM community met to develop antiracist action plans: "We acknowledge that this is just the beginning of our work"
On June 10, hundreds of researchers, staff, and students across Boston University participated in the #ShutDownSTEM and #ShutDownAcademia social media movements in support of antiracism and the nationwide protests of police brutality against Black Americans.
According to the movement's website, "#ShutDownAcademia and #ShutDownSTEM is the time for white and non-Black People of Color (NBPOC) to not only educate themselves, but to define a detailed plan of action to carry forward." It specifically called for all white and non-Black researchers of color who are not working to combat the ongoing coronavirus pandemic to turn their attention to racism in American academia and research.
The initiatives were observed and promoted by members of BU's research community, who instead of carrying on work as usual spent time discussing, learning, and forming antiracist action plans with colleagues. BU's Office of Research also took to Twitter encouraging the University's research community to get involved.
Today we are observing #ShutDownSTEM to support the eradication of anti-Black racism in academia. Throughout the day, we'll be sharing actions our research community's taking to challenge and dismantle racism. #ShutDownSTEM #ShutDownAcademia #BlackLivesMatter pic.twitter.com/ItVaaGuDpN

— Office of Research, Boston University (@BostonUResearch) June 10, 2020
Following the related hashtags throughout the day, The Brink searched Twitter to find grassroots participants across BU, and asked those researchers and STEM staff how they took part in #ShutDownSTEM and what action plans derived from their conversations about combating racism. Here's what we learned.
The Professional Development & Postdoctoral Affairs (PDPA) team, part of BU's Office of Research and Office of Graduate Affairs, shut down so that staff could create professional development plans to fight racism.
"For PDPA, our central thinking is around four things at the moment," says Sarah Chobot Hokanson (CAS'05), assistant provost for professional development and postdoctoral affairs. "How do we de-silo our efforts in diversity and inclusion so that they are intentionally part of all aspects of our work? How do we develop ourselves as allies—what are we learning, or unlearning, as a team? How can we use what we know through working directly with students and postdocs to partner with departments and schools/colleges to create change, while protecting the trust and relationships we have? How will we know when it's working?"
Hokanson also says that the Postdoc Academy, an online and in-person professional development curriculum for postdocs developed by the BU PDPA team in collaboration with Northwestern University, Michigan State University, and the University of Wisconsin–Madison, is reframing its course content in the context of current events. "One of our modules focuses directly on reflecting on identity in the workplace, and so we are working to make sure it's contextualized to be appropriate to the here and now," she says. The Postdoc Academy's first six-week online course will start on June 22, 2020—registration is now open.
Nearly 100 people took part in a community meeting hosted on Zoom by the Rafik B. Hariri Institute for Computing and Computational Science & Engineering, led by Eric Kolaczyk, director of the Hariri Institute. During the meeting, Kolaczyk shared two Hariri Institute initiatives that will combat racism.
First, BU Spark! a student-led computational and data science incubator directed by Ziba Cranmer, will undertake projects to increase self-education and dialogue around racism, particularly amongst BU's computing community. Second, Kolaczyk says the Hariri Institute, as part of a yearlong themed program kicking off this fall, will focus on understanding and battling racial bias in artificial intelligence.
The Department of Mathematics & Statistics hosted two forums that drew over 70 faculty, staff, and graduate student attendees: one forum in the morning to brainstorm antiracist actions that the department could take, and then a second forum in the afternoon to decide on specific actions to implement quickly. Those actions include: adding mathematics/statistics-specific antiracist resources to the department's website, developing materials for large, introductory classes (such as highlighting the roles of Black mathematicians and statisticians), and developing a seminar series on topics like imposter syndrome, implicit bias, racism in predictive policing and artificial intelligence, voting inequalities, and highlighting Black scientists.
"We made plans for moving forward with each of these [action items]," says Margaret Beck, a College of Arts & Sciences associate professor of mathematics and statistics and the director of undergraduate mathematical instruction. "Since the meeting, we have created a social justice email list within our department, which we plan to use to organize future activities."

Beck says the department's #ShutDownSTEM activities were partly inspired by a post on the inclusion/exclusion blog of the American Mathematical Society.

"We acknowledge that this is just the beginning of our work," Beck says. "We began the conversation about how we will make a sustained, long-term effort to combat the systemic racism that is present in mathematics and statistics."

The Department of Biomedical Engineering, led by professor and chair John White, shut down all official activities today, including PhD qualifying exams, in observance of #ShutDownSTEM. "We encouraged everyone to spend the day educating themselves about the structural discrimination and violence faced by people of color," White says.
Allyson Sgro, a College of Engineering assistant professor of biomedical engineering and a Moorman-Simon Interdisciplinary Career Development Professor, helped organize a department workshop for researchers, staff, and students to develop individualized action plans. One of the workshop goals was to have participants identify ways to push themselves out of their comfort zones to grow and speak out against anti-Black racism in academia.

"Instead of asking the department or University to do something, the goal here was asking individuals to identify what they can do to educate themselves and create change," Sgro says. "For example, the goal might be to increase Black representation in labs. Instead of just asking the department to make this happen, one student idea was to specifically approach their advisors about this being important to them and [offering to help] select undergraduate researchers in the lab, taking on mentorship roles."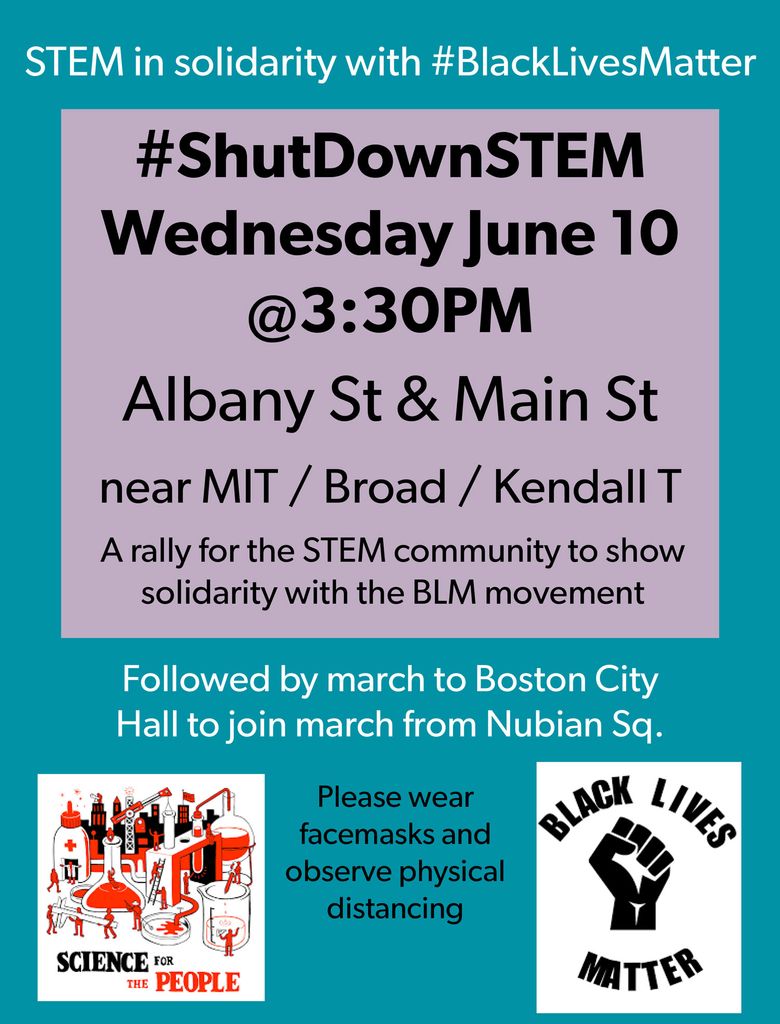 Members of the workshop also voiced a lot of concern that there aren't enough Black students in engineering to begin with. "Students rallied around the idea of making sure the Graduate Student Committee's outreach program [reaches] Black K-12 students," Sgro says. "They committed to identifying reading material to help them with these first steps, and to having group accountability with other attendees for developing the full action plan and implementing their ideas."

After the workshop, Sgro's lab and other BU students joined up with the Science for the People Boston chapter to meet up with a Black Lives Matter march walking from Nubian Square in Roxbury, Mass., to Boston City Hall.
The BU Graduate Program in Urban Biogeoscience & Environmental Health (URBAN) also shut down and brainstormed a number of ways to take action, according to program manager Evan Kuras. Working alongside the rest of URBAN's leadership team—made up of director Pamela Templer and associate directors Jon Levy and Lucy Hutyra—Kuras says URBAN plans to increase email communications about diversity and inclusion (D&I), work with other National Science Foundation-funded graduate programs to coauthor a letter to the NSF urging the foundation put more focus on D&I nationally, curate a library of URBAN-specific D&I resources on the program's website, join other dialogues locally and nationally aimed at educating and developing plans to eliminate anti-Black racism, explore trainings for improving researchers' diversity statements, and seek out more Black speakers for URBAN workshops and Black researchers to join URBAN's advisory board.
Kuras also says each URBAN program member will create personal learning and professional development plans related to D&I that will extend into the future. Two of the program's PhD students, Jenna Rindy and Paige Brochu, are spearheading the collection and dissemination of ideas from their peers to better fight racism in research and academia.
According to Kuras, Levy, URBAN's associate director and chair of BU's environmental health department, first put #ShutDownSTEM on URBAN's radar when he announced his department would participate in the day of mourning and reflection.
Levy says he spent the day reading How To Be an Antiracist by Ibram X. Kendi, who will be joining BU faculty on July 1 and establishing the BU Center for Antiracist Research, and reflecting on its content. He also met with his department's doctoral program director to strategize ways of improving doctoral training to reduce racism and bias, and developing department-wide policy changes and actions that will be announced formally in the coming weeks. Levy also took part in a community Zoom discussion dedicated to understanding COVID-19, climate change, and racial equity.
BU ARROWS (Advance, Recruit, Retain & Organize Women in STEM), led by its director Joyce Wong and program administrator Cristian Morales (ENG'16,'21), held a community Zoom meeting designed to facilitate brainstorming on specific actions that individuals and teams at BU can take to fight racism. It was attended by over 30 members of the STEM community from across BU.
"The national conversation is about police reform, but it needs to go beyond that. We're all members of higher education and academia, and that's what we'll be talking about today," Morales said at the beginning of the meeting. He also acknowledged that against the backdrop of the pandemic it's natural to feel stressed out, to want to talk about it. "But the focus of this forum today should be Black faculty, staff, and students—to focus on what actions we can take to support them."
The format included virtual breakout rooms, with five to six people per working group, to enable more in-depth discussions. Wong and Morales provided everyone with worksheets to kick off reflection and exploration of how to fight racism through education, action, and supporting Black Americans in their process of healing from racial trauma. One breakout group, informally led by Templer, director of URBAN, shared book and podcast resources for self-education on racism and discussed strategies for calling out racism and bias in professional and personal settings.
Wong says ARROWS plans to stay involved in keeping the momentum on the issue of racism moving forward by helping to share information between BU's myriad STEM departments. "There is still a lot of work that needs to be done," she says.

Researchers in BU's Department of Astronomy also used the #ShutDownSTEM day to advance their diversity and inclusion efforts. Philip Muirhead, a College of Arts & Sciences assistant professor of astronomy and director of graduate admissions, donated his salary earnings for the day to VanguardSTEM, the Banneker Institute at Harvard University, and the National Society of Black Physicists.
"I also spent the day reading," Muirhead says. "I made progress on Ibram Kendi's book How To Be an Antiracist, I read [BU School of Public Health researcher] Michael Siegel's [article on residential segregation and policing recently covered by The Brink], I read an article about critical race theory by Chandra L. Ford and Collins O. Airhihenbuwa, and read helpful Twitter threads by Black astronomers and astrophysicists."
Muirhead says he also met with a BU astronomy colleague to talk about department-specific challenges. "Though my department has made substantial progress in recent years in terms of gender equity…we have major challenges with racial equity," he says. "We discussed actions we can take for recruiting and supporting students in our department." Although the plans are still pending formal approval by the department's faculty, Muirhead says they generally involve more outreach, academic program adaptations, and leveraging BU's Target of Opportunity hiring program.
Tereasa Brainerd, a College of Arts & Sciences associate professor of astronomy, says she spent the day "reflecting on my own white privilege, my own unconscious biases, and coming to deep understanding of the critical importance of adopting a mindset of antiracism—as opposed to thinking merely in terms of being 'not racist.'" She's also spent time this week educating herself through resources provided by Particles for Justice, an organization of physicists fighting racism.
As a trustee-at-large of the American Astronomical Society (AAS), earlier in the week Brainerd voted alongside other board members to formally endorse #ShutDownSTEM, #ShutDownAcademia, and #Strike4BlackLives. She's also revisiting the report of the AAS Task Force on Diversity and Inclusion in Astronomy Graduate Education.
Looking ahead, Brainerd is excited for Kendi to arrive on campus. "I'm looking forward to learning from him and BU's Center for Antiracist [Research] about how we can all make steps toward the changes that need to be made in our society," she says.
Meanwhile, Merav Opher, a College of Arts & Sciences professor of astronomy, and an editor of the journal Geophysical Research Letters, spent time working with the journal's editor in chief to address racism and bias in the peer review and scientific paper publishing process.
Opher is also the director of BU SHIELD, a NASA DRIVE center on a mission to understand our solar system's protective heliosphere, where she is partnering with Wong, director of ARROWS, to recruit and retain minorities at all levels of education, from K-12 to university faculty.
"In particular, we are partnering with our sister academic institution, the University of Alabama, where the African American population [makes up] a large component," Opher says.
"The outreach aspect of the SHIELD-DRIVE Center is to help amplify voices of underrepresented scientists and to increase Black and other minority representation in STEM," Wong says. One way the SHIELD team is doing this substantively, she says, is collecting videos and stories from Black students, postdoctoral researchers, and faculty.