Weike Wang Wins Whiting Award
A PhD's novel about a PhD student takes emerging writer prize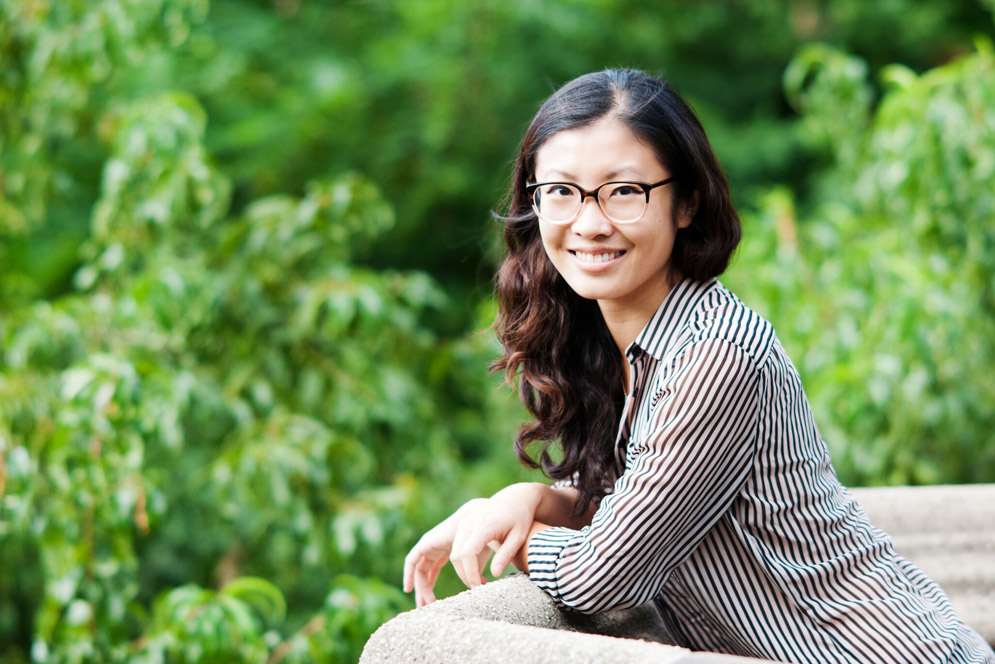 Weike Wang's debut novel, Chemistry, is about a young PhD dropout wracked with indecision about how to handle her parents' high expectations, a marriage proposal, and her future.
It's a struggle that's familiar to the author, who earned a doctorate in public health at Harvard at the same time she was enrolled in BU's Creative Writing Program.
Wang has since chosen between the two careers, with writing coming out on top. And last week her choice was validated when Chemistry notched a big win: a Whiting Award, one of 10 given each year to up-and-coming writers. Among past winners are Saul Bellow (Hon.'04), Eudora Welty, and Seamus Heaney.
So Wang must feel that her decision to pursue a career as a novelist was a good one, right?
"It doesn't make me less hesitant about a career in writing," she says, "but it is encouraging. I try to keep a very practical outlook."
It's a cautious perspective that has helped define Wang's voice as a writer. The 29-year-old says she takes a longer view, noting that it's daunting to think about a writing career and what it might take to produce a meaningful body of work over 10, 20, or 30 years.
"Going into the arts is always difficult," she says. "But I love it, not necessarily because of the awards, but I think and care a lot about producing good work."
With Chemistry, she's off to a good start. The book has been named a Washington Post Notable Book, won the Ploughshares John C. Zacharis Award, and was a finalist for the PEN/Hemingway Award. The book offers a fresh take on the immigrant experience, according to the Whiting Awards Selection Committee: "Wang deftly captures her narrator's struggle to love and forgive, exploring with tenderness and rigor the provisionality of the stories we use to understand the world around us."
Chemistry (Knopf, 2017) chronicles the life of a nameless doctoral student in chemistry at a well-known Boston university. The career path is encouraged by her demanding Chinese immigrant parents, but ultimately rejected by the protagonist, who loses it one day in the laboratory, smashing beakers in front of her classmates. She ends up on medical leave and starts drinking heavily. And while the narrator's tone is spare, she frequently drops in arcane chemistry trivia that offers comic relief.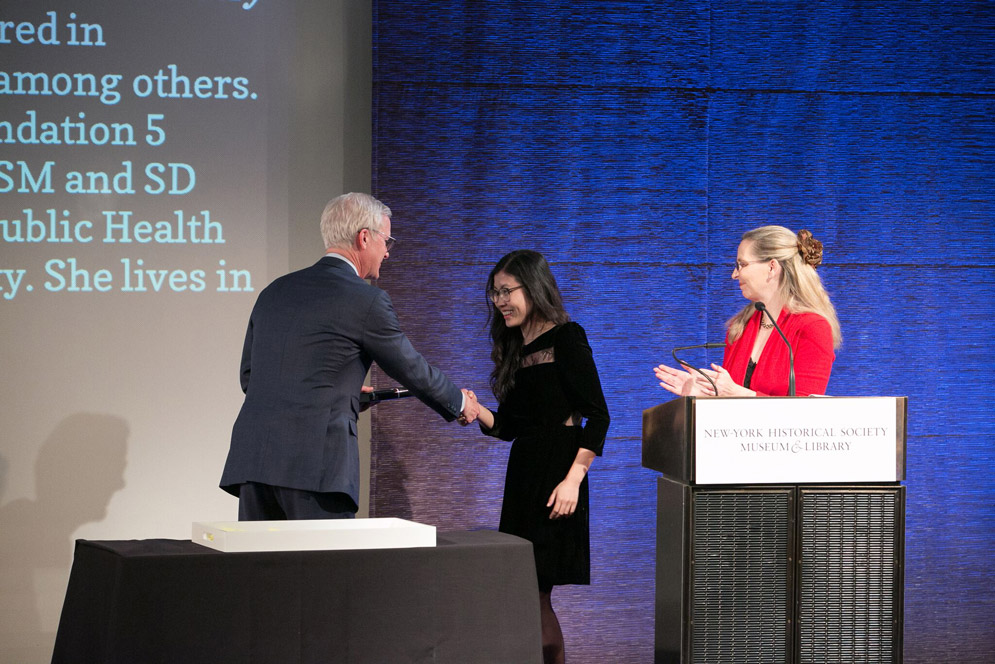 Award-winning novelist Ha Jin (GRS'93), a College of Arts & Sciences professor of English and director of the Creative Writing Program, says he was thrilled to hear of Wang's award, which comes with a $50,000 prize. Prize money enables writers to keep going without distraction, he says, noting that another recent alum, Neha Kamdar (GRS'17), received a Stegner Fellowship, enabling her to write full-time at Stanford University for two years.
"With this help, Wang will definitely complete her next novel and continue to succeed in her literary calling," Jin says.
Wang currently lives in New York, where she teaches writing and is working on her second novel, about the evolution of a long-term friendship, tentatively called Clementine and Will.
She says she finds writing a second novel just as challenging as writing her first. "Readers don't want to read the same book again," she says. "There's more pressure to think about the audience. When I was writing the first novel, I thought nobody was going to publish this. I didn't think about the audience at all."
She reads several books at a time, which helps her writing, she says, and keeps her from being overly influenced by a particular writer's style or voice. She will use some of the prize money to take more literature classes. Her undergraduate degree from Harvard University had a concentration in chemistry and English literature, but she would like to strengthen her understanding of the Western canon.
When asked what her real-life parents think about the Whiting Award, Wang laughs. As scientists, she says, they're not very familiar with it. "They think that it's a good amount of money and you should invest it and consider using it for a rainy day or a down payment on a house," she says. "Or they want to know, 'Will this help you get a teaching job?'"
The BU writing community remains a big part of her literary life, and she's still in regular contact with classmates.
Leslie Epstein, a CAS professor of English, teaches fiction in the Creative Writing Program and says Wang's collaboration with fellow MFA students and the way she used her imagination as well as her experience to come up with the idea for Chemistry, and at the same time meeting the demands of her doctorate, was remarkable to see.
"This took insight and talent of a very high order," Epstein says. "It also reflects the closeness of the fiction cohort every single year. We are all proud of her."
Megan Woolhouse can be reached at megwj@bu.edu.