Become Certified
Join the movement
We're transforming our campuses' physical spaces—and culture—to reflect sustainable values.
Since BU launched its Green Office Certification program, over 1,800 BU faculty and staff have achieved certification. Entire departments are also making the change with Green Department Certification — demonstrating leadership by transforming their curriculum and department culture to reflect sustainable values.
This program facilitates the integration of sustainable practices into daily office life. By participating, you contribute to an environmentally responsible University and a healthy environment. The resources we provide will also help you save money and reduce your carbon footprint at home.
Who knows? You may like your sustainable habits so much that you decide to bring them home with you.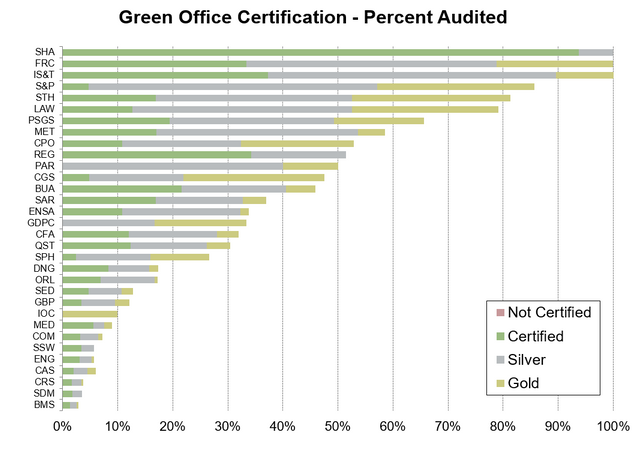 Get certified
Schedule your certification appointment via this online form. The appointment takes just 15 minutes. For additional questions, please contact greenoffice@bu.edu.
Certification levels
Individuals
There are three certification levels for individuals: Certified, Silver, and Gold. Certification is recognized with a decal for display on your name placard for all to see.
Departments
There are four certification levels for departments:
Certified
Silver
Gold
Platinum
By working together as a group, your organization can achieve a higher level certification, platinum, than an individual. Certification is recognized with an engraved bamboo plaque featuring customized language.
Tips to make your office more sustainable
Turn off electric lights when you don't need them; opt for natural light and turning off lights when they are not needed
Take the initiative to turn off lights in unoccupied spaces
Set computer monitors to sleep after 10 minutes or less of inactivity
Change computer screensavers to "blank" or "none"
Reduce the brightness of monitors to 50-60% of full brightness
Set computer monitors to go to sleep after 10 minutes or less
Turn off all electronics before leaving the office for the day
Use sustainable modes of transportation such as walking, biking, transit, and carpooling
Use reusable products such as beverage containers, utensils, and cloth napkins
Program history
This program began in 2010 with a pilot program at College of Health & Rehabilitation Sciences: Sargent College. With ongoing input from faculty and staff, we made revisions and then launched it University-wide through the University's Sustainability Liaisons program in 2011.
This program supports BU's Climate Action Plan.