Join the discussion on equity, inclusion, social work and social justice
The Equity & Inclusion Speaker Series is a virtual, interactive lecture series hosted by the BUSSW Equity & Inclusion Committee. All E&I Speaker Series events are free and open to the public.


Upcoming Events
From Eugenic Practices to Social Policing: Social Work & Reproductive Oppression
Thursday, December 14, 2023
5:30–6:45 pm ET
Virtual (Zoom)
Although Black, Indigenous, disabled, and other marginalized activists have stated for years that Roe v. Wade was not enough to protect people's reproductive rights, it wasn't until the 2022 Dobbs decision that broader attention to reproductive rights and calls for reproductive justice resurfaced in mainstream dialogue. Since then, many social work institutions and practitioners have urged those in the field to consider reproductive justice a crucial component of their social justice mission. However, they often overlook the profession's historical ties to eugenic practice and the continued policing of people's bodies.
This event will focus on how social workers have contributed to reproductive oppression and identify opportunities for them to incorporate reproductive justice into their practice and personal lives.
1 CE credit will be available to social workers licensed in Massachusetts. Licensed social workers outside of Massachusetts may also receive credit depending on their jurisdiction; see details on states and provinces accepting ASWB ACE credits here. If you wish to receive CE credits, please provide your license number in the registration form.
Featured Speaker: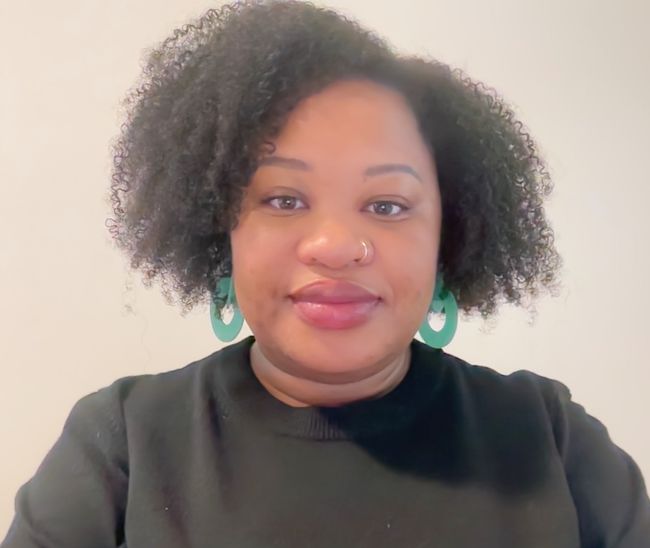 Greer Hamilton, PhD (she/her) is a transitional postdoctoral fellow at the University of Michigan School of Social Work. Her work focuses on examining how systems of oppression are embedded into the built environment and subsequently impact people's health, well-being, and use of public spaces. She began her research career as a research assistant for Dr. Gretchen Ely who studied how far people had to travel for an abortion prior to the overturning of Roe. She is a board member for the Midwest Access Coalition and formerly the co-chair of the Eastern Massachusetts Abortion Fund.
Past Events & Recordings
2023–2024
Social Work & Social Theater: From Self-Development to Critical Awareness
Understanding & Resisting the War on Trans Youth
2022–2023
Disability Justice and Mental Health
Viviendo en la Intersección: Queer Latinx Experiences at the Intersection of Identities
Surviving Neoliberal Social Work: Collective Action vs. Individualism
(Neo)Colonization, Erasure and Illegible Traumas in the Asian American Diaspora
Community Activism & Political Education: Impacts on BIPOC Youth Mental Health
Abolishing Carceral Social Work: The Child Welfare System
2021–2022
Nearing the Abolitionist Horizon via Professionalized Social Change Work
Disability, Race & Gender: Reproductive Health Solutions
Cultural Betrayal & Conundrums: The Making of a Book
Asian American Organizing: Lessons in Solidarity & Community Building
#CRT: The Critical Race Theory of Social Movement Making
Resisting Neoliberalism: Critical Reflections from Latin American Social Work
Multiracial Feminist Democracy or Authoritarianism? The Crisis of Neoliberal Democracy and the Rise of Racial and Religious Nationalism
2020–2021
Disability Justice for Our Futures and Our Freedom: On Relational Access, Solidarity Work, and Collective Care
From Settler Colonialism to Self-Determination: An Indigenous Perspective on Decolonizing Social Work
Black Contributions to Social Welfare & Social Work: A Legacy of Black Self-help, Resistance, and Liberation
White Antiracist Organizing: Dismantling White Supremacy as part of a Multiracial Movement
Social Work and Racial Capitalism: Where Do We Go From Here?
Accessibility
Boston University strives to be accessible, inclusive and diverse in our facilities, programming and academic offerings. Your experience in this event is important to us. If you have a disability (including but not limited to learning or attention, mental health, concussion, vision, mobility, hearing, physical or other health related), require communication access services for the deaf or hard of hearing, or believe that you require a reasonable accommodation for another reason please contact the event organizer at swequity@bu.edu three weeks prior to the event to discuss your needs.
Contact Us
To get in touch with the BUSSW Equity & Inclusion Committee, please email swequity@bu.edu.