Exploration & Innovation: Spark! Spring Demo Day 2021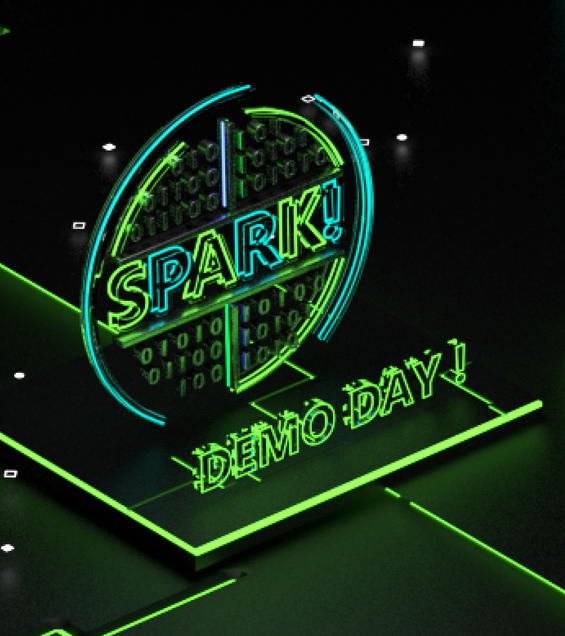 Demo Day concluded a semester of perseverance and dedication by the students that continuously set the bar when it comes to innovation and exploration: Spark! Fellows and X-Lab students.
With the addition of the Justice Media co-Lab competing for the Audience Choice Award for X-Lab projects, the Boston University community witnessed all aspects of what's possible when it comes to technology.
As we look ahead to next semester and the possibility of the reconvening in person, let's celebrate the students who championed the challenges thrown at them and developed projects that will better the lives of those around them.
---
Winner's Circle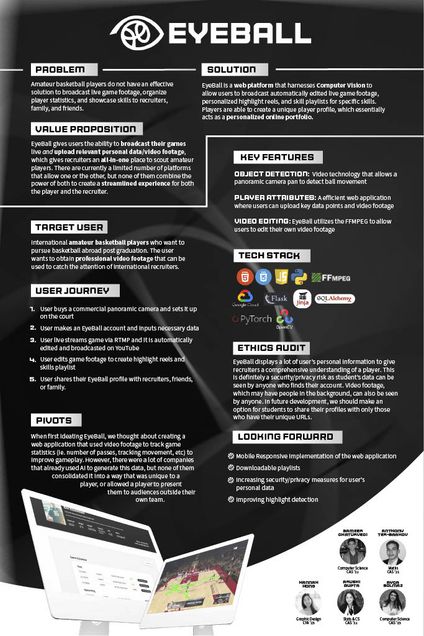 EyeBall – Judges' Choice
EyeBall uses computer vision and AI to empower amateur basketball players to showcase their skills to fans and recruiters through a personalized video resume, and automatically broadcasts their games live online.
Team: Sameer Chaturvedi, Anthony Ter-Saakov, Arushi Gupta, Ayca Bige Solmaz, Hannah Hong (UXD)
Contact: sameerc@bu.edu, antter@bu.edu, arushig@bu.edu, aycaslmz@bu.edu, hyhong@bu.edu
View EyeBall at Demo Day HERE
---
Spot – Audience Choice for Innovation Fellows
As a busy college student completing long assignments and studying for exams, the last thing you want to worry about is finding a non-crowded place on campus to study. Spot is a mobile application that provides real-time crowd density data, allowing students to gauge building and floor occupancy levels in areas across the BU campus in order to virtually eliminate the time it takes to find the perfect spot to get work done.
Team: Evan Hsu, John Chai, Tilak Agarwal, Preksha Munot, Katie So (UXD)
Contact: evanlhsu@bu.edu, jchai23@bu.edu, tilak02@bu.edu, pmunot@bu.edu, katieso@bu.edu
View Spot at Demo Day HERE
---
Suffolk County District Attorney Office iOS App (SCDAO) –
Audience Choice for X-Lab Projects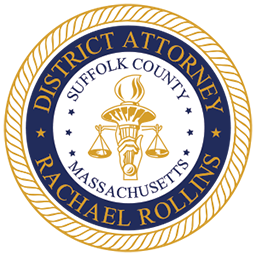 The team is seeking a modular iOS app that can serve as a foundation for handwritten driven OCR for case file data entry. The goal is to alleviate and automate some of the processes that take place in terms of information that is transferred from the different entities involved in the legal process.
Team: Nikita Jakkam, Jana Mikaela Aguilar, Anthony Chang, Justin Janice, Kari Everson, Sloane Schuchman
Contact: njakkam@bu.edu, janamha@bu.edu, andong@bu.edu, jjanice@bu.edu, keverson@bu.edu, sloanes@bu.edu
View SCDAO at Demo Day HERE
---
Justice Media co-Lab 
NBC10 Boston: MA Criminal Record-Keeping at Local Police Departments
A landmark criminal justice reform bill in Massachusetts promised to radically improve record-keeping at local police departments, offering the public key insights into law enforcement activities in each city and town. Two years later, few changes have materialized. Progress overhauling the state's patchwork of the system is slow. The state announced one achievement last August, however, launching a crime statistics website that allows users to filter and sort arrest records from many communities. 
Team: Bzu Shiferaw, Melissa Ellin, Mary McGowan, Sangsoo Lee
Contact: bzu118@bu.edu, mellin@bu.edu, mcgowank@bu.edu, lee0821@bu.edu, lee0821@bu.edu
View NBC at Demo Day HERE
Check out the piece that aired
---
CBS Boston: SBA Paycheck Protection Program

The Payroll Protection Program was designed to keep entrepreneurs afloat with loans during the COVID pandemic. Partnering with students from Boston University's Justice Media co-Lab, the I-Team found some minority owned small businesses, like Sweet Teez Bakery in Boston, were left out of the program and didn't get the money they needed.
Team: Angela Yang, Kami Rieck, Mahmoud Khalil
Contact: angelaya@bu.edu, mkhalil2@bu.edu
View CBS at Demo Day HERE
Check out the piece that aired
---
Spark! Innovation Fellows 
TheQ
TheQ is an organized queueing system that makes the office hours experience quicker and more feasible to navigate.
Everyone has a different learning style, whether it's in a 1-on-1 or group setting. TheQ gives you the flexibility to interact with your course instructors by choosing a method which allows you to learn best.
Team: Eesha Gholap, Amy Feng, Siddhant Kothari, Andrew Wang, Alex Feng (UXD)
Contact: egholap@bu.edu, afeng99@bu.edu, sid15@bu.edu, andrewwa@bu.edu, lexfeng@bu.edu
View TheQ at Demo Day HERE
---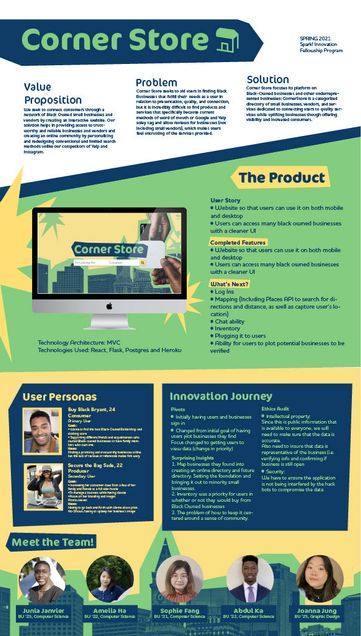 CornerStore
CornerStore focuses its platform on Black-Owned businesses and other underrepresented businesses; CornerStore is a categorized directory of small businesses, vendors, and services dedicated to connecting users to quality services while uplifting businesses though offering visibility and increased consumers.
Team: Junia Genevieve Janvier, Abdul Ka, Nguyen Ha, Xuanyu (Sophie) Fang, Joanna Jung
Contact: jjanvier@bu.edu, akabdul@bu.edu,
hakroala@bu.edu, fangx@bu.edu,
jgjung@bu.edu
View CornerStore at Demo Day HERE
---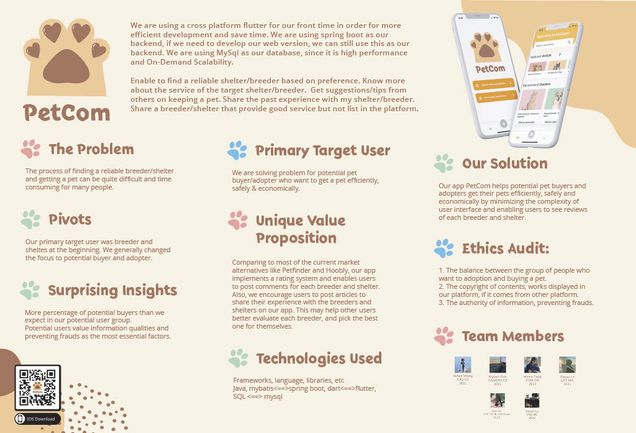 PetCom
PetCom is a platform for any pet owners, lovers, pet experts, or anyone who wants to raise a pet to share their experience, raise questions and give comments.
Team: Kehan Wang, Zhaoyi Lin, Minna Fang, Yixuan Lu, Xiaoxin Gan, Duo (Miranda) Xu
Contact: wangkk@bu.edu, tigerlin@bu.edu, minnaf@bu.edu, yixuanlu@bu.edu, xiaoxing@bu.edu,
duox@bu.edu
View PetCom at Demo Day HERE
---
Community Connect
Welcome to Community Connect – an innovative gateway to community service. With millions of high school students applying to college each year, Community Connect creates a space for students to track their hours through our digital timesheet. We also help bridge the gap between students and community service employers by allowing these employers to upload their opportunities to Community Connect. Students now have a feasible and efficient way to showcase their hard work and acts of service. Students are confronted with classes, extracurriculars as well as their personal life being emphasized in their time in school. As time approaches for applications (college, clubs, etc), the requirement for graduation itself and these applications is to complete a specific number of community service hours. To find these opportunities points out a myriad of variables for each student: search time, location and availability. In addition, they have the worry of whether these hours spent will be properly acknowledged in their student record. These hours are usually submitted to a guidance counselor after confirmation by the organization, however, the time they put it in is unknown. Community Connect tackles and presents a solution to tracking community service hours within institutions, and allow students to fully enjoy their community service experience without the concern about their volunteer time. We shifted our focus from solely offering accessible community service opportunities, to offering a reliable and efficient timesheet.
Team: Raquel Joseph, Adriana Alvarado, Amir Glabal, Moonis Abdul Wahid Thadey, Sissi Wu (Mingxi)
Contact: raquelj@bu.edu, alvadri@bu.edu, amirg@bu.edu, mxwu@bu.edu, moonist@bu.edu
View Community Connect at Demo Day HERE
---
Cadre
As schools transitioned to virtual learning forms such as they are now in 2021, education platforms have increased dramatically; utilizing and managing these digital spaces get complicated and confusing. Our app helps students who want to access all of their academic material in one location by organizing student's data for them to interact with it in a streamlined manner.
Team: Chinwe Oparaji, Jared Min, Melissa Lin, Jacqueline Mang (UXD), Noelle No (UXD)
Contact: sparxs@bu.edu, jaredm22@bu.edu, mlin2022@bu.edu, jacmango@bu.edu, noelleno@bu.edu
View Cadre at Demo Day HERE
---
Computational Tools for Data Analytics 
BU Sociology – Opioid Epidemic
Researchers analyzed crowdfunded campaigns hosted on GoFundMe posted from 2010-2020. Using a variety of keywords, they explored campaigns related to drug-use and overdose to explore how competing frames of drug use and addiction change over time. In addition to exploring how race and gender impact framing and campaign success, researchers explored the different relational, moral, and affective appeals that are made to potential donors online. This project provides concrete benefits by centralizing the experiences of care workers and support people–who are often on the "front lines" of service delivery–in order to further improve existing recommendations, policy, and programming.
Team: Jayden Font, Divya Gowravaram, Michalina Jadick, Nikita Jakkam, Della Lin
Contact: jayfont@bu.edu, divyag@bu.edu, mjadick@bu.edu, njakkam@bu.edu, della222@bu.edu
View BU Sociology – Opioid Epidemic at Demo Day HERE
---
Machine Learning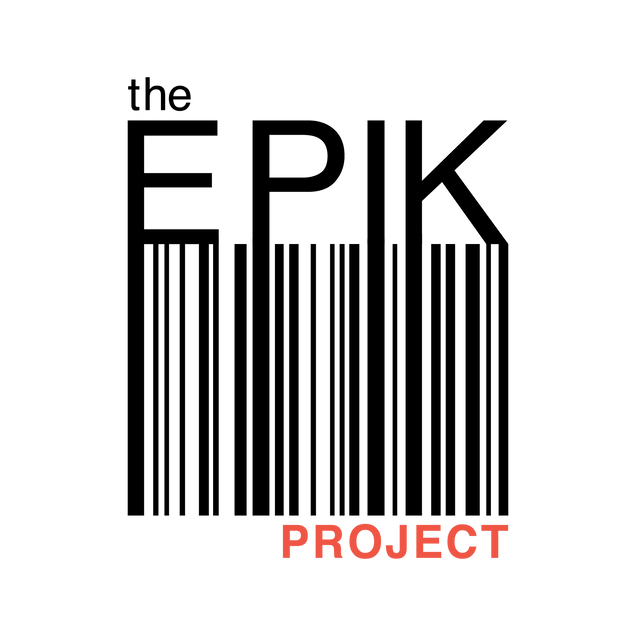 Project EPIK
Sex trafficking involves exploiting the vulnerable and the buyers are overwhelmingly male. Epik's mission is to encourage men to stop buying sex. A sentiment analysis of the messages between the buyer and the volunteers to understand the buyer motives is used to encourage the buyers to stop their purchase. The posture and language the volunteers choose to approach these buyers is a key element in persuading the buyers from buying. Hence, the goal of this project is to analyze the messages between the volunteers and the buyers to identify potential gaps in the conversation from the volunteer and to gain information of whether or not a volunteer is missing an opening for approaching the buyer.
Team: Cali Dolfi, Tsubasa Morita, Mani Singh, Julius Frost
Contact: cdolfi@bu.edu, tsmorita@bu.edu, ms88@bu.edu, juliusf@bu.edu
View Project EPIK at Demo Day HERE