Change – Nobody is Immune to it, Not Even Spark! Projects
2020 magnified several faults in our system that have existed for ages — xenophobia, racism, classism, among countless other defects. A single hackathon paved the way to addressing those issues head on. 
Spark!'s Resiliency Challenge allowed students, mentors, partners and alike from around the globe to develop innovation which addresses challenges associated with COVID-19. Project "CRANE," the third-place winners of the nine-week hackathon, wowed judges with their work monitoring real-time sinophobic rhetoric on Twitter.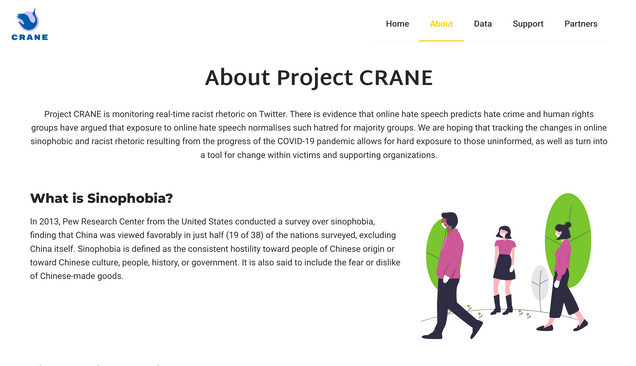 However, as the hackathon ended, the world's focus seemingly shifted, which spelled major changes for the project and its seven members. 
"COVID-19 related racism didn't seem as significant as before compared to general, systemic racism. The murder of George Floyd happened, and we felt limited in what we were targeting when the tools we were using could have applied to any type of racism online," said Emma Barme, a PhD student at CRI Paris and the sole active member of CRANE.  
The team shifted away from continuing on as a research project investigating Anti-Chinese sentiment to developing a Python package project that sociologists can use. "The goal is to develop a package that will make it easier for sociologists or anyone doing research on online racism to use a state-of-the-art method to analyze online data," Barme said.
Ultimately, some CRANE team members, including Ian Saucy, decided to step away from the project, but not before cementing their legacy on it. "I had a big say in how we constructed a lot of our data pipeline," Saucy said. "In addition, I put most of the work into the website and chose what technology stack we utilized — which remains in place."
"I got to try out a new area, explore my interests in that area, and found that I enjoyed certain parts but not others. This enables me to take this information forward into future projects, which is a huge net positive," he added.
Interested in growing your skills and perhaps finding out what sparks your interest? Barme, the remaining CRANE member, is recruiting new people with diverse skills in programming, computer science, researching, writing, and designing. If that sounds like you, email emmamarion.barme@orange.fr.