Remembering Pardee Center Director Prof. Tony Janetos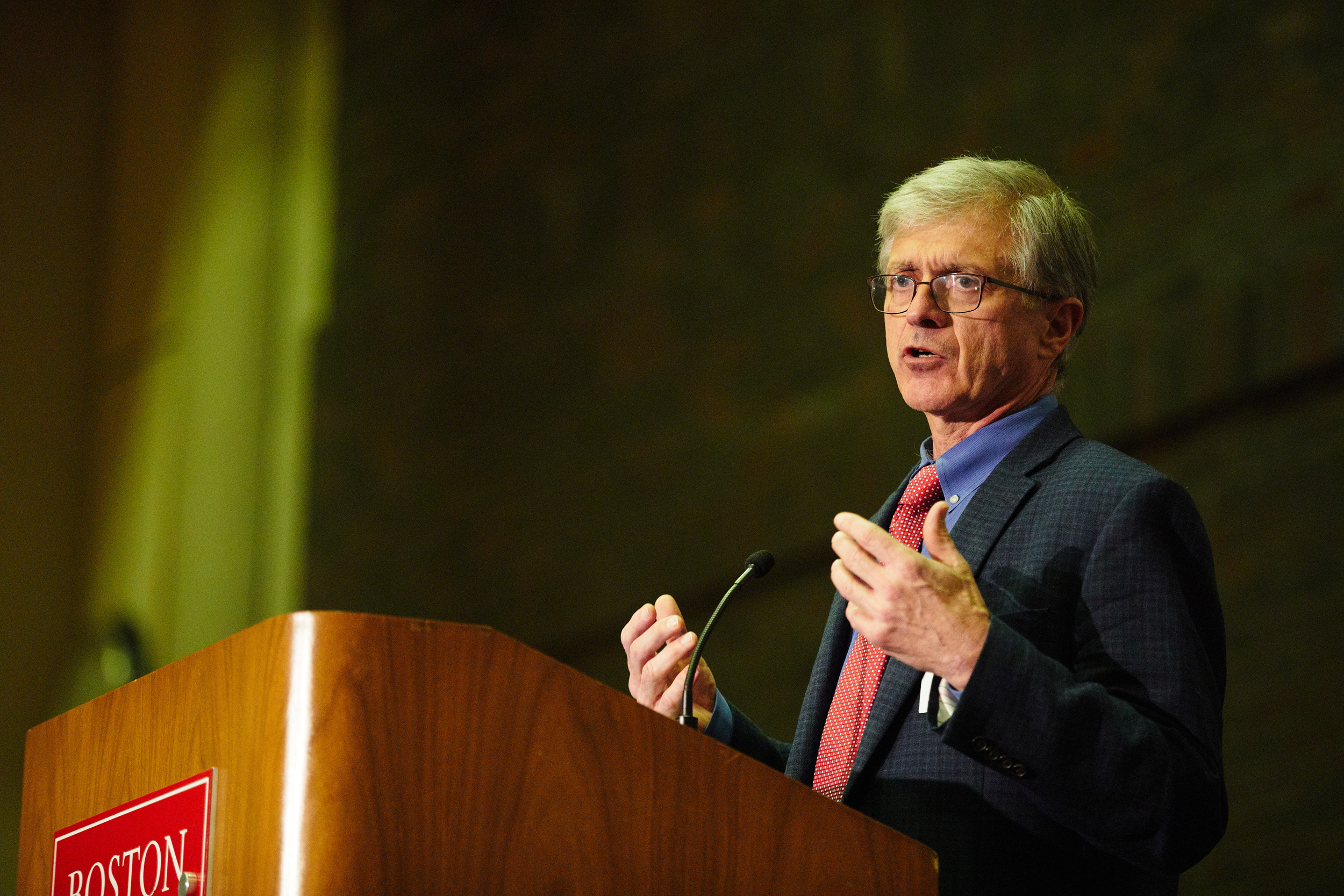 The Boston University community, and especially the staff of the Frederick S. Pardee Center for the Study of the Longer-Range Future, deeply feels the loss of Director Anthony Janetos, who died of pancreatic cancer in early August.
A well-known leader in the global climate change community, Tony came to BU and the Pardee Center in May 2013 after a distinguished career serving in leadership positions in government and the non-profit sector. Tony made a major impact on the Pardee Center and at Boston University during the six years he was with us. Details about his work and impact are described in an obituary in BU Today.
While he was an outstanding scientist and scholar, Tony will be always remembered by the Pardee Center staff for the wonderful person he was. He was kind and caring, always looking out for our best interests and the best interests of the students, post-docs, and faculty he worked with. He made significant contributions to many important scientific research programs and policy decisions at the local, state, national, and international levels, as referenced in the many tributes captured below. He was an excellent mentor to students and young faculty members, and was very generous with his time. The positive impact of his life's work and personal kindness cannot be overstated.
The Pardee Center's Annual Distinguished Lecture in the spring of 2020 will include a tribute to Tony's many important contributions in the areas of scientific research and policy. This event will be open to the public and details will be announced in early 2020.
---
Additional tributes to Tony:
Remick & Gendron Funeral Home Obituary
Scientific American
NASA Land-Cover / Land-Use Change Program
U.S. Global Change Research Program
BU Initiative on Cities
BU College of Arts & Sciences
Environmental and Energy Study Institute
Princeton Alumni Weekly
"Tony Janetos was an outstanding and accomplished scientist, scholar, teacher, and leader," Jean Morrison, University Provost, says. "Perhaps most importantly, he was a fantastic person and friend to so many across our campus and beyond." Read more: https://t.co/0xnE3iwkDx pic.twitter.com/rrN2sraU1p

— BU Pardee Center (@BUPardeeCenter) August 8, 2019
Deeply saddened to learn of the loss of Tony Janetos, a kind and generous man and a leading light of interdisciplinary global change research. @PNNLab @BUPardeeCenter

— Bob Kopp (@bobkopp) August 7, 2019
Tony Janetos, most recently a faculty member @BU_Tweets and director of @BUPardeeCenter and before that faculty, was a wonderful person and scientist and will be deeply missed. He played many community leadership roles @NASAEarth & @NSF_GEO @NSF @PNNLab

— Scott Doney (@ScottDoney1) August 7, 2019
Incredibly saddened by this terrible news. Tony was a brilliant climate scientist & advocate who brought a refreshing attitude of optimism & hope. The same perspective he brought to our BU community, where he had an immeasurable impact on our careers. You will be missed, Tony. https://t.co/z5aw8zZPb5

— Dr. Diane Thompson (@dianethompso) August 7, 2019
I am so terribly sad. Tony was a friend, a mentor, an outstanding scholar and an exceptional person. A voice of calm, reason and dignity. A source of inspiration and kindness. Few match him in the generosity of spirit and action. I will miss him dearly. https://t.co/t9aczGWxfp

— Muhammad Hamid Zaman (@mhzaman) August 8, 2019
Huge, terrible & sad loss for all who care about a wonderful man, great #science & #climate #leadership

Pardee Center Director Prof. Tony Janetos, 1954-2019 | The Frederick S. Pardee Center for the Study of the Longer-Range Future https://t.co/s3CGbr0cUc

— Stacy D VanDeveer (@StacyDVanDeveer) August 7, 2019
A big loss for BU and climate science. Tony Janetos wrote several articles for us and invited us to talk to @BUPardeeCenter 's talented summer fellows about sharing their work with the public. Condolences to his friends and colleagues. https://t.co/hhWDfGNC8C

— Jennifer Weeks (@JenniferWeeks83) August 7, 2019
In addition to being a central figure to the intellectual life of our dept, Tony was on my committee and was nothing but generous with his time and mentorship over the past five years. He will be very sorely missed.

— Drew Trlica (@places_we_made) August 7, 2019
This is a huge loss. What a wonderful person, savvy administrator, and insightful scholar. He will be missed across the many places he touched.

— Nancy Ammerman (@ntammerman) August 7, 2019
Our climate community lost one of the kindest and wisest of us this week. https://t.co/2jBsOqFmgt

— Katharine Hayhoe (@KHayhoe) August 10, 2019
A big loss for BU and climate science. Tony Janetos wrote several articles for us and invited us to talk to @BUPardeeCenter 's talented summer fellows about sharing their work with the public. Condolences to his friends and colleagues. https://t.co/hhWDfGNC8C

— Jennifer Weeks (@JenniferWeeks83) August 7, 2019
So very sorry to hear of Tony's passing. @PardeeRAND and I send our sympathies to @BUPardeeSchool and to Tony's family

— Susan Marquis (@susanlmarquis) August 7, 2019
I always loved when I got to see Tony. I learned a great deal from our chats. He was as kind as he was hard working and intellectually gifted. We will continue to fight the good fight in his memory. We will make you proud, Tony. A sad day for BU. Love to @BUPardeeCenter @BUEarth https://t.co/mQYZD9pag8

— Lindsey Butler (@mslindseybutler) August 8, 2019
This is really devastating news for #sustainability science, for education, for all who knew Tony. My heart goes out to his family and closest circles. Glad I spent some time with him at @BUPardeeCenter last couple of years. https://t.co/ieWnV8XMZP pic.twitter.com/NrXDof4s5X

— Andrew Revkin (@Revkin) August 8, 2019
Dammit. This is such a loss to science and the world.

The world is going to miss you, Tony.https://t.co/Fmf6ulSnGY

— Dr. Jonathan Foley (@GlobalEcoGuy) August 7, 2019
My deepest condolences to his family. Tony was an institution at BU and has been my boss and mentor for over two years for what was the best job I've ever had. I can't imagine BU and the Pardee Center without his leadership.

— marta marello (@Aranciata15) August 8, 2019
This is a tremendous loss. We are grateful to have worked with Tony on the creation of the @BU_Tweets Climate Action Plan and will honor his life through our continued work on its implementation. Tony is much beloved at BU. Our thoughts go out to his family.

— sustainability@BU (@sustainableBU) August 8, 2019
.@BUPardeeCenter's Anthony Janetos was not only an internationally renowned expert on climate change, he was fearless in the face of deniers. https://t.co/NV44sZSxuF

— Boston University (@BU_Tweets) August 8, 2019
Such a loss for the BU community! Tony has been an immense supporter of our work and any connection we could find with his work. Our thoughts are with you all at Pardee and his family!

— BU Arts Initiative (@BUArtsInitiativ) August 9, 2019
Tony fought for rigorous science rooted into interdisciplinarity. A big loss for science and for BU. Condolences to the family and the Pardee colleagues.

— Stefano Battiston (@zbattiz) August 9, 2019
"I look at this as I'm not out to change anyone's mind, but I'm just out to tell you the truth." ~ Anthony Janetos @BUPardeeCenter https://t.co/cFzWVyBDmh pic.twitter.com/NRIKh9pH33

— Dr. Wallace J. Nichols (@wallacejnichols) August 10, 2019
Remembering Anthony Janetos: The eminent and influential climate scientist passed away in early August https://t.co/d4GrkQEqQz via @sciam pic.twitter.com/0oLrYEGzbY

— World Resources Inst (@WorldResources) August 26, 2019
Anthony Janetos is remembered for his leadership, dedication, and scholarship: https://t.co/AbJ2FX8q27 pic.twitter.com/Awqw95K3Fn

— BU Alumni (@bualumni) August 17, 2019
Last week, Dr. Anthony Janetos, a renowned climate scientist, passed away. Well-loved and respected, Janetos held many climate science leadership roles, and we were lucky to have had him speak at three of our briefings. He will be dearly missed. https://t.co/0WrZ53yqk3

— EESI (@eesionline) August 15, 2019
Deeply saddened to hear of Tony Janetos' too early passing. he was a kind, patient, and effective scientist and will be missed by so many. https://t.co/fnVArxWRbp

— US LTER (@USLTER) August 12, 2019
I'm sad to hear of the passing of Dr Tony Janetos. He was a pioneering scientist in our field and a kind person. My condolences to his family. May his memory be a blessing. cc: @LCLUCProgramhttps://t.co/q23slcV2pf

— Dr. Alyssa Whitcraft (@akwhitcraft) August 9, 2019
Heartbreaking news from our friends at @BUPardeeCenter. Tony Janetos will be missed by all. https://t.co/HioCmiTBEg

— EU for You (@EUforYou) August 9, 2019
So sad to learn of Tony Janetos' death. He was, among many many other things, pivotal in connecting the Sustainable Biosphere Initiative of @ESA_org to federal agencies, thus jumpstarting an infusion of ecological science into policy & management. Miss you, Tony!

— Jane Lubchenco (@JaneLubchenco) August 8, 2019
We all lost a great colleague and friend yesterday, when Tony Janetos passed away as a result of pancreatic cancer. He was a leader in making us aware of climate change, understanding impacts on coastal cities, and proposing solutions. He will be missed! https://t.co/6nANtlCD7y pic.twitter.com/P4UfVn9jrQ

— Jim Ehleringer (@ehleringer) August 8, 2019
What a terrible loss to #climate #science in the US & globally. Tony Janetos passed away at just 65. What a lovely person he was, and a real climate leader. All best wishes to his family. https://t.co/5e97jfYKrE #NewHampshire @usgcrp @IPCC_CH @UCSUSA

— Adam Markham (@AdamCMarkham) August 7, 2019
Tony Janetos wasn't my advisor, on my committee or my professor, but he always said hello, had ideas about my research and gave great advice. He made this institution feel like a community. I'm very lucky to have met him and he's one of the best things I will remember about BU.

— Betsy Cowdery (@emcowdery) August 7, 2019
Remembering Tony Janetos, a wonderful mentor, colleague and friend who passed away yesterday. He was the real deal, a genuinely good and kind human, and a brilliant and renowned scientist devoted to understanding and tackling climate change. https://t.co/f7HCY2ErkC

— Katharine Lusk (@KathLusk) August 7, 2019
So very sad to hear about the passing of Anthony Janetos @PardeeDirector who was the co-lead of the @IPCC_CH chapter I was in for the 5th Assessment Report, and a lovely man. He died of #PancreaticCancer, which also killed my father, and that makes this extra awful.

— Lisa Schipper (@schipper_lisa) August 7, 2019
I'm so sorry to hear this. Dr. Janetos was a much loved and respected part of the USGCRP family. He will be missed. https://t.co/uBGi5Zfvsr

— Katie (@ItsRealItsUs) August 7, 2019
So grateful for the time that I got to spend with Tony Janetos at the Pardee Center: https://t.co/FWpM6cdRO3

— John Patrick Connors (@johnpconnors) August 7, 2019
Devastated to hear of the passing of my dept chair Prof. Tony Janetos.
A brilliant scientist & even kinder person. 😪

— Nathan Phillips (@nathanpboston) August 7, 2019
So sad to learn of Tony Janetos' death. He was, among many many other things, pivotal in connecting the Sustainable Biosphere Initiative of @ESA_org to federal agencies, thus jumpstarting an infusion of ecological science into policy & management. Miss you, Tony!

— Jane Lubchenco (@JaneLubchenco) August 8, 2019
What devastating news. A year ago we were meeting and brainstorming. What a loss to science, the future – and to his family and circles.. Pancreatic cancer is monstrously devastating..

— Andrew Revkin (@Revkin) August 8, 2019
I'd not heard a thing about this until the announcement. I'd never met him, but knew him by reputation to be not only really smart, but a generous and kind person. Not enough of those types in the world, and a serious loss.

— Ed Carr (@edwardrcarr) August 8, 2019
Yes, this is so sad. Tony was a lovely person, supportive of others and passionate about the planet. I only would see him occasionally but I did spend a couple of days visiting him at Pardee last year. Lost to us too soon and such a loss to his family.

— Diana Liverman (@DianaLiv) August 8, 2019