Diana Liverman Delivers 2018 Pardee Center Distinguished Lecture
Diana Liverman, a leading expert on the human dimensions of global environmental change and the impacts of climate on society, reflected on her several decades of work on climate vulnerability and adaptation when she delivered the 2018 Pardee Center Distinguished Lecture at the Rajen Kilachand Center for Integrated Life Sciences & Engineering (CILSE) on April 6. The event was sponsored by the Frederick S. Pardee Center for the Study of the Longer-Range Future.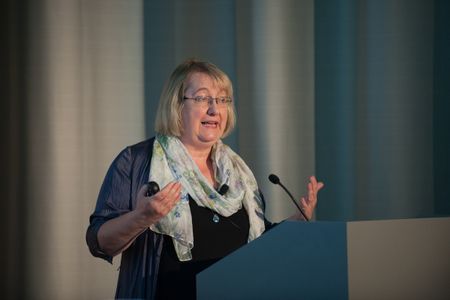 Speaking before a crowd of approximately 70 students, faculty, and community members, Prof. Liverman discussed the enduring challenges in researching vulnerability and in implementing climate adaptation measures to decrease vulnerability in the future.
In the past decade, the quantity of peer-reviewed papers on climate and vulnerability has exploded, indicating that it has become a research priority and a key component in an international system of climate governance, but also that efforts to find and distill new insights in the literature is increasingly difficult. As a result, Liverman argues that vulnerability has become overcomplicated, and she has made an effort to return to the basics of measuring vulnerability, focusing on poverty (as measured by GDP/capita or percent below the poverty line); socioeconomic factors (e.g. age, gender, and race); biophysical factors (e.g. soil fertility, topography, and hydrology); other external factors (e.g. type of house, employment, and access to clean water); and response measures (e.g. transport, warning systems, and insurance).
Prof. Liverman went on to explore her current research questions, including whether better climate information and research can reduce suffering and economic loss, which adaptation strategies could help, and whether we can adapt to climate while meeting the Sustainable Development Goals (SDGs).
She focused in depth on her research on "multidimensional vulnerability" (i.e. vulnerability driven by the intersecting dimensions of gender, race, age, socieoeconomic status, and other forms of inequality) in Tucson, Arizona. The city is an ideal case study on climate vulnerability as it is the eighth poorest metropolitan area in the United States and a hot spot for climate change impacts. Her research team has conducted household interviews to examine vulnerability to heat waves and droughts, exploring contributing factors including food security, water access, energy costs, health status, employment, race, and gender.
The lecture was followed by a discussion with the audience led by Pardee Center Director Anthony Janetos.
Diana Liverman is currently Regents Professor of Geography and Development at the University of Arizona, a lead author for the IPCC Special Report on limiting global warming to 1.5°C, and a review editor for the US National Climate Assessment.
The full lecture and discussion can be viewed in the video above.