Pardee Center to Host Special Event at United Nations on Accountability and Implementation
The Pardee Center at Boston University will co-host a special high-level brainstorming session on "Accountability and Implementation: The Keys to Sustainable Development" to be held at the United Nations in New York on March 8, 2011, as a side-event at the second PrepCom meetings for the forthcoming 2012 Rio+20 conference (the United Nations Conference on Sustainable Development). The event is being held with support from the Nordic Missions of Denmark, Finland, Iceland, Norway and Sweden, to the United Nations and will be held on Tuesday, March 8 from 1.15-2.45 PM in Conference Room E (NLB) at the United Nations in New York.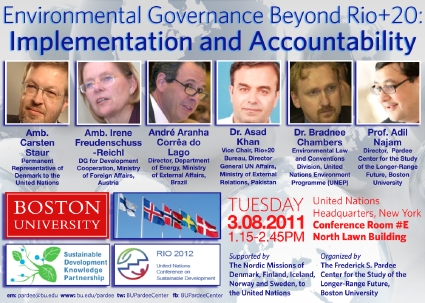 Senior diplomats, nongovernmental experts and scholars will attend the event, which will be structured as a brainstorming session intended to raise new and innovative ideas on how to make accountability and implementation a more prominent focus within global environmental governance, particularly in the discussions leading up to the Rio+20 conference. The panel will seek active discussion with and from all participants, and will kick off with opening invited remarks from the following panel:
Amb. Carsten Staur (Permanent Representative to the United Nations, Denmark)
André Aranha Corrêa do Lago (Ministry of External Relations, Brazil)
Amb. Irene Freudenschuss-Reichi (Director General for Development Cooperation, Austria)
Dr. Asad Khan (Vice Chair of Rio+20 Bureau and Ministry of Foreign Affairs, Pakistan)
Dr. Bradnee Chambers (Chief of Policy, Division of Environmental Law and Conventions, UNEP)
Prof. Adil Najam (Director, Pardee Center, Boston University)
Implementation and accountability are fundamental challenges confronting improved global environmental governance (GEG). Although there is much debate on GEG 'reform', there is a clear need to move beyond organizational tinkering and  shift the focus to GEG performance, including the issues of implementation and accountability. In this context, the Pardee Center will host this discussion building upon the Center's previous work in these areas. Specifically, the idea is to focus on the question: "What are some practical ways in which global environmental governance can be made more accountable and implementation more effective?" This effort will seek to develop a small number of concrete suggestions for incremental improvements that can feed into the Rio+20 agenda.
The Pardee Center has focused on the governance dimensions of the Rio+20 conference, including through its recent Task Force report on governance for a green economy (also here and here), participating actively in UN discussions (here and here), hosting discussions on accountability issues at the Pardee Center (here, here and here), through its previous seminars at the United Nations (here and here), and through its related publications, including a recent paper on accountability in global environmental governance. This brainstorming event will build on these activities, and ideas generated at the seminar will contribute to a future Pardee Center policy brief on the subject.
The Nordic Missions of Denmark, Finland, Iceland, Norway and Sweden are generously supporting this independent academic exercise, but this support does not necessarily signify any policy endorsement of the ideas discussed or emerging from the exercise.