November 18: Conference on Latin America 2060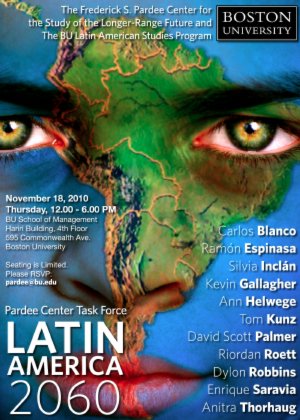 The Boston University Frederick S. Pardee Center for the Study of the Longer-Range Future and the Boston University Latin America Studies Program (BU LAS) will hold a conference on Latin America 2060 at Boston University on Thursday, Nov. 18, 2010.
The project is part of the Task Force on Latin America 2060 that has been convened by the Pardee Center and BU LAS to analyze the likely developments in Latin America over the next fifty years and the social, economic, political, and cultural patterns most likely to emerge. The conference on Nov. 18 is open to the public where Task Force members will be presenting their work in three panels – starting with lunch at 12 Noon and ending at 6PM. The Task Force members who will be presenting include:
Carlos Blanco (Boston University)
Ramon Espinasa (InterAmerican Development Bank)
Silvia Inclán (UNAM, México)
Kevin Gallagher (Boston University)
Ann Helwege (Boston University)
Tom Kunz (Boston University)
David Scott Palmer (Boston University)
Riordan Roett (Johns Hopkins University)
Dylon Robbins (Boston University)
Enrique Saravia (Getulio Vargas Foundation)
Anitra Thorhaug (Club of Rome)
The group will meet the following day to discuss and finalize their findings for the Task Force Report which will later be published by the Pardee Center.
The conference on Nove,ber 18 is open to faculty and scholars but because of limited seating prior RSVP is required to reserve seating and lunch. Please RSVP pardee@bu.edu by end of day Tuesday, November 16, 2010. Seating is limited to 40 participants only. The conference will be held at the 4th floor conference space at the BU School of Management (Hariri Building, 595 Commonwealth Avenue, Boston University).