Pardee House Seminar on the Internationalization of Higher Education
Dr Daniel Guhr, Managing Director of Illuminate Consulting Group,  dicussed  'Internationalization of Higher Education' at a Pardee House Seminar on Thursday, November 12, 2009.  Prof. Ben DeWinter, Boston University's Associate Provost for International Programs and Dean Jay Halfond of the Boston University Metropolitan College gave opening remarks at the Seminar.
Dr. Guhr serves as Illuminate Consulting Group's (ICG) Managing Director and the Head of the Alumni Networks as well as Talent Acquisition Practice Areas. He has authored more than twenty research papers and studies on educational, organisational, and business issues.  He frequently speaks at international conferences and comments widely on educational policy-making and competition topics in the press.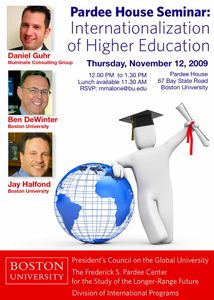 Dr Guhr begin with an analysis of trends in key international education countries including Australia, Canada, United Kingdom, Germany and the United States. He noted that growth rates in every country has slowed down notably in recent years due to factors such as an increase in alternative destinations for international students such as China, India, and Singapore. He provided a perspective on the United States as a top destination for international students and a perspective on international students at Boston University.
Dr Guhr's presentation was followed by a lively discussion and audience questions. Some of the issues discussed included the worth of an international student and ideas on engaging Latin American and African universities and students.