Experts Discuss Technology at Pardee House
Technology has been proclaimed as the "major driver of development." Yet, to effectively and practically realize the vast potential of technologic advances certain obstacles must be addressed. On November 3rd, 2008, three leading experts from three different fields gathered at the Pardee House to discuss the variety of interdisciplinary challenges facing the long-range future of technologic advancement and implementation in developing regions, with a focus on poverty.
The Pardee House Seminar, titled Future Challenges: Technology and Development, featured Ahmed Hashmi (Vice President, Group Research and Technology, BP, UK), Prof. Dilip Mookherjee (Department of Economics, Boston University), and Dr. Ashley Stevens (Executive Director, Technology Transfer, Boston University). Adil Najam, Director of the Frederick S. Pardee Center for the Study of the Longer-Range Future moderated the discussion.
The translation of healthcare research discoveries to clinical medicinal applications in third-world areas was the focus of Dr. Stevens' opening remarks. He argued that the role academic research plays in alleviating poverty has been moving more and more to the forefront in combating healthcare challenges in developing countries.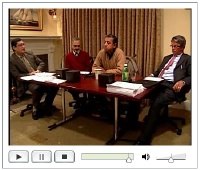 In particular, he spoke of the case of the AIDS drug d4T, developed at Yale University and licensed to Bristol-Myers Squibb Co., to make the point that when academic institutions hold patent rights to important technology it can be used for the global public good to a greater extent than it might have otherwise been. Dr. Stevens pointed out that over 130 drugs have been discovered and patented at US institutions, including the NIH and that University licensing policies can have great impact on how poor countries can benefit from technology. The patenting system, he pointed out, can take many years to change, whereas changes in licensing policy take effect "overnight." Therefore, Dr. Stevens states, "Licensing practice implemented by universities have a great impact on the availability of these drugs."
Mr. Ahmed Hashmi from BP confronted the issue of energy supply and demand as a challenge pertaining to technology and development. he drew on three key questions: (1) Are there sufficient resources to meet the world's needs? (2) Can government and consumers feel secure? (3) Can resources be developed in a manner that is environmentally sustainable? He argued that it is more likely that there will be a "demand peak" before there is an "supply peak." At current consumption rates, he argued, there is at least 40 years worth of conventional oil and 60 years of gas still available to be recovered with existing technology.
Mr. Hashmi stated that there needs to be continued research on developing fossil fuel derived products which are more efficient and have lower carbon emissions. He mentioned that energy demand is expected to grow and that energy security is a concern in both the developed and developing worlds. In order for new low-carbon technologies to be pervasive, they will need to become more cost competitive. He stressed that technology and policy need to inform one another. We already have a lot of the technology needed to address needs for the future, he said, but there are "no silver bullets."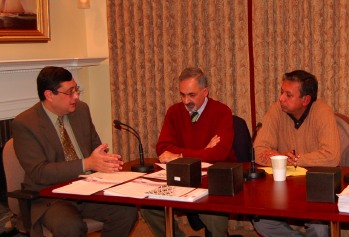 Prof. Dilip Mookherjee discussed some major economic issues that are of particular importance to technology in developing areas. He touched on the political tensions that arise when inequalities within countries – often driven by technological change and compounded by policy ineffectiveness – give rise to problems of relocation and adjustment.
In his remarks, Prof. Mookherjee discussed two case studies as examples. The first involved the failed attempt to construct a TATA Nano automobile factory in West Bengal in India, because of concerns about land compensation. The second example was that of Pepsi's contracts with farms that supply potatos for potato chips and the complexities of imposing uniform standards for the quality of the potatos that are delivered to the chip factories. Both cases demonstrate how the link between technology and development cannot simply be viewed through the lens of particular products, but need also to be understood through the systems and processes in which technology is imbedded.
The panel presentations were followed by a lively question and answer session with the audience.