Climate Risk and Corporate Responsibility
As governments and companies focus on a postpandemic world, climate issues take the lead.
Feature
Climate Risk and Corporate Responsibility
As governments and companies focus on a postpandemic world, climate issues take the lead.
Climate risk issues will experience a resurgence this year.

So says Sansanee Dhanasarnsombat (LLM'05), principal legal analyst of environmental, social, and governance (ESG) and sustainability for Bloomberg Law. "We know that climate risk poses a threat to global financial stability," she says. "As governments and companies focus on a postpandemic world, climate issues are going to be a significant priority."
Dhanasarnsombat brings substantial experience advising multinational companies on corporate sustainability to her role at Bloomberg Law. As a policy researcher for the Royal Thai Embassy in Washington, DC, she worked on issues related to corporate social responsibility of multinational companies and their responsibilities to the communities in which they operate. She spent 10 years at the consulting firm Enhesa, where she tracked, analyzed, and interpreted environmental, health, and safety (EHS) regulatory requirements and policies for clients across multiple sectors.
Today, she analyzes ESG and sustainability issues for lawyers who advise both multinational and domestic companies—and she sees several trends on the horizon.
Emerging Risks
For a long time, the purpose of a corporation was primarily to increase shareholder profits, but that is shifting—driven both by the COVID-19 pandemic and the 2019 Business Roundtable statement signed by almost 200 CEOs from major US companies—to include things like taking care of employees and the environment.
"We're seeing more alignment with the idea of stakeholder capitalism rather than a sole focus on shareholder capitalism. The challenge is going to be finding the best way to balance those interests," says Dhanasarnsombat.
Companies have strong incentives to create programs that will improve the communities in which they operate.
"These environmental, social, and governance issues are nonfinancial indicators that investors use to measure a company's operation, and they can materially impact financial performance," she explains. "Investors who look at ESG issues may ask environmental-related questions, like: How does the company take care of the environment? Does it have a strong greenhouse gas reduction plan? How does it discharge wastewater?"
At a minimum, companies must comply with applicable environmental and other regulations, such as those of the Environmental Protection Agency and the Occupational Safety and Health Administration. "Noncompliance with these regulations may result in fines and litigation, not just reputational damage. That, in turn, can hurt companies' financial performance due to revenue loss. Companies that successfully integrate ESG considerations into their business operations can foster better compliance with applicable regulatory requirements, enhance their reputations, and promote long-term sustainable growth."
While environmental issues did not go away last year, they were overshadowed by some of the social aspects of ESG during the pandemic. "COVID-19 put a spotlight on health and safety," she says. "Investors wanted to know about corporations' workplace safety issues, how they treated employees, and their return-to-work policies."
The Black Lives Matter movement also brought social justice, diversity, and equity to the forefront for corporations. "We are seeing more disclosure of these types of issues by companies as well as independent analysis, so investors can compare companies across their peers when making investment decisions," notes Dhanasarnsombat.
As we move forward from this period, she points out that it makes financial sense for conversations about climate risk to resume, although racial justice and equality considerations will continue to be important elements of strong ESG programs. "Companies that are genuinely concerned about these issues and have invested in their ESG programs will be more resilient in the long run."
The financial sector, in particular, will feel pressure to focus on climate risk. "Financial institutions are increasingly exposed to climate risks connected with loans and investments. As a result, regulators and investors are stressing the importance of shifting financing away from companies or projects that contribute to climate change and setting goals to reduce greenhouse gas emissions."
Another postpandemic trend forecast is increased pressure for companies to improve the availability and quality of disclosure of climate-related risks. For example, in September 2020, the Business Roundtable issued a statement suggesting that effective disclosures should focus on a company's approach to risk management and its connections to strategy and governance. These conversations on climate change slowed down at the beginning of the pandemic, but they are now picking up speed.
"As pressure to manage climate risk increases, companies should engage with their financial institutions to understand expectations, share emissions data, and start developing their own carbon reduction goals and plans," she adds.
Dhanasarnsombat's goal as an analyst is to provide practical guidance for corporate lawyers to help them advise companies and boards of directors about ESG issues. In addition to writing analyses, she provides tools like checklists, timelines, and comparison tables.
She also writes articles to help legal practitioners stay on top of ESG issues and trends. "I'm particularly proud of how we incorporate data into the analysis to discuss issues of interest to our clients," she says, noting that she has authored articles on a range of ESG topics, from directors' exposure from climate risk and future pressure on the financial sector to how ESG and COVID-19 responses share a common blueprint.
"ESG is a major emerging risk that lawyers need to understand," she says. "I'm thrilled to provide insights that help lawyers navigate sustainability policies, programs, and ESG reporting."
---

Investors who look at ESG issues may ask environmental-related questions, like: How does the company take care of the environment? Does it have a strong greenhouse gas reduction plan? How does it discharge wastewater?"

---
A Unique Career Path
Dhanasarnsombat's career began with three law degrees. She started out studying international business and banking law while attending law school in her home country of Thailand. She came to BU Law to pursue an LLM in Banking & Financial Law because of the school's reputation in the area of financial regulation. Her studies at BU Law propelled her to dive deeper into trade and finance at Georgetown University, where she earned an LLM in International Legal Studies.
After graduating from Georgetown, Dhanasarnsombat launched her career in international economic policies research at the Royal Thai Embassy. "I monitored US and foreign trade, finance, energy, and climate change policies and analyzed their implications in Thailand. Climate change was not new, but there was not yet a lot of discussion about it in Thailand. As I learned more about it, I became increasingly interested in this area," she says.
She then joined Enhesa, which was looking for someone with an understanding of Thai and international environmental laws. "That position presented a good opportunity to learn EHS laws in different countries and compare them across jurisdictions to find trends," she says, noting that she advised companies on a wide range of risk issues from hazardous waste management and transportation of dangerous goods to climate risk disclosure and corporate social responsibility.
"It was fascinating to see strong connections between my background in banking and finance and my ability to help companies improve their socially responsible practices. Companies are likely to be more sustainable and resilient in the long term when they do more than what is required under the law. Compliance is the bare minimum, so this was an opportunity to raise the bar for our clients," she says.
Dhanasarnsombat credits BU Law with helping her to create this unique career path at the intersection of financial markets, corporate social responsibility, ESG, and EHS. "When I started studying this area of law, there was no discussion about how ESG risks could financially impact companies, but now this area is taking off. It is critical to understand these risks in order to make a positive impact on society, and I'm excited to be making a difference."
---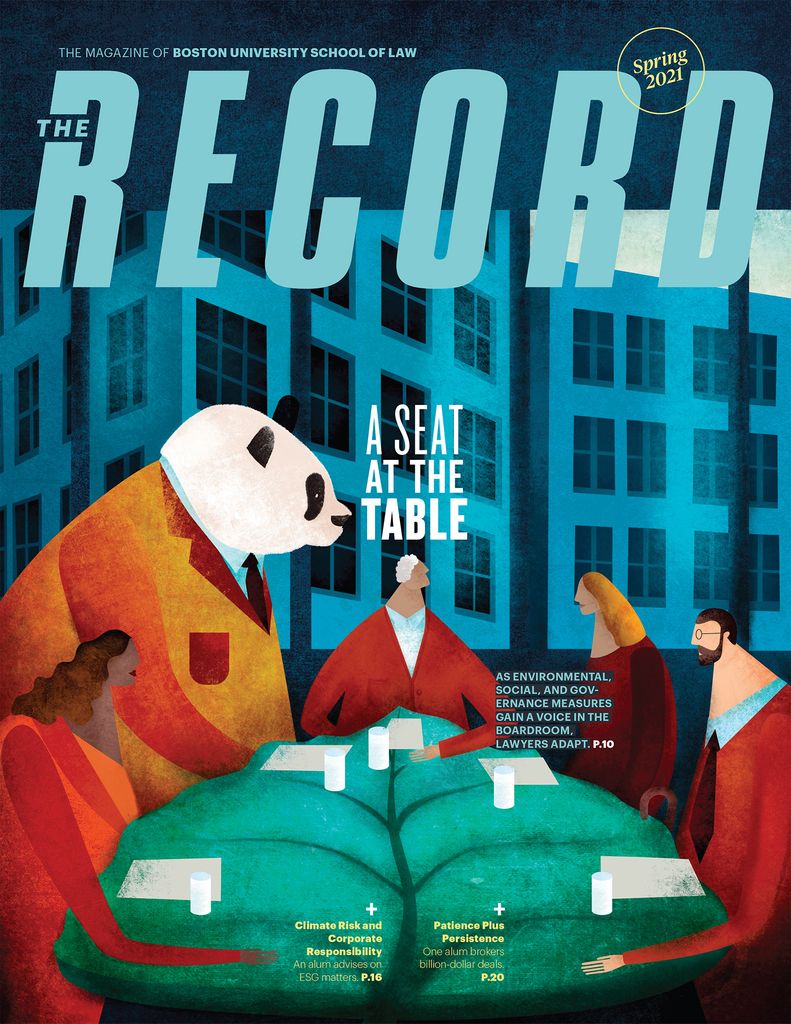 FEATURED IN:
The Record,
Spring 2021
---