Row your way to fitness.
Rowing and sculling are suspended until further notice. See our full COVID-19 response and FAQs here.
Located on the Cambridge side of the Charles River, the DeWolfe Boathouse is a state-of-the-art facility and an ideal place to sharpen your rowing skills or to learn to row. Rowing is an excellent aerobic exercise that will improve muscle strength, endurance, flexibility and agility. Not to mention the positive mental benefits of beginning or ending your day on the Charles River in fresh air and sunshine.
Rowing and sculling classes are offered in the early morning and evening during the summer and fall, while indoor rowing training is offered in the off-season. The DeWolfe Boathouse provides an invigorating environment for rowing against the backdrop of the beautiful Boston skyline.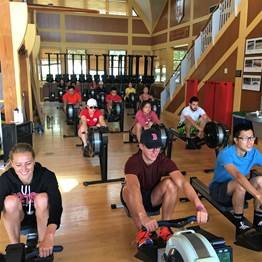 Featured Class: Indoor Rowing Fitness
Rowing Fitness delivers a fast, efficient total body workout while focusing on cardiovascular health and strength training.
Register Now
Boating Swim Test
The Boating Swim Test is required for all outdoor rowing classes and may be taken during open swim hours at the Competition Pool at FitRec. Upon passing the Boating Swim Test, a BU Boat Test Card will be issued. This card is valid for five years and must be presented to your rowing instructor at the first class. The test includes the following components:
Jump or dive into the pool and swim 5 yards/3 body lengths underwater.
Surface and continue swimming 100 yards, demonstrating rhythmic breathing (freestyle or breaststroke).
Touch the wall, move away, and tread water for 2 continuous minutes.
Float on your stomach without sculling or kicking for 1 minute, turning only your head to breathe.