Climb the Great Wall of FitRec.
The Barreca Climbing Wall is closed until further notice. See our full COVID-19 response and FAQs here.
Why? Because you can! Our amazing 30-foot Barreca Climbing Wall is an endorphin-pumping challenge that uses every muscle in your body, including the one between your ears.  Rock climbing is a unique and exciting sport, and the FitRec wall is designed to accommodate climbers of all ages and ability levels.  Members have free access to our great wall anytime during open recreation hours, and all necessary climbing equipment can be rented from the Pro Shop. Contact us if you have questions!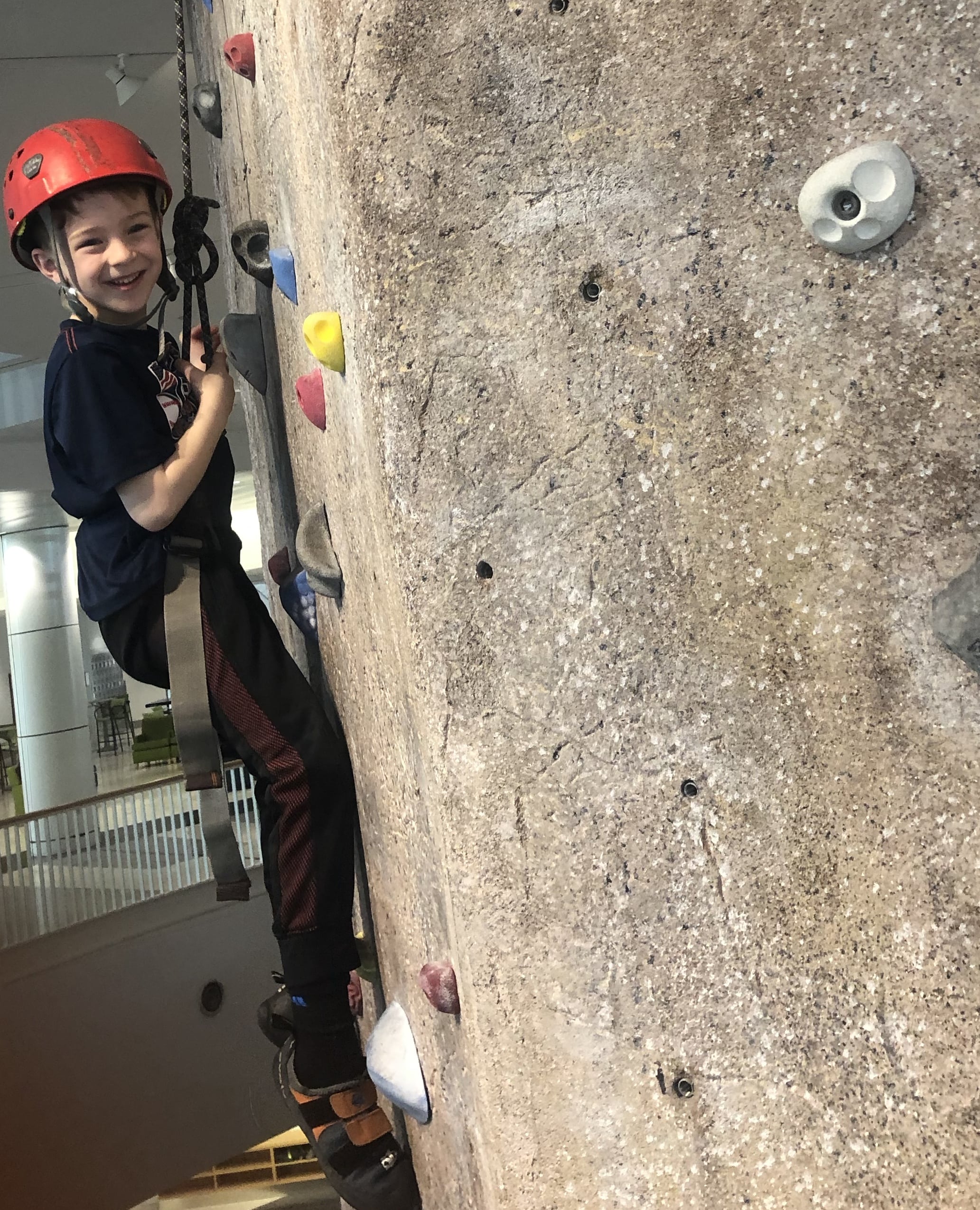 Rock Climbing for Families, Children and Teens
Learn More
Climbing Wall Hours
Closed until further notice
Exceptions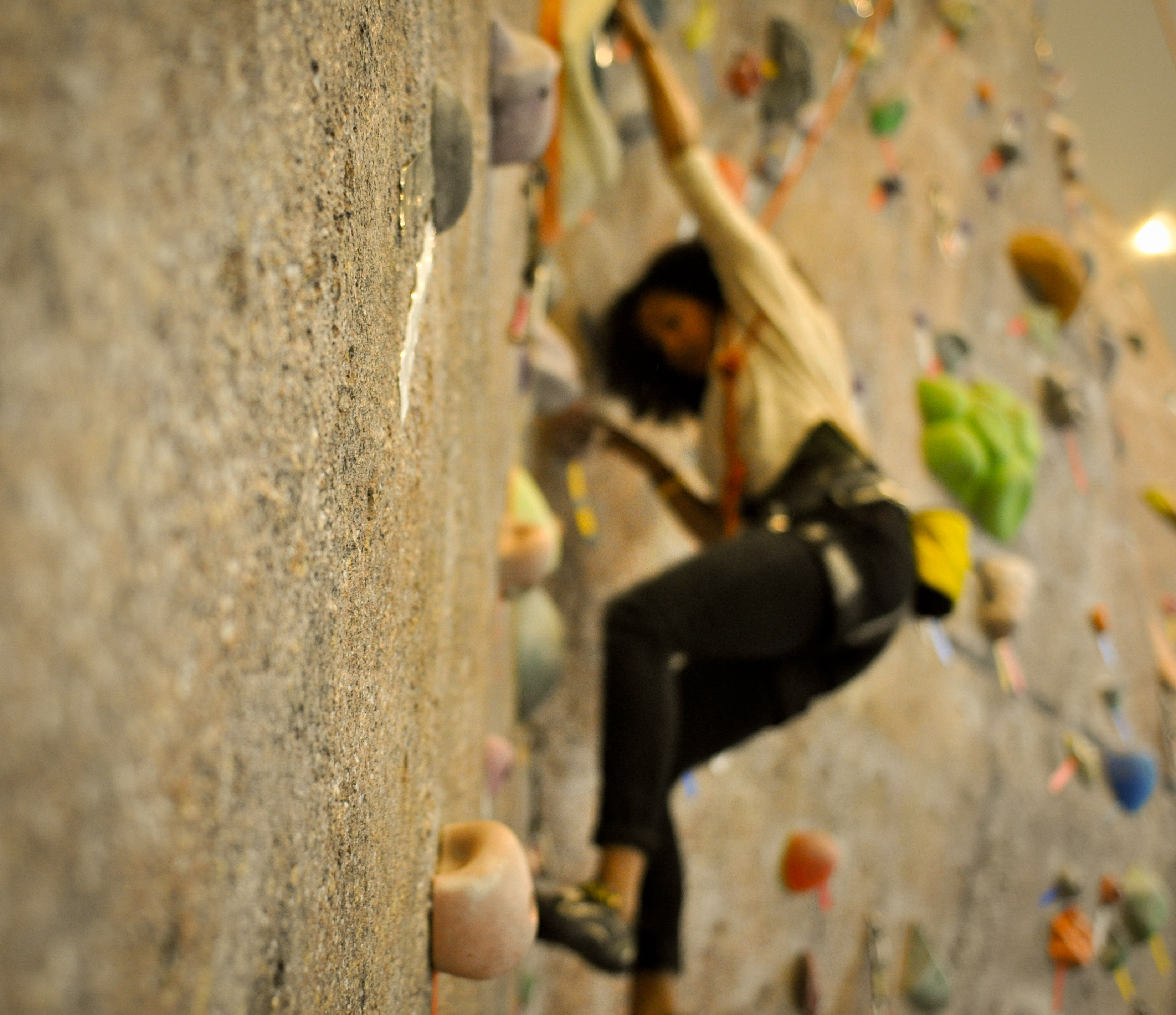 Credit Rock Climbing
Register here to pay the $40 Fall Climbing rental fee for PDP OE 140 and PDP OE 340. Please register for these classes on the BU Student Link prior to paying the fee.
Register
Get To Know The Wall
The wall is open for all members, but there are some skills you'll need to learn before you can use it to its full potential.  We have three great programs that can get you started!
Rope Up – Wednesday nights 

7 pm – 9 pm

.  This package includes equipment rental and an opportunity to rope climb to the top of the wall under the guidance of the staff.  Passes are available at Pro Shop upon arrival.
Learn to Belay – Want to climb on the ropes? Sign up for a Learn to Belay class, and learn the skills to climb to the top during any of our open recreation hours. This class is offered most days of the week from 7 pm – 8 pm.
Climbing Semester Pass

–  Rather than renting equipment each time you come, this pass will allow you unlimited shoe, harness and chalk rental for the current semester.
Classes for beginners and savvy climbers
If you're a first-timer or unsure of your climbing skills, we suggest taking a Learn to Belay class or Climbing Fundamentals before tackling the wall on your own. We also offer Women's Beginner Climb on Wednesday mornings from 7-8am.
For climbers looking to improve their bouldering technique, take a look at Get Boulder. This class focuses on overcoming the physical and mental challenges of climbing by improving technique, coordination, and focus. Take advantage of this class to prepare for our Annual FitRock Climbing Competition!
Want to break into the world of real rock climbing?  Luckily for us, Boston is just a few hours away from some beautiful world class climbing destinations!  We offer two indoor classes that will teach the technical and risk management skills necessary to take your climbing to the great outdoors: Lead Climbing (offered as a 5-pack of private or semi-private lessons) and Gym to Crag Transition.
We also offer private lessons for those looking for one-on-one instruction.  And don't forget our awesome programs for youth and families!
FitRock Boulder Competition
The FitRock Boulder Competition is intended for climbers of all experience levels, and there will be prizes for the winners of each division. See a recap of the 2018 competition in the video below!

Rent the Wall

Hosting a birthday party or office function? Rent our Barreca Climbing Wall and take your event to new heights.

More Information