A dance program for teens.
Reach 2020 will be an all-remote program this summer! More than ever, our children and artist educators need to look forward to moving and dancing together. We will make that happen online! Our instructors will use social media to teach, choreograph, and rehearse. We will create a 45 minute interactive performance video that can be shared on various platforms to reach the urban youth of the greater Boston area. Hosting interactive workshops for children in partnership with organizations that serve youth is also being investigated. Reach will continue to bring people of diverse backgrounds together, energize our love of learning, and demonstrate the healing power that dance can bring to our community.
Clips from the Reach 2019 performance. Edited by Olivia Blaisdell.
Clips from the Reach 2018 performance. Edited by Brittany Kubicko.
Reach is a five-week program that trains teen apprentices in dance and choreography, helping them to develop essential skills in a structured, educational environment. The program provides a quality art experience to thousands of urban youth when the teens and professionals take their work on tour. Reach combines innovative choreography and professional dance instruction to create a unique service opportunity designed to make teens' summer anything but ordinary.
Members of the Reach dance company are exposed to different styles of dance from around the world—from modern to hip-hop, from ballet to traditional Haitian, and from Chinese dance to Krumping. If you join Reach, you'll meet new friends, work with dance professionals, improve your technique, and share your talents with kids who aren't regularly exposed to dance.
Reach really makes a difference in the lives of the kids it serves and those who take part in the program. You'll get to meet and work with youth from around the greater Boston area, and you'll get to perform all over the city as a part of Reach's intergenerational company of students, college interns, and professionals.
"I learned more technique and I was taught different styles of dance that I had never tried before, and I also learned how it feels to be accepted by my peers for who I am."
– Frankie Domond, teen apprentice in 2006
"Teaching workshops helped us as apprentices to really connect with children and help them learn about dance. By helping I learned excellent strategies on how to teach dance, work with kids, and help kids express their feelings…It was inspirational…"
–Charlotte Willet, teen apprentice in 2012
2020 Program Dates
Audition: Saturday, March 28, 12 pm – 2 pm, FitRec L126/128
Instruction: June 29 – July 17, Monday – Friday, 9 am – 2 pm
Tour: July 20 – 31, Monday – Friday, 8 am – 2 pm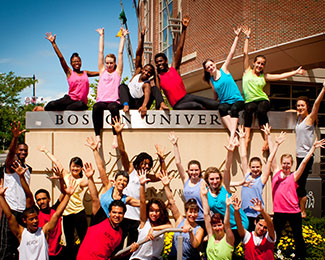 Donate

Please consider donating to Reach! Reach is required to raise revenue through grants, fees-for-service, and contributions. We thank you for your support!

Donate now