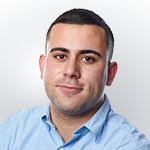 Getting Started at MET—Coordinator Andrey Blidman is Your Guide
Program Coordinator, MET Department of Computer Science
Can you please briefly summarize what your role at BU MET entails?
I have several responsibilities as the computer science program coordinator within the Computer Science department of Boston University's Metropolitan College. I work with both online and on-campus students who are conditionally admitted or pre-matriculated, helping them set up their BU accounts and register for classes, as well as answering any questions they may have along the way. Every semester, I send out reminder emails to online conditionally admitted students about deadlines for registration, refunds, or dropping with a "W," along with other important information. For the on-campus-related part of my job, I work with students in our Master of Science in Computer Information Systems (MSCIS) program (domestic and international). I am their first point of contact in the department, providing guidance for next steps and instructions for BU Kerberos set-up. I also work closely with our international MSCIS students on preparing and submitting their files to ISSO for their I-20 application review. I am reachable Monday through Friday by email at metcsapp@bu.edu or by phone at 617-353-2566, and am happy to chat with prospective, current, or graduated students about our programs. If I can't answer your question, I will redirect you to the person who can.
What is your favorite aspect of your position?
I love our front office staff and the other colleagues with whom I work closely on the daily basis. BU MET has become my new home for work and my graduate studies, and I am honored to be a part of this terrific team.
What advice do you have for students in the Computer Science programs?
If you are currently in one of our programs, please feel free to visit us at our new office (1010 Commonwealth Avenue, Third Floor) if you have any questions or want to have a chat with someone. If you have already graduated, please stay in touch and let us know how you are doing!
What advice can you offer new students as they begin their graduate studies?
If you decide to apply to one of our graduate programs, please make sure you do the research prior to starting the program and prepare yourself mentally for the workload—and the sacrifices that you will need to make in order to graduate. Grad school is hard, but not impossible.