GHC 2019 Empowers BU CS Students
By Kayla Chapman
14 Boston University Computer Science (CS) students and three CS staff members landed in Orlando, Florida on October 1, 2019, for a week-long celebration of women in computing at the 2019 Grace Hopper Celebration (GHC). The annual convention serves as a gathering point for the bright female minds in technology.  
As the largest conference for women and female-identifying people in technology, GHC bursts with an incredible variety of networking and employment opportunities, inspiring speakers, and meaningful peer connections. The event offers attendees access to a career fair, mentorship sessions, presentations from industry professionals and more. This year's conference, according to participants, exceeded all expectations. 
"The word that comes to mind when thinking about my Grace Hopper experience is overwhelming in the absolute best way possible," said senior Sumara Ali (CAS'20). 
Every year CS students at BU submit comprehensive applications in hopes of being sponsored by the Department of Computer Science to attend GHC. Nearly 50% of applicants were awarded sponsorship this year. 
"When I received the email saying I was awarded the BU GHC Scholarship, I was over the moon," said Sarah Greisdorf (CAS'20). "The months leading up to the event were filled with anticipation and eagerness as I didn't know what to expect but couldn't wait to arrive."
Between busy hallways and filled seats, students initially found the number of participants at GHC intimidating. However, attendees quickly felt the power of female camaraderie and support in a male-dominated industry. For Megan Fantes (GRS'20), attending such a large event evoked both shock and intrigue.
"The number of people at Grace Hopper is unimaginable. 25,000 people is a hard number to wrap your head around in general but it was confusing to me that there were 25,000 women in computer science in the United States," said the Master's student. "It made me wonder why we all feel so alone as women in computer science when there are actually so many of us."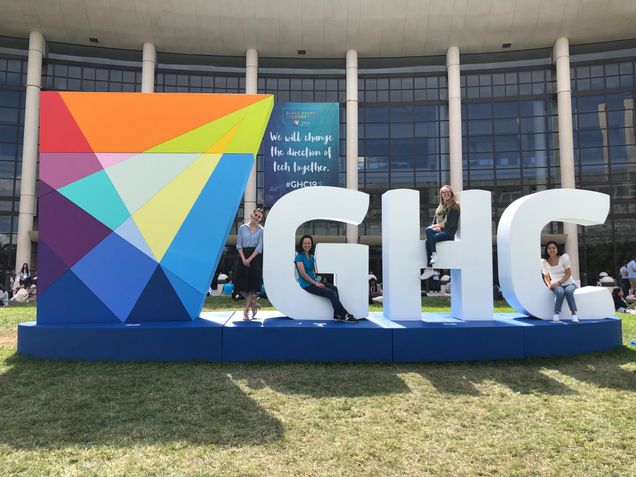 While there is no shortage of reasons to attend GHC, the career fair is a notable highlight. Attendees are given primary access to discuss professional opportunities with highly sought-after employers. Some participants even receive the opportunity to take these conversations a step further and participate in interviews at the conference. 
"It was so refreshing to see so many companies, big and small, advocating for an increase in women and diverse candidates," said Taylor Rabbitt (CAS'20).  "While I was at the conference, I had the opportunity to meet two VPs at American Express and was even able to land a job offer for a full-time position." 
While students like Rabbitt sought out post-graduate opportunities, younger participants found value in practicing how to engage with potential employers.
"I went into [the career fair] with only a vague idea of how to pitch myself," said Shanshan Cao (CAS'22). "I came out of it with a solid idea of where I stand as a tech person and feeling confident and comfortable in a career fair environment." 
Beyond the career fair, the conference served as a chance for women around the world to celebrate their unique position in the technology industry.
"As a woman of color, I have not been given many opportunities to get into tech and coding," said senior Hannah Batio (CAS'20). "I think it is amazing that GHC is reaching out to young people and industry people alike to get them excited about women in tech." 
GHC 2019 marked the fourth year the Department of Computer Science has sponsored the event and sent a large group of students. For the staff members who represented the department, the impact was inspiring to see. 
"All students receive a lot of value even if it's not a job offer," said Senior Program Administrator Christian Cole (CAS'11). "It's really powerful for them to see just how many women there actually are in computing. Even though the percentage is much lower than it should be, the sheer number of people is high enough that there can be a really strong community." 
Along with Cole, Undergraduate Program Director Jacob Harrington (CAS/GRS'16) and Ph.D. Program Director Kori MacDonald managed a booth during the career expo to promote BU's graduate student programs, faculty hiring, and world-class research. All three applauded the students' involvement and eagerness throughout the event. 
"[The students] always seemed really busy and on the go, and I think that shows a lot of ambition. They really took every opportunity to make it the best," said MacDonald. 
The staff also noted the high number of alumni who stopped by to say hello. "One of our alumni who was representing her company at GHC visited the booth," said Harrington. "We sent her to [the conference] last year and she told us how much of a difference GHC made for her."
The confidence boost provided by the celebration was felt by many of the attendees. 
"One of the greatest takeaways from GHC was the importance of owning your accomplishments," said Ph.D. student Andrea Burns (GRS'23). "It is often too easy to undermine your success, especially as a woman, but I found it was necessary to communicate my strengths and achievements and ultimately that was what landed me my interviews."
In the end, GHC 2019 left many of the students inspired and thankful for the opportunity. 
"It was so amazing to see so many women gathered together united by our love of technology," said Rachel Peng (CAS '21) I am so grateful to have been selected by the program to attend!"