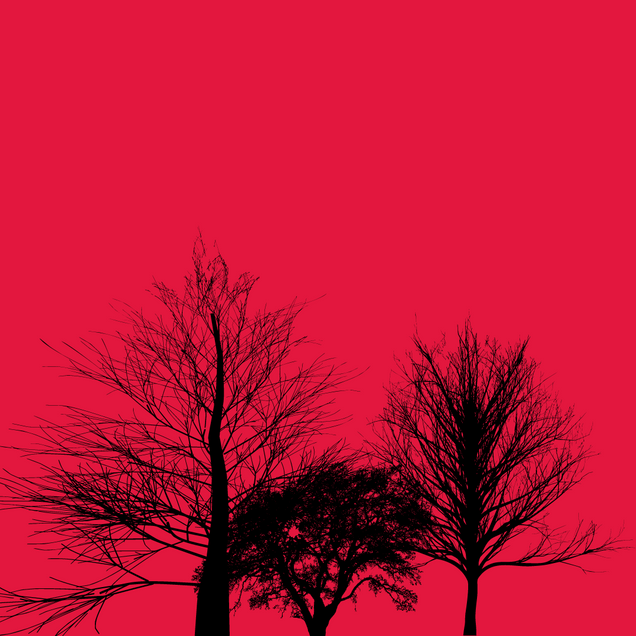 By Keziah Zimmerman
As the 2020/2021 academic year comes to an end, we wanted to take a moment to recognize the efforts of our staff members. These incredible individuals not only committed themselves to creating a successful learning experience for CS students but did so with ever-present enthusiasm. Below, we have collected biographies from our social media series, Branching Out, which highlighted staff member's previous accomplishments, demonstrated personal interests, and better unified our community. Here's to the CS department and all you have done this year- thank you for helping the CS and BU community flourish! 
Jess Kupczak: Undergraduate Academic Advisor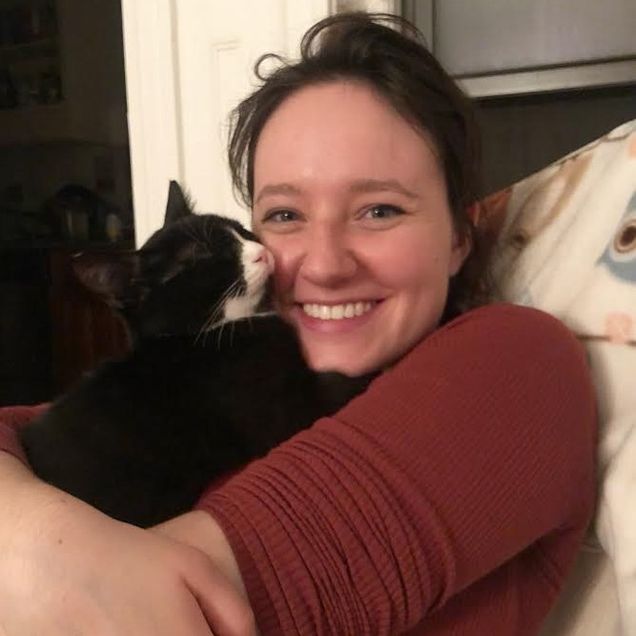 Originally from Boston, Jess graduated from Boston University in 2018 with a BA in Psychology. When applying for jobs, she ultimately chose BU CS because of the exciting developments in the field and for the opportunity to build relationships with students. "My favorite part of my job is hearing about student's interests, goals, and passions," Jess said. 
When she's not at work, Jess enjoys baking, embroidery, and painting. Jess's favorite TV show is New Girl (not just because the main character is named Jess), and she recommends it to everyone! Her top music genres on Spotify are Pop and Rock and her favorite artists are Bon Iver, Harry Styles, Florence and the Machine, and Rainbow Kitten Surprise. She's currently reading "Becoming" by Michelle Obama and "The Devil in the White City" by Erik Larson. Jess also has a rambunctious Tuxedo kitty named Leo, who has more nicknames than the average cat. In addition to being called Leo, he also goes by Leonardo DiCatrio, Bubba, and Stinky.
For those new to Boston looking for a bite to eat, Jess recommends trying Tatte Bakery, Pavement Coffeehouse, Life Alive Organic Café, and Blaze Pizza. She also thinks every Bostonian should take a trip across the Smoot Bridge (or the MIT Mass Ave Bridge) for the views and should visit the North End for baked goods- "go to Bova's Bakery and skip the line at Mike's and Modern," Jess said.
Looking back on her own college experience, Jess wishes she had pushed herself out of her comfort zone a bit more and spent time exploring fields she was unfamiliar with. "Make sure you get out of the BU bubble," Jess said. "This goes for physical campus but also in terms of academics – be sure to branch out!"
Jess, we thank you for all you do for our department and for participating in our Branching Out series. Best of luck as you continue your work!
Erin Murdock: Undergraduate Academic Advisor
Erin rece
ntly joined BU CS and will work alongside Jess Kupczak as one of our new Undergraduate Academic Advisors! Although Erin is just getting started in her new role, she is extremely excited to grow with the CS department. She completed her BA at Mount Holyoke College, with a major in Gender & Environmental Studies and a certificate in Queer & Sexuality Studies. Erin also holds an Ed.M. from Boston University in Educational Leadership & Policy Studies that she completed in 2019 and she is currently pursuing an MBA from the Questrom School of Business.
Outside of work, Erin enjoys yoga and has been actively trying to incorporate it into her everyday routine. During quarantine, she thinks everyone should read Educated: A Memoir, by Tara Westover, which is a true story about a survivalist family and how education changed Westover's life. Erin has a 6-year-old Boston Terrier named Kobe (like the beef not the Bryant), and he feels right at home here at BU!
If you are looking for places to eat in Boston, Erin highly recommends the Barking Crab in Seaport. When asked what the best coffee spot on campus was, she responded: "I have a strong opinion on this. Einstein Bros. Bagels in the CAS basement. Order a hazelnut coffee and an asiago bagel with garlic and herb cream cheese- the combination is out of this world."
Based on her own experiences, Erin encourages students to pursue activities that bring them joy. "I was on an NCAA swimming & diving team my first year of college and was absolutely miserable," she said. "Even though I was unhappy, I was determined to stick with it because I had made a commitment. Of course, stick with your commitments you make, but not at the expense of your own happiness."
Thank you, Erin for all of your efforts- we look forward to your continued hard work! 
Jacob Harrington: Academic Programs Manager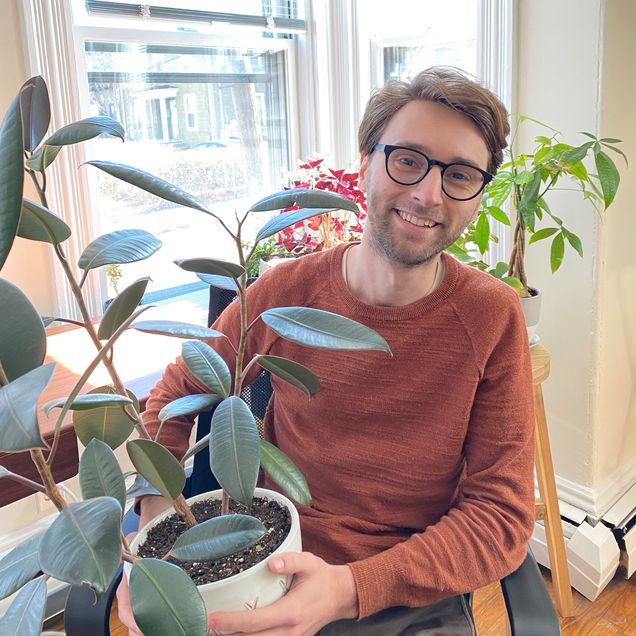 Growing up in Wallingford, Connecticut, Jacob was determined to pursue his undergraduate degree in a bustling city and he decided to do so at BU. He graduated in 2016 with his BA/MA in Economics and completed his Master of Urban Affairs through BU's Metropolitan College in 2019. Jacob's love for BU continued past graduation - he has been working at the university since the day after he received his degree! His favorite part of the job is being able to work with amazing colleagues, not just within the department, but across the entire university.
With more time indoors due to the pandemic, Jacob has rekindled his passion for playing the trombone, finding that playing music is a great stress-reliever after busy days on Zoom. Being inside has also allowed Jacob to spend more time with Riggins, his orange tabby cat who loves to cuddle and steal food off of people's plates. Jacob's top three musical artists are The National, Pinegrove, and Future Islands, and although Kelly Clarkson does not fall on his top three musicians' list, his go-to karaoke song is (obviously) Since U Been Gone! The last book he read was the third novel of The Witcher series, Baptism of Fire, and highly recommends this series to anyone looking for new books to read. Jacob's favorite restaurants are Veggie Galaxy in Central Square, Cambridge; Stoked Pizza in Washington Square, Brookline; and Saloniki Greek in Fenway!
To students looking for advice, Jacob emphasizes the importance of connecting with professors. "Go to office hours and talk with your professors," Jacob said. "Don't be afraid or nervous to talk about yourself and your accomplishments."
A huge thank you to Jacob for all of his work throughout this past year. You are an essential part of our community and we appreciate all you do!
Christian Cole: Senior Program Administrator 
Meet Christian Cole, the Senior Program Administrator for the CS Department! Growing up in rural Maine, Christian decided to branch out (pun intended) from these rustic roots and venture to the city for his college years. To achieve these dreams of attending university in a city, he decided to go to BU. Christian graduated with his BA in Environmental Science and a French minor. After college, he continued on to work for the CS Department. He enjoys working in the CS world for its dynamic nature, but his favorite part of the job is watching students graduate, as he loves seeing them achieve such a momentous goal.
Prior to the pandemic, Christian was a huge runner, spinner, and traveler, but ever since quarantine, he has dabbled in a new hobby: Animal Crossing New Horizons. Quarantine has also given Christian time to indulge in more Netflix. He loved Bridgerton and is an adamant follower of the new season of RuPaul's Drag Race. While his favorite artists include Lady Gaga, Troye Sivan, and Lizzo, Christian once won a gift certificate to the BU Pub for his karaoke performance of Prince Ali from Aladdin.
As a BU native, Christian's favorite spot on campus is Bay State Road in the spring with all the magnolia and dogwood trees in bloom. He encourages every Bostonian to go kayaking on the Charles and try the almond milk latte from 1369 Cafe in Inman Square! If you're looking for new restaurants, Christian recommends Monument Restaurant and Tavern in Charlestown, Lulu's in Allston, and Cambridge Common in Harvard Square.
From his own college and professional experiences, Christian advises students to attend office hours on a semi-regular basis. "Office hours give you something to work towards so you have questions to ask," Christian said. "It helps you get to know your professors better which is great for recommendations if you decide to apply to grad school." He also encourages students post-pandemic to study abroad, describing his time in Grenoble, France (RIP) as "the best undergraduate experience" he had.
A special thank you to Christian for his constant support throughout this past year. Your work does not go unnoticed and we appreciate everything you do for the CS community! 
Kori MacDonald: Program Administrator
Today's Branching Out feature is Kori MacDonald, the Program Administrator for the CS Ph.D. Program! Originally from Merrimack, NH, Kori received her BA in Public Relations at Quinnipiac University. After graduation, she decided to attend Merrimack College, where she received her M.Ed. in Higher Education. After learning about BU CS, she recognized the program's potential for growth, with its increasing Ph.D population and BU's plans to construct a new building. Kori accepted her job offer in hopes of contributing to this development but ended up connecting with people so personally, she considers the CS community to be a part of her extended family.
Although Kori does not qualify herself to decorate the Sistine Chapel, she adores painting. Kori has two dogs Stella and Nova! Stella is 14 years old, a favorite among department faculty members, and Nova is a newly adopted 3-year-old puppy. Kori also has a hamster, Lavender, who has also been well-integrated into her family's zoo.
Kori really misses Pavement's coffee, stating that she's unsure if it's because she hasn't had it in a year or if it's because it's really that good, "but a mocha latte with a pistachio muffin… chef's kiss!" She thinks every Bostonian should go to a Red Sox or a Bruins game, Kori suggests being on the lookout for what's right in BU's back yard. "Even if you don't know or like the sport," she said, "it's the crowds, the company you're with, and the snacks that make nights at Fenway or the Garden so special."
Beyond enjoying lattes from Pavement or experiencing memorable nights wandering around Boston, Kori encourages students to appreciate the time they have in school. "College has a lot to offer, beyond resume builders! Do things that make you happy and spend time (COVID-safely) with people who support you the way you support them," she said. "I think, all of us, not just college students, forget to celebrate the small stuff. So, if you feel you've had a productive day, or you passed an exam, or you put yourself out there in a new situation, celebrate that!"
Kori, we appreciate all of your work and perseverance throughout this year- thank you for all you do!
Chelsea Houlihan: Administrative Coordinator 
Born and raised in Connecticut, Chelsea moved away from home to attend the University of Massachusetts Dartmouth, where she majored in English Rhetoric & Communications. After graduating, Chelsea decided to develop her career at BU CS, the main reason being the department's inclusive and dynamic work environment. As a close-knit community, Chelsea has been able to build connections and has limitless opportunities to meet new people, which is her favorite part of the job!
When she's not chatting with other CS staff members and getting to know students, Chelsea enjoys CrossFit, traveling to new places (pre-COVID), hiking, and spending her summer days at the beach playing cornhole. When the weather forces her to stay inside, she binges shows such as WandaVision and Good Trouble, which she recommends everyone should watch if they have the time. Chelsea also has a new member of her family - Astro, who is a 6-month old puppy and is quite the handful!
To truly experience Boston culture, Chelsea encourages people to attend a Bruins hockey game and recommends taking a bike ride through Seaport, as there are amazing views and restaurants scattered throughout the area. Specific restaurants Chelsea enjoys dining at are Mama Magoos and Jim's Market (order the Clogger- a hearty and delicious breakfast sandwich). She is also a huge fan of Los Amigos, which she passionately argues is superior to Chipotle.
In addition to exploring the city, Chelsea urges students to take the time to meet new people through school events, as they are a great way to network with peers.
Thank you, Chelsea, for participating in Branching Out and for helping our department run smoothly- we couldn't do it without you!
Cristhel Santillan: Grants Administrator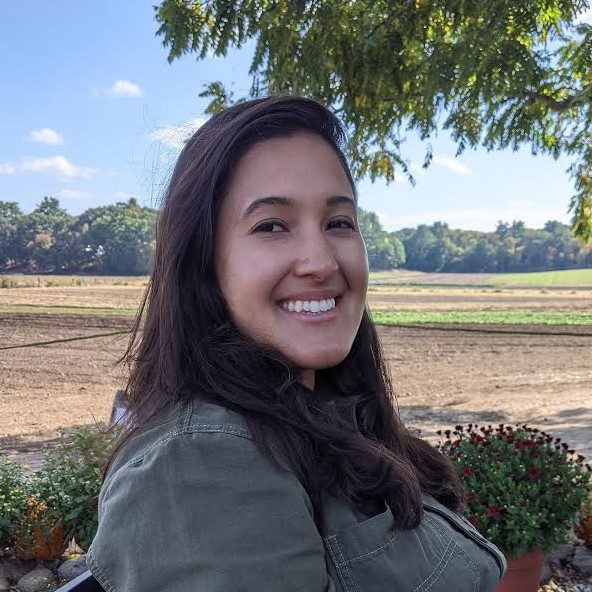 Cristhel grew up in Boston and graduated from Bryn Mawr College with a degree in Psychology and certification in Finance. Not only does Cristhel enjoy the collegiate work environment that BU provides, she also loves the CS department for its dog-friendly office space. Her favorite part of the job is how she is able to help others, specifically since her role allows her to aid researchers' project funding.
Outside of CS, Cristhel adores baking, gardening, playing with her dogs, and reading. The last book she read was the biography of Alexander Hamilton by Ron Chernow and she is currently working through The House of the Spirits. Cristhel considers both Cable Girls and Wandavision to be binge-worthy TV shows, and encourages everyone to spend a rainy day indulging in these series. When blasting music in her car, Cristhel's favorite artists to come on shuffle are FKA Twigs and Bomba Estero and her song of choice is "Hey There Delilah." She has two goofy dogs, Teddy (7 y.o.) and Luna (2 y.o.), that love sleeping and barking at birds (don't we all!).
As a Boston local, born-and-raised, Cristhel thinks every Bostonian should experience at least one group sing-along of "Sweet Caroline" at a Red Sox game. For coffee and tea, Cristhel suggests going to either Jugos or Pavement. Her favorite restaurants are El Peñol in East Boston and Earl's in Back Bay. Cristhel's go-to spot on campus is the BU Beach - especially with its recent addition of outdoor seating and string lights!
For students looking for advice, Cristhel thinks everyone should give themselves room on their own to find out exactly what they enjoy doing. "That doesn't mean you let other responsibilities slide," she says, "but instead make it a priority alongside other things that matter."
Thank you, Cristhel for your determination throughout this entire year. We appreciate all you do! 
Chris DeVits: CS Department Manager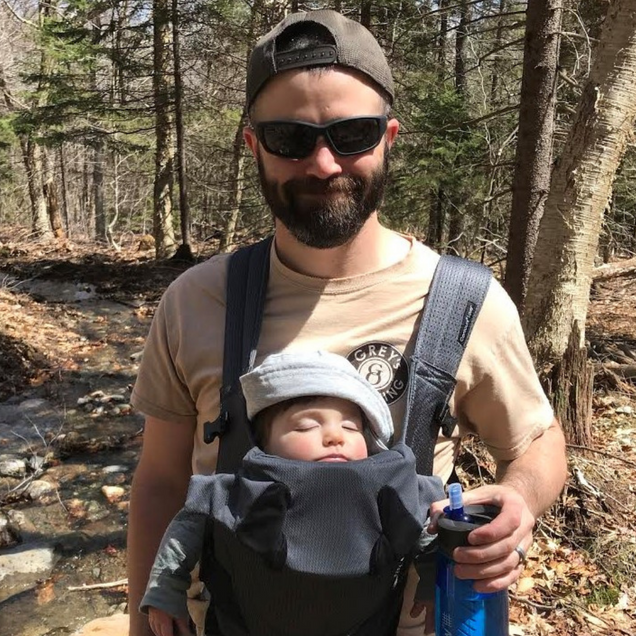 Meet Chris DeVits, the Department Manager for BU CS and recent Susan K. Jackson award recipient!  Chris grew up in Malden, MA and currently lives with his family in Manchester, NH. Chris attended Saint Anselm College as a Politics major and earned his Masters and Advanced Graduate Certificates in Higher Ed Administration from BU Wheelock College of Education & Human Development. Chris started in his role with CS in 2012 and appreciates how it has maintained a small tight-knit community vibe despite growing to one of the largest departments in CAS over the years.
Before the pandemic, Chris's favorite part of work was commencement weekend. He described it as an awesome opportunity to see students' accomplishments celebrated by friends and family. Despite missing events such as graduation, Chris finds reasons to appreciate remote work such as the extra time he's been able to spend with his two kids (a 6-month-old and 3-year-old). Although his Spotify history has shifted from bands like Rage Against the Machine to different renditions of baby shark, he describes the memories made with his family over the past year as a blessing. Chris also has an English Setter named Belle who he loves to bring to the office and he invites you to stop by and say hello once things are back to normal!
When stepping away from his responsibilities, Chris enjoys searching for critters during hikes, spending time outdoors, and watching action-packed movies and TV shows like 24, Jack Ryan, and 300. This fondness for adventure makes Chris's go-to karaoke song "Eye of the Tiger" by Survivor unsurprising! For local recommendations, Chris suggests the Eggnog Latte at Pavement and Cornwalls for a bite to eat.
Chris encourages students to take advantage of the time they have to learn about subjects that interest them. "Once you graduate, you get a job, bills are due, lawns need to be mowed, and kids need to be cared for," Chris said. "You rarely find yourself with uninterrupted time to learn about something new. Don't let this opportunity slip by."
Chris, you provide so much to the department and we appreciate all you have done for the CS community. We thank you for everything!