CS Day 2019: Bigger Than Ever
By Kayla Chapman
On Wednesday, October 9, 2019, a record-breaking 757 students gathered from all corners of Boston University to celebrate CS Day, an annual event hosted by the Department of Computer Science. The combination career fair, student group showcase, and celebration of all things CS aims to connect the talented students of BU with potential employers. 
Computer science has recently solidified itself as one of the most popular fields of study at BU, with approximately 960 undergraduate students, 160 MS students, and 110 Ph.D. students. Considering the passion and excitement surrounding CS at BU, it is no surprise that among the 37 companies in attendance, students could find industry giants such as Amazon, Google, and Bloomberg.
While these well-known names (which also included Facebook and Liberty Mutual), drew long lines and excitement, many students found the wide variety of companies essential to the day's success.
"The point of CS Day isn't necessarily about the biggest companies that come here," said Master's Student Rajat Tripathi (GRS'21). "The best part is that there are so many interesting startups that you never would have gotten to know about. When you walk in here you actually get to interact with the people who work for these companies, and you get to know the technology they work on. With this close interaction, you get to assess a company better than going to the website."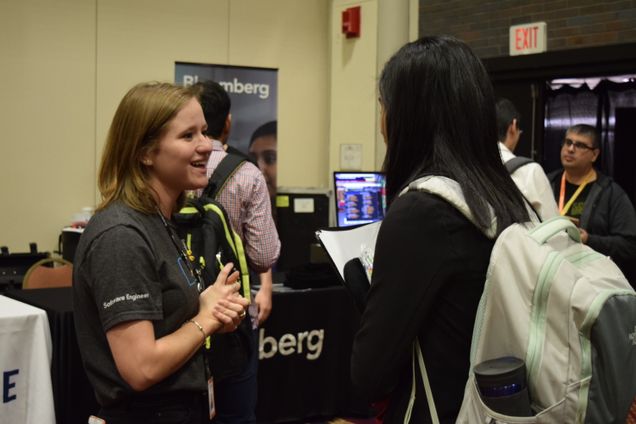 For Justin Janice (CAS'21), CS Day was a valuable experience that eased the pressure of the upcoming job search. "I have never had the opportunity to speak face-to-face with recruiters and get an idea of what exactly I'm going to be going through in the application process and what to be expecting in my technical interviews and phone screens."
Beyond the career fair, students were able to connect with their peers outside of a classroom setting. Many could be seen chatting over the buffet and discussing which items to select from the swag table. 
"[CS Day] is so fun because everyone you know is here, there's great food and a free t-shirt!" said senior Normandie Essig (CAS'20).
Feedback for CS Day 2019 was very positive, with 84% of students rating the event "excellent" or "good" overall. Among the positive feedback, connecting with classmates, gaining interview experience, and the abundance of giveaways were mentioned often. 
Employers were equally impressed with CS Day, rating the number of attendees and the students' academic caliber as "excellent" in their feedback survey responses. 
"Turnout has been fantastic," said Arrowstreet Capital employee and BU alumnus, Timothy MacDonald (CAS'19). "I'm really impressed with the work experience and internships that students have had. We have a lot of résumés to go through." 
Another BU alumnus, Maulik Shah (GRS'18) returned to campus as a representative for Red Hat. Shah expressed the value of career fairs from the employer's perspective. 
"[Career fairs] help us get a sense of the people who are applying, put a face to a résumé and give us more background about [candidates'] experience. It also helps us put the word out that we're hiring, and gives us a chance to tell people what we do, and helps applicants learn what they should be applying for at the company." 
Students and employers alike left CS Day feeling impressed, accomplished, and ready for next steps. 
"I've found that [the companies] are actually as interested in us as we are interested in them, which is really exciting," said Cali Dolfi (CAS'21). "I'm hoping to have interviews and prospects for some good internships this summer." 
To learn more about Computer Science at Boston University, visit https://www.bu.edu/cs/.