Spotlight – Anna Goncharova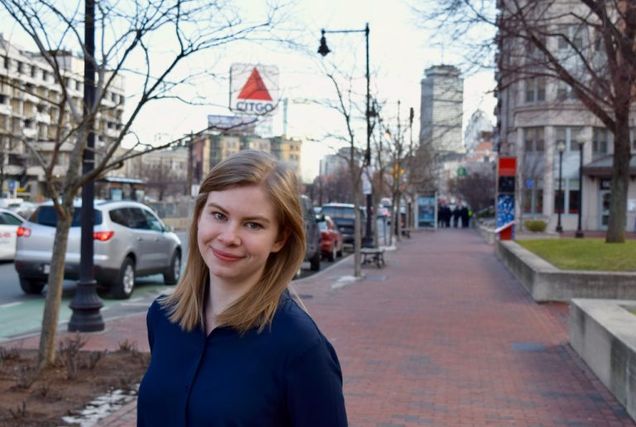 Boston University Computer Science student Anna Goncharova (CAS'18) is currently a Software Engineering Intern on the Data Infrastructure Team at HubSpot in Cambridge, MA for the Spring 2017 semester. Anna is taking a leave of absence for one semester to pursue the internship. She says that one of her favorite parts about HubSpot besides working on Big Data technologies is the opportunity to collaborate with an incredibly smart and talented team.
"I have been getting a lot of feedback on my code," Anna said. "Along with learning from software engineers on the team, code reviews have facilitated my growth as a developer even more."
Anna immigrated to the U.S. from Uzbekistan at the age of 13. After getting an initial exposure to programming in high school, she recognized what she refers to as the "power and beauty" of computer science and decided to pursue a CS major at BU.
Anna has worked in a variety of different settings since becoming a student at BU. During her freshman year, Anna worked for a Cambridge venture capital firm. In the first two summers of her college career, Anna held internships with IBM in Austin, TX and Pegasystems in Cambridge, MA. Anna said that she felt it was vital for her to explore as many opportunities as she can before graduating.
In speaking about her BU CS education, Anna said that CS 350 (Fundamentals of Computing Systems) with Professor Azer Bestavros has had a large impact on her work at Hubspot.
"Because of that class, I developed an interest in distributed systems," Anna said.
In addition to being Co-President of BU Women in Computer Science (WiCS) and Vice-President of Undergraduate Women in Science and Engineering (uWISE), Anna has been involved with a number of other student groups including BostonHacks and Open Web. Anna has also conducted research with the Cross-Disciplinary Integration of Design Automation Research Lab (CIDAR) and held a semester internship with the Software & Application Innovation Lab (SAIL). When asked what advice she has for BU CS students, Anna said that getting involved outside of classes was key for her.
"You develop your technical skills and apply what you learn in class to real world scenarios. You also learn how to work with people," Anna said. "When you see that you can impact others with the Computer Science skills you learn in your classes, it fuels your passion even more and you can achieve even greater heights."
Anna recommends connecting with professors and said that attending office hours is a great way to get to know them.
After her internship with HubSpot, Anna will spend the summer in San Francisco, CA as an intern at Twitter. Anna plans to return to campus next fall and to graduate in May 2018. Upon graduation, Anna said she plans to keep her options open with both work and graduate studies as possibilities.
To get in touch with Anna, please feel free to email her at agonchar@bu.edu.
If you know of a student who you think should be featured in our next BU CS Student Spotlight, please email us at cs@bu.edu.