Pilot Studies
Pamela M. Dunlap, DPT, PhD, Assistant Professor, School of Health and Rehabilitation Sciences, University of Pittsburgh
Project: Patterns of Physical Therapy Referrals and Use for Peripheral Vestibular Disorders in Ambulatory Care Settings
The overall objective of the proposed research is to identify predictors of physical therapy referrals and physical therapy use among adults with peripheral vestibular disorders.
Kelechi Adejumo, PT, MS, ScD, Project Manager, VT RETAIN Data Coordinating Center, University of Pittsburgh School of Health and Rehabilitation Sciences
Project: A Biopsychosocial Perspective to Rehabilitation Nonadherence: A Multilevel Approach
This study aims to investigate potentially modifiable risk factors for work disability. Multimodal rehabilitation approaches based on a biopsychosocial model have the potential to mitigate psychological risks and incorporate behavioral strategies from the mental health realm. The specific aims are to: 1) identify biopsychosocial risk factors associated with program nonadherence, including personal health, psychosocial, employment, and claims-related factors, 2) determine whether there is an interaction effect between physical and psychosocial job demands and claims-related factors in the risk of program nonadherence, and 3) Identify organizational factors (including primary care practices and preinjury/ illness employer industry classification) for program nonadherence. Data analyses will be conducted from the Vermont's Retaining Employment and Talent After Injury/Illness Network (VT-RETAIN) Program, a statewide early stay-at-work/return to work (SAW/RTW) program for primary care practices.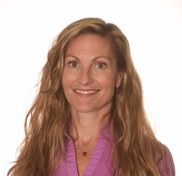 Jennifer L. Vincenzo, PT, MPH, PhD, Associate Professor, University of Arkansas for Medical Sciences
Project: Barriers, Facilitators, and Contextual Factors to Implementing the STEADI for Fall Prevention of Older Adults Attending Outpatient Rehabilitation in a Large Healthcare System
Falls among adults over the age of 65 years are a leading cause of morbidity, mortality, and high healthcare costs. Fall prevention efforts use the Centers for Disease Control and Prevention's STEADI toolkit (Stopping Elderly Accidents, Deaths, and Injuries) in primary care, but barriers limit uptake and sustainability. Physical therapists (PTs) are well-positioned to use the STEADI toolkit in outpatient rehabilitation. This study will use an implementation approach science to inform more widespread implementation of the STEADI toolkit in rehabilitation, as follows: 1) identify perceived feasibility, acceptability, and appropriateness of implementing STEADI in rehabilitation, among PTs, older adults, and caregivers; and 2) examine clinic-, provider-, patient-, and caregiver-level barriers to and facilitators of implementing the STEADI toolkit in rehabilitation.
Jill C. Heathcock MPT, PhD, Associate Professor, The Ohio State University
Project Title: The Dose of Combined Physical Rehabilitation Services for Children with Hemiparetic Cerebral Palsy
This is a study examining electronic healthcare records of patients with hemiplegic cerebral palsy (HCP) to examine variability of healthcare utilization and clinical practice patterns related to pediatric PT practice. HCP is a significant, chronic, and lifelong motor disability that requires multiple episodes of physical therapy (PT). It is common for physical rehabilitation services for children with HCP to include both PT and occupational therapy (OT) in order to advance motor skills and promote child development. The current study will identify the frequency, intensity, timing, and type (FITT) of PT treatments when they occur individually and concurrently with OT. We will systematically describe characteristics of dose in usual and customary care in a large single health system and advance our understanding of combination therapies as pragmatic service delivery approaches. Records of children will be included in this analysis if, at any time they 1) had a diagnosis of HCP and 2) received outpatient PT and/or OT services. The primary outcome variables for this study will be quantified separately for PT and OT services and will include 1) Frequency – the number of visits, 2) Intensity – the number of 15-minute units billed and summarized by interventions provided, 3) Time – the total amount of therapy, and 4) Type – PT and OT notes including subjective observations, objective observations, patient goals, and modalities employed.
Joshua K. Johnson PT, DPT, PhD
This study will evaluate the clinical effectiveness of a high intensity home-based rehabilitation (HIHR) approach for patients discharging from the hospital following total joint arthroplasty. It will also help to inform a clinical care pathway to identify patients eligible for HIHR versus rehabilitation in a post-acute care facility. The care pathway will be defined initially using retrospective data from the electronic health record, primarily data on a patients' functional status and home environment collected prior to surgery. Prospective implementation of the care pathway will be accompanied by a cohort study examining, primarily, functional outcomes for patients discharged to HIHR compared to patients discharged to skilled nursing or inpatient rehabilitation facilities. Additional outcomes that will be assessed include overall duration of care, hospital readmission, and cost per episode of care.
The work associated with this pilot study will be an important initial step to understanding the implications of HIHR, in which physical and occupational therapy visits are completed at a high frequency early in a home health care episode. Knowledge of the effectiveness of the care model for patients undergoing total joint arthroplasty should inform future iterations of the model for this population and for other populations known to benefit from post-acute rehabilitation.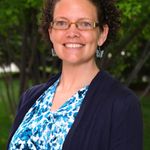 Dawn Magnusson PT, PhD
The long-term goal of this research is to improve access to pediatric therapy services for children with or at risk for developmental delay by enabling a more efficient and equitable referral pathway to early intervention. The focus of this exploratory proposal is the development of personalized developmental reference charts (PDRCs) for children presenting to pediatric primary care. By accessing historical electronic health record data for children with a similar set of child- and family-level conditions to those of the index child, we hypothesize that PDRCs will be capable of predicting developmental trajectories for the index child. Development of a clinical decision support tool that leverages child and family level data to better predict the developmental trajectory of young children represents a novel approach to reducing unwanted variability in early intervention referral and utilization patterns, a priority of the CoHSTAR Pilot Program. By identifying children at greatest risk for developmental delay and need for pediatric therapy services, primary care providers will be better positioned to reduce referral variability and promote the efficient and equitable use of early intervention services.
"Pilot funding from CoHSTAR affords us an opportunity to pursue a line of research with the potential to enhance clinical decision-making and family-centered care." 
Robin L. Marcus, PhD 
Acute hospitalization, particularly for older adults, can have profound and persistent consequences on physical function. Several studies have reported declines in physical function during and after an acute hospital stay with continuing functional deterioration persisting at least a year following hospitalization. Sustained deficits in physical function are an important risk factor for several adverse post-hospitalization outcomes. Our work recognizes the insufficient attention that has historically been placed on monitoring and enhancing physical function during and following acute hospitalization.
Our long-term goal is to develop a research network of health systems who have implemented a process for consistent physical function data collection beginning in the acute hospital and following patients as they proceed to post-acute care settings and return to community living. Several leading health systems share this vision for consistent physical function measurement. This CoHSTAR pilot project has brought together researchers and clinicians from three health systems to develop standard procedures for implementing a consistent measurement process and piloting its implementation. We aim to define standard procedures to consistently track physical function from acute hospitalization through post-acute settings and into the community. We are currently implementing a process for tracking physical function focusing on the transition from hospitalization to home health.
"This CoHSTAR pilot project is enabling us to generate feasibility data and consensus opinions on practical data elements necessary for tracking physical function in patients across the care continuum. We will use this information in future research that seeks to determine the impact of physical therapy on a patient-centered, meaningful, and distant outcome following acute hospitalization."
Developing A Prognostic Model for Risk Adjustment in Patients With Back Pain
The long-term goal of this research is to advance risk adjustment methods for outpatient rehabilitation settings using promising alternative to traditional comorbidity indices, the Functional
Comorbidity Index (FCI). The overall objective of this application is to use a cohort of older adults with back pain that has both self-reported functional status and complete electronic health
record data to examine the ability of an ICD9-based FCI to predict function, health-related quality-of-life, and overall health care use. Our main hypothesis is that the ICD9-based FCI will
improve the prediction of long-term function and health-related quality-of-life as compared to a standard demographic model, and it will also be superior to other commonly used comorbidity indices. This project has the potential to lead to a risk adjustment model that can be easily applied and broadly adopted for use in outpatient physical therapy settings.
"Risk adjustment is becoming an important priority in health care so that we can make more fair and accurate decisions or comparisons among providers and health systems. This pilot funding from CoHSTAR gives us the ability to begin a very relevant line of research that has the potential to improve risk adjustment methods that are suitable for physical therapy settings. As a new investigator, this is a great opportunity to continue building my career in health services research."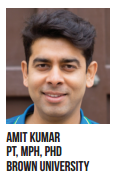 The Impact of Hospital-Based Physical Therapy Services on Hospital Readmission: Implications for Bundled Payment
The study focuses on examining variation in hospital-level utilization of physical therapy services and the factors associated with that variation in patients with stroke. The study will use Medicare claims data to examine variation in physical therapy services provided (e.g., evaluation and units received) and its impact on unplanned hospital readmissions. This pilot study will contribute to PT practice examining the value of PT in improving patient's outcomes for patients with stroke in the acute care setting.
This initial work will demonstrate the current gap in hospital- based PT practice and help determine if PT in acute care setting improves post-acute care outcomes and identify factors related to variations in outcomes, including the amount of therapy.
"CoHSTAR funding gave me an opportunity to apply my health service methods in the advancement of rehabilitation science."
Health Care Utilization for Musculoskeletal Disorders in Adults with Cerebral Palsy: An Analysis of Medicare Data
We propose to analyze Medicare claims to identify the extent to which adults with CP receive/seek health care, and specifically rehabilitation care, for musculoskeletal disorders and describe the demographic and clinical characteristics of these individuals.   For select musculoskeletal disorders we will compare patterns of healthcare utilization for adults with CP and similar adults without CP.  These outcomes will provide valuable information on the delivery of care for the treatment of MSK disorders in the real world setting for adults with CP and will provide necessary information to inform best practices.  Results will also provide guidance for future research that will expand this methodology to include the analysis of Medicaid and private insurance claims data, to incorporate other sources of data (e.g., EHR, registry data), and to utilize these to conduct comparative effectiveness research on interventions provided to adults with CP for MSK disorders.  These initial studies will inform next steps in the integration and use of administrative data with other healthcare data to ultimately improve the quality and effectiveness of healthcare for adults with CP. This line of research has the potential to have an immense positive impact on provision of rehabilitation services across the life course for individuals with CP, with the ultimate goal of improving the health and quality of life of this population.
"The CoHSTAR pilot funding will allow me to take my research in a new direction, away from intervention research toward health services research.  I believe the answers to many of our questions related to health care utilization and the efficacy of specific interventions for individuals aging with cerebral palsy lie within large data sets.  The mentorship I will receive during this pilot project and the methodologies I will learn while working with large data sets will enable me to eventually conduct comparative effectiveness research which will enable me to guide rehabilitation specialists toward more effective, efficacious interventions for individuals aging with CP."
Health System Implementation of Clinical Practice Guidelines for Neck and Low Back Pain in Outpatient Physical Therapy Settings 
Dr. Beneciuk is a Clinical Research Scientist, Brooks Rehabilitation – University of Florida, College of Public Health & Health Professions Research Collaboration. He is also an Assistant Professor, Department of Physical Therapy, University of Florida and a faculty member in the Orthopaedic Residency and Orthopaedic Manual Physical Therapy Fellowship Programs at Brooks Rehabilitation.
This study will investigate implementation of a process to enhance Clinical Practice Guideline (CPG) adherence to limit unwarranted variability in initial treatment decisions with high potential for providing more effective and efficient physical therapy management for patients with neck and low back pain. This study, conducted at Brooks Rehabilitation outpatient clinics, will determine if physical therapy clinics that receive neck and low back pain CPG training are associated with improved patient outcomes compared to those that have not received training.
"The overall goals of this research project are to address a critical barrier to the progression of physical therapy management for spine related musculoskeletal pain by evaluating a multifaceted strategy for CPG implementation while also identifying barriers and facilitators for sustained implementation during routine clinical practice. As a new investigator, this CoHSTAR pilot funding provides a tremendous opportunity for my continued development in health services research."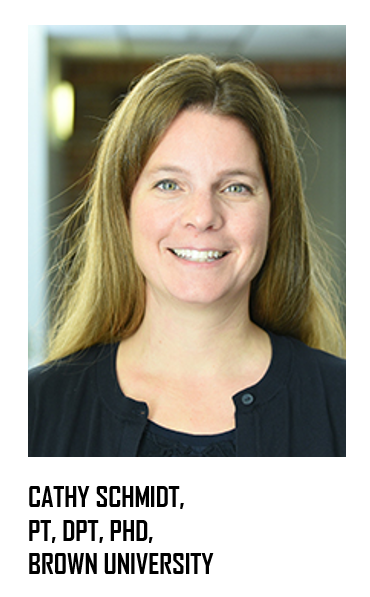 Initial Treatment Approaches and Healthcare Utilization among Veterans with Low Back Pain 
Cathy Schmidt, PT, DPT, PhD, Brown University
Dr. Schmidt is a postdoctoral research fellow within the Center on Health Services Training and Research (CoHSTAR) at Brown University.
This research aims to quantify the value of physical therapy in the management of Veterans with low back Pain (LBP). The primary objective of this research is to gain a better understanding of initial treatment strategies, including physical therapy and the impact of these strategies on important health and utilization outcomes among Veterans with a new diagnosis of LBP. Little is known about the impact of early physical therapy on pain, the use of opioids and subsequent healthcare utilization in Veterans with LBP. Our main hypothesis is that Veterans with a new diagnosis of LBP receiving early PT will demonstrate less pain and have better utilization outcomes than Veterans receiving early opioid therapy. Without this research Veterans with low back pain may be misguided through pain management and inadvertently exposed to prescription opioid dependency which can lead to significant health risks and high economic
"Evaluating conservative therapies, such as physical therapy, that minimize the risk for chronic opioid dependency for patients with LBP is a national healthcare priority. Our research has the potential to inform early management decisions and minimize subsequent high healthcare need for Veterans with LBP. I am grateful to be a recipient of the CoHSTAR pilot program this year. The funding will be integral to supporting this early research and advancing my career in health services research."
Using feedback on Patient Health Outcomes to Improve Orthopedic Physical Therapist Practice
Kenneth Harwood, PT, PhD, CIE & Philip Van der Wees, PT, PhD
Measuring outcomes can play an important role in patient-centered and value based healthcare. Outcome and process measures are important to manage clinical quality and to provide better information and choice to patients. When outcomes are aggregated across patients they provide data for measuring, comparing and improving quality of care.
The purpose of this research is to develop and pilot test a quality improvement program thatuses a systematic process of PDSA cycles based on the outcomes from the American PhysicalTherapy Association (APTA) Physical Therapy Outcomes Registry (PTOR) and electronic health records of patients with low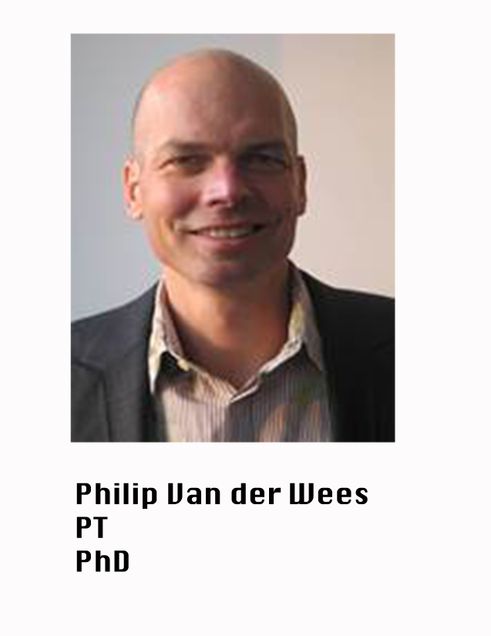 back pain and neck pain. Quality improvement programs (QIP) often use Plan-Do-Study-Act (PDSA) cycles to achieve process and outcomes improvement, however the QIP s are not commonly used in physical therapy and requires investigation.  The pilot project will develop and test a PT-specific QIP using on online training program with guided PDSA cycles in PT clinics. The effectiveness of the QIP will be assessed by changes in defined outcomes, surveys and qualitative measures (semi-structured interviews and a focus group). The outcomes from this work will assist in developing a QIP model to be used on a widespread basis.
"CoHSTAR funding will allow us to examine the Quality Improvement process in physical therapy to improve how clinicians use outcome data to impact the provision of patient care to achieve the highest patient outcomes.  In addition, the collaborations established through this pilot award will be instrumental in progressing this research agenda forward."
Physician Referral Patterns to Physical Therapists for Managing Knee Osteoarthritis: An Analysis using Patient Electronic Health Records at the University of Pittsburgh Medical Center (UPMC)
PI: Samannaaz S. Khoja, PT, PhD
The overarching objective of this study is to describe and understand factors that contribute to variation in the rate and timing (from initial OA diagnosis) of physician referrals to PTs for knee-OA. The study aims to i) describe referrals to PTs, referrals to other physician specialists, and tests and treatments prescribed during the knee-OA visit such as pain medications, imaging services, and surgery; and ii) assess factors associated with physician referral to PT for knee-OA. We shall examine associations with inner setting factors (e.g., rural or urban practice location, OA patient volume), ii) outer setting factors (e.g., insurance coverage, supply of PTs) and iii) characteristics of physicians providing treatment (e.g., physician specialty, medical or osteopathy (DO) training). We hypothesize that certain inner setting factors such as rural location and outer setting factors such as Medicaid insurance coverage will be associated with a lower likelihood of PT referrals, while inner setting factors such as volume of knee-OA patients and outer setting factors such as supply of PTs will be positively associated with PT referrals. We also hypothesize that provider factors such as primary care specialty, MD vs DO training, and opioid prescribing would be associated with a lower likelihood of PT referral. The study design will be a retrospective, observational analysis of electronic health record (EHR) data on ambulatory visits for a new complaint of knee-OA (index visit) in a large integrated health system (UPMC).
"I am extremely grateful for this funding opportunity through CoHSTAR and AOPT. This pilot study will provide me the impetus and guidance necessary for my growth as a health systems researcher. Through this pilot study we shall begin to address the gaps in knowledge about: 1) physician behavior for managing knee-OA and when and how often PT is prescribed, 2) the barriers and facilitators in the inner and outer settings to PT referral. Successful completion of this project will provide crucial data to inform future dissemination and implementation efforts to optimize guideline concordant care in knee-OA and explore alternative/innovative methods for promoting physical activity-based interventions in this population.
Enabling Physical Therapy Health Services Research: the Development of a Crosswalk for Functional Measures in Post-Acute Medicare Claims
Aims of the Study: The overall objective is to promote physical therapy health services research and training across the continuum of physical therapy services using Medicare administrative data. The Specific Aim is to create cross-walks for the functional measures used in the Medicare post-acute assessment files. This project will enable physical therapy researchers to address quality, comparative effectiveness, cost-effectiveness, and service delivery models across post-acute care in large representative samples of Medicare beneficiaries.
McDonough maintains, "This project will overcome limitations of Medicare data and enable physical therapy researchers to answer important questions about the value of physical therapy. This could mean questions about different ways of delivering PT, or comparing the impact of PT to the impact of interventions in other disciplines. One critical contribution of this project will be to allow analysis across post-acute care in large representative samples of Medicare beneficiaries."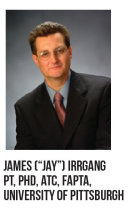 Development and Preliminary Implementation of a Registry for Physical Therapists' Management of Knee Pain
Aims of the Study:
Identify key demographic, examination, classification, intervention, and outcome variables to be included in the registry and collected during care provided at physical therapy sites throughout the United States.
Pilot test use of the registry to collect process of care and outcomes data during standard care and examine the feasibility of the data collection process (adherence and barriers to data collection, level of therapist and patient burden) and quality of data obtained.
Use the results of the pilot test to revise and finalize the registry for implementation on a national scale.
Data registries provide the infrastructure needed to examine physical therapy practice patterns and clinical outcomes. CoHSTAR funding supports a pilot study to develop and implement a national registry for patients with knee pain.
"This registry will provide a tool that can be used for individual and organizational quality improvement efforts," states Irrgang. "This project will enable determination of adherence to clinical practice guidelines to determine if interventions matched to the patient's classification lead to improved outcomes and value."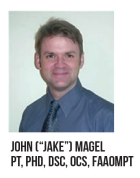 Associations between Continuity of Care (CoC) and Health Care Utilization and Costs in Patients with Low Back Pain
Aims of the Study:
Examine the associations between physical therapist PC (1 PT vs. more than 1 PT) and future LBP-related healthcare utilization of advanced imaging, emergency department visits, epidural steroid injections, spine surgeon consultations and spine surgery as well as total costs for LBP over a 1-year period following primary care referral to physical therapy.
Examine the associations between receiving physical therapy for LBP inside vs. outside the PCP's healthcare delivery system and future LBP-related healthcare utilization of advanced imaging, emergency department visits, epidural steroid injections, spine surgeon consultations and spine surgery as well as total costs for LBP over a 1-year period following primary care referral to physical therapy.
This pilot study has the potential to affect management decisions, improve patient care and reduce societal costs related to LBP.
"CoHSTAR funding allows us to carry out this important project in which we expect to identify important opportunities to improve the quality of care for patients with low back pain," notes Magle.
The Impact of Physical Therapy on Improving Function and Reducing Hospitalizations in Medicare Home Health (HH) Populations
Aims of the Study:
Determine if the number of therapy visits (No therapy, <5 visits, 5-13 visits,  or >13 visits) delivered during a home health episode of care are independent predictors of functional recovery after adjusting for socio-demographics, medical complexity, and other non-therapy service utilization.
Determine if the number of therapy visits (No therapy, <5 visits, 5-13 visits,or >13 visits) delivered during a home health episode of care independently reduce odds for hospitalization during a HH episode of care after adjusting for socio-demographics, medical complexity, and other non-therapy service utilization.
This CoHSTAR-funded pilot study aims to determine if there is a dose-dependent relationship between physical therapy visits and meaningful improvements in physical function and reductions in hospitalizations for Medicare beneficiaries who receive home care services. This is the first study to assess the impact of home health therapy on functional recovery and hospitalizations among Medicare beneficiaries in a large secondary database. The study will determine if the number of therapy visits delivered predict functional recovery and reduce odds for hospitalization during a home health episode of care. The findings from this study will improve understanding of how therapy services are associated with home health outcomes, and could provide evidence to protect reimbursement for therapy services in home settings.
Stevens-Lapsley observes, "CoHSTAR pilot study funding allows us to access two large secondary Medicare databases, and evaluate how patients referred to home health benefit from physical therapy services."