Professor James Uden wins "Best Article Prize"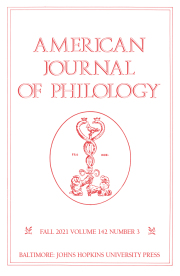 Professor and Department Chair James Uden has won the American Journal of Philology's coveted "Best Article Prize" for "The Margins of Satire: Suetonius, Satura, and Scholarly Outsiders in Ancient Rome," AJP 141.4 (Winter 2020): 575–601. In this article, Professor Uden provides an innovative reading of the figure of the grammaticus (the socially marginalized teacher-scholar of ancient Rome) and his relationship to the genre of satire in Suetonius' De Grammaticis et Rhetoribus. The full citation for Professor Uden's award can be accessed here and his article here.
 Congratulations, Professor Uden!