Reflections From the Border Studies Program in Texas by Baiden Wright
Does a single day of volunteering actually "help" anyone seeking refuge at the border? Do we have the capacity to actually make a difference in what seems to be an increasingly polarized political climate and increasingly complicated systems of asylum? What does it mean to make a difference? How do we learn, think, and teach about forced displacement? 
We are a group of 12 students and 6 professors and researchers from Boston University participating in the Border Studies Program in the Rio Grande Valley organized by the Center on Forced Displacement, in collaboration with the University of Texas, Rio Grande Valley. We are spending our spring break in Texas, learning from professors, researchers, non-profit organizations, volunteers, and the communities they serve about the situation at the US Southern border. Our group grapples with these questions and more this week as we navigate the conflicting feelings that come with spending time learning firsthand from activists, scholars, and most importantly, from asylum seekers themselves in Texas borderlands.
We've spent hours contemplating these questions, and will spend not just the rest of the week, but time extending long beyond this program engaging with our concepts of service and impact. We certainly don't claim to have the answers. The first two days in Texas, we spent with Team Brownsville and at the Catholic Charities RGV's Respite Center, learning in their workspace as helping hands, where we also met some of the individuals and families who have traveled on foot through Central and South America, finding their first moments of rest and relief at these centers. One of the most crucial lessons we have learned through this experience is something that is simply not replicable in a classroom: we aren't going to be able to truly change anything in a single day or a single week, but we can offer a moment of dignity and compassion to people who have been treated as less than human at multiple junctures on their journey. This is perhaps best summarized by a succinct but powerful thought shared with us by Luz López, Professor at the BU School of Social Work (and one of our incredible trip leaders):
"Human connection is what heals us" –  Luz López, Professor at the BU School of Social Work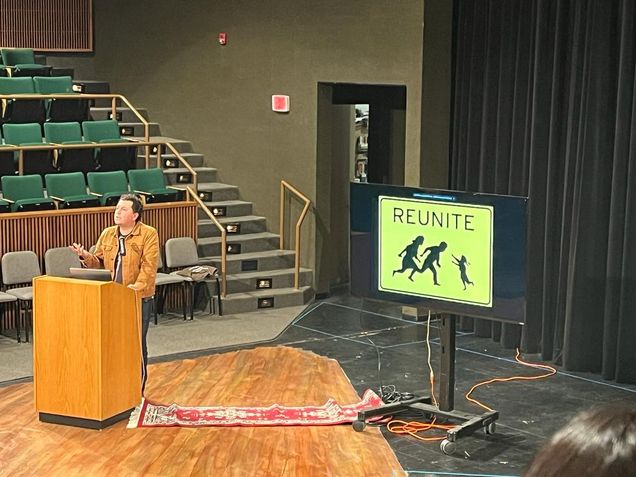 We are now spending two full days at a conference with researchers, artists, humanitarians and activists, in conversation about hospitality, trauma, art, and protest in the borderlands. Each speaker offers a distinct perspective and engages in distinct work in response to the labyrinth of policies and rights violations plaguing the border. Dr. Ronald Rael, the keynote speaker for the conference we're attending as part of the program, has found his niche in incredible intersections of activism, art, and architecture. Azalea Alemán-Bendiks dedicated her career to defending immigrants facing the predatory US court system. Sister Norma Pimental founded Catholic Charities RGV, working to relieve the immediate needs of families seeking asylum in the US.
From understanding our inability to make a sweeping change on this trip, and from the critical discussions we have engaged in at the conference, we can begin to develop a concept of how we can try to help. The situation at the US-Mexico border is complex, with many interwoven and convoluted dimensions, and it seems nearly impossible to try to unravel the issues and find where to start.
The illuminative programming offered by the Border Studies Program makes it evident that following your passions is one of the best ways to approach this humanitarian crisis. Facing such a large, looming problem, our quasi-understanding is best summarized by a thought from Zuna Ramos Maza, one of the students participating in BSP:
"There's certainly no right way to do immigration work. You need to find what you're best at and contribute it to alleviating issues at the border and that will hopefully make an impact." – Zuna Ramos Maza
We are going into the end of this week trying to identify our own space and strengths to bring to the borderlands, in an attempt to live up to Sister Norma's poignant words: 
"Today's your day. Today is when you can make a difference. Do it". –

Sister Norma Pimentel.