CFD Interview With Dr. Ibrahim Awad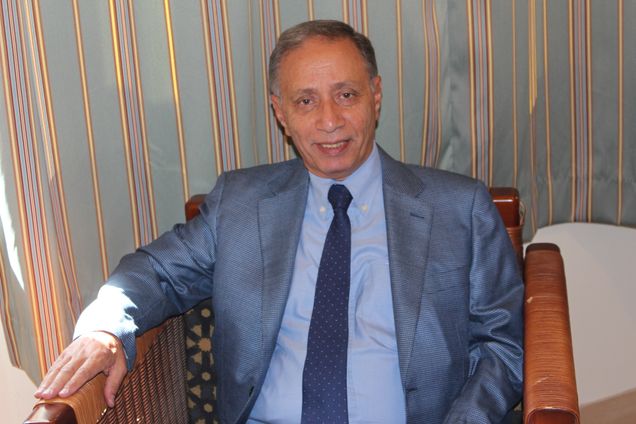 Dr. Ibrahim Awad is the Professor of Practice of Global Affairs and Director of the Center for Migration and Refugee Studies, School of Global Affairs and Public Policy, at the American University in Cairo. He holds a BA degree in political science from Cairo University and a PhD degree in political science from the Graduate Institute of International Studies, University of Geneva, Switzerland. He has worked for the League of Arab States, the United Nations and the International Labour Organization, holding positions of Secretary of the Commission, UN-ESCWA, Director, ILO Sub-regional Office for North Africa, and Director, ILO International Migration Programme. He is currently the Chair of the Labor Migration Working Group of the Global Knowledge Partnership on Migration and Development (KNOMAD), hosted by the World Bank, Chair of the Steering Committee of the Euro-Mediterranean Research Network on International Migration (EuroMedMig), and Senior Fellow at the Migration Policy Centre (MPC) of the Graduate Institute of International and Development Studies in Geneva. He also serves on the editorial boards of several academic journals. 
Our research fellows sat down for a conversation with Dr. Awad earlier this month.
Can you tell us more about your work and research interests?
My interests came from doing research about labor migration at the International Labor Organization After joining the American University of Cairo, my interests expanded as I got more involved in research regarding global affairs, and I realized that the field of labor and migration studies is quite vast. Very often, migration is presented as a movement of people imposing themselves on others, and those others very often do not want them there, either explicitly or implicitly. So when the emphasis is on the effects of migration, much less attention is given to factors that make people need to move, and this is what my research interests focus on. 
The thing about such issues is that once we find the solution to one problem, another problem emerges; this is how we advance. Migration has always existed, the question is the existence of migration with respect to nation states. Nation states grant certain privileges to the population that lives within its borders, and at the same time we cannot ignore that people move. So the question is: should we exclude this alien population completely from the citizens? It is not possible, because you cannot live without making human connections; human beings are social beings. Now, the nation state wants to be seen as fair and open while trying to determine how to treat the migrant population. So the question is: how to reconcile the privileges specific to the national population with the reality that alien and citizen populations cannot be separated completely? This is really the issue that needs to be worked on. Had there been no borders, what would that entail? If you and I come to a new territory, we may be seen as threats to the populations; without borders there would be no legal instrument to exclude us or to consider us as intruders. Migration may disrupt certain arrangements of nation states, but looking at human history, it is all about disruptions. These are the fundamental questions that I deal with in the field of refugee and migration studies. 
When and how did you determine you wanted to work in the field of refugee and migration studies?
It came naturally from my employment experiences and from my interests. It came from taking a closer look at the migration consequences of the Gulf War, which was my first contact with migration issues and which made my interest grow little by little. I started working in the field and doing research and years later, got the opportunity to work at the International Labor Organization. Because of my previous responsibilities, work and research on international migration, I was asked to direct the Center of Refugee and Migration Studies at the American University of Cairo, and that is where I am now. 
What were your expectations when going into this field? 
I don't remember what my expectations were, but I remember that it was a new field for me so I had to learn. Then, little by little I discovered how interesting it is, how multidisciplinary it is, and how it intersects with so many areas of international and internal politics, economics, sociology, etc. I learned about the dynamics of international and domestic migration and how it affects politics at the national, international and sub-national levels. 
You can look at the phenomenon from different perspectives; so it is little by little that I discovered how interesting it was, and in fact I'm still discovering and I think I am fortunate for it. It would be quite a problem if one stopped discovering and pursuing their interests that one's area encapsulates. In terms of refugee and migration studies, now even more than before migration and refugees are at the center of global and domestic affairs. For a plethora of reasons, it is not going to disappear from the global agenda. As scholars continue to work on migration, many view it as a positive phenomenon that promotes social and economic growth. However, it also comes with its problems, and these problems need to be addressed like all other issues of the social world. 
What have your experiences been like working with other researchers, professionals, and academics in this field? 
I have worked with many academic colleagues from all over the world, and we have a common language that brings us together. But naturally, you are going to have your preferences from what is important for the society for where you live and the interaction between these perspectives from different latitudes is enriching. This interaction should be encouraged, and the field of migration needs to be expanded to concepts and issues from both the countries of origins and destination. 
What are some research areas within the field of migration that, in your opinion, require more attention?
We need to look at what the issues are within countries of origin; for instance, we know that protection of migrants is a topic that researchers focus on, mostly on social remittances. Now the question is diasporas of countries of origin, but the very central issue is the interaction between the question of employment and the question of migration for countries of origin. Let's say employment is not the origin of migration, how can countries of origin address this interaction without considering that migration is the solution for the employment question and be oblivious of the solution to the employment question (domestic and internal). I think there are statistics that show that migrants over 15 years of age migrate for employment purposes, so obviously it is a question of employment; but at the same time you cannot keep thinking that the only solution for people facing employment issues in countries of origin is migration. I'm not saying that migration should be discarded or ignored, I'm saying that it should only be one element of a larger, holistic solution to the employment question that countries of origin face. 
Can you share some tips and pointers for people starting out in this field?
For young people, migration and refugee studies are extremely interesting and important areas of research that prepares them to work on global affairs by analyzing the question of various groups such as the Syrian refugees or the question of Venezuelan migrants. To understand the situation, you need to look at the domestic politics within the country, the regional responses to crises and international responses and interventions to crises. You should not focus on just the humanitarian aspect of the field—which is a very important part of the work—because doing so deprives you of being able to better understand the crises and find solutions to them. Whether you want to work on research, or within international organizations or national bureaucracies, working on migration and refugees studies prepares you very well.