Wheelock Family Theatre's Matilda, the Musical Nominated for Four Elliot Norton Awards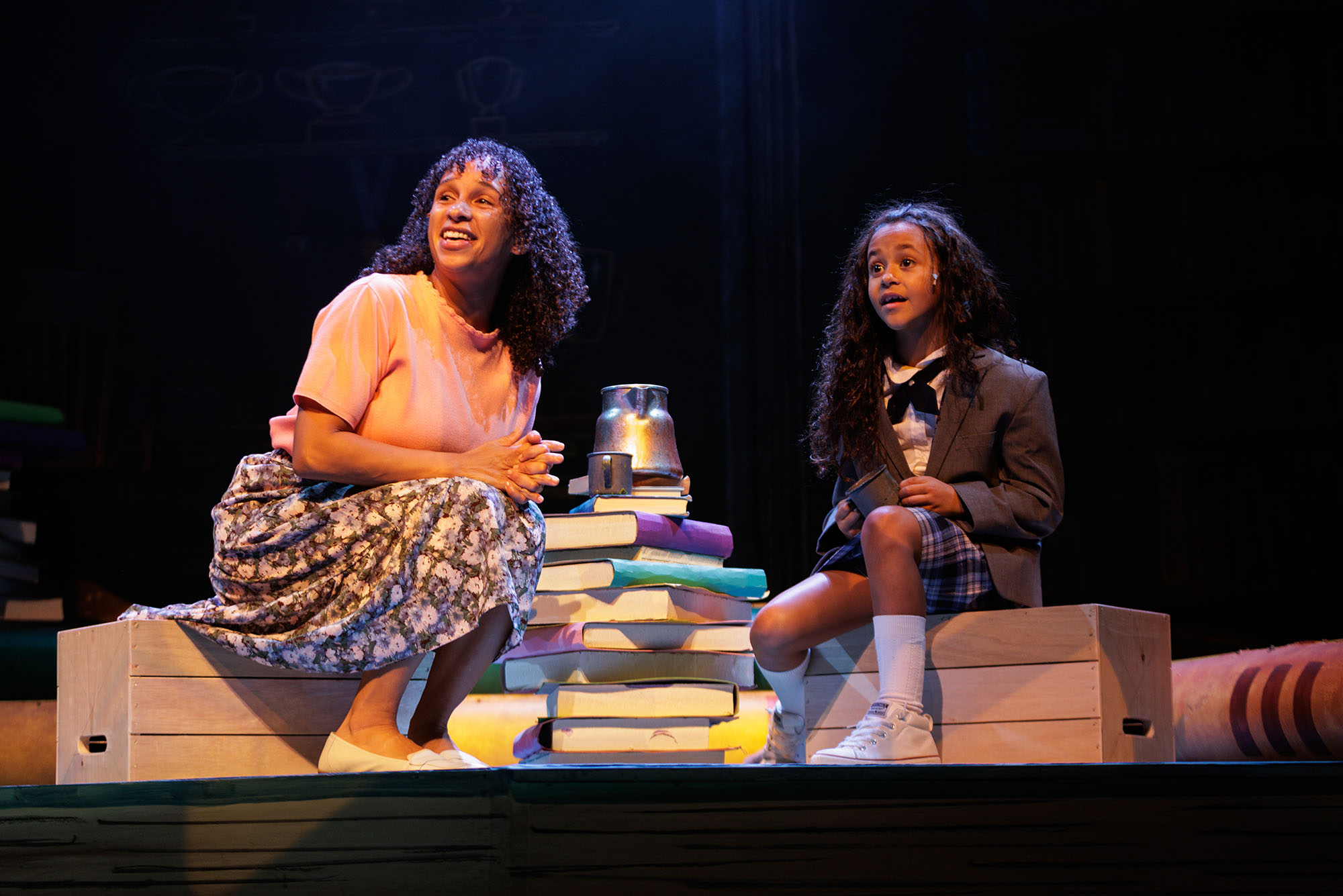 Theatre
Wheelock Family Theatre's Matilda, the Musical Nominated for Four Elliot Norton Awards
BU students, faculty, and alums also up for Boston's highest theater honor
This article was originally published in BU Today on May 5, 2023. By Joel Brown
Excerpt
It could be a big year for the BU theater community when the 2023 Elliot Norton Awards, Boston's answer to the Tonys, are handed out May 8.
BU's Wheelock Family Theatre is in the running for Outstanding Musical for Roald Dahl's Matilda, the Musical, one of four nominations the production netted. Several students, faculty, and alumni from the College of Fine Arts School of Theatre are nominated, as well.
"We aim to shrink the world for our students; to collapse the distance between the classroom and the theater profession," says CFA Dean Harvey Young. "Our faculty model how to lead and, in so doing, prepare our students to be leaders.
"There's a wonderful ripple effect," Young says. "The result, beyond awards, is the opportunity to influence the arts at the scale of a major city."
---

The sheer number of BU CFA faculty, staff, alumni and students nominated demonstrates just how embedded Wheelock Family Theatre and BU School of Theatre are in the Boston theater community

---
The Elliot Norton Awards, also known as "the Norties," are named for the famed local critic who died in 2003 and are bestowed by the Boston Theater Critics Association, a 10-person panel, including Boston Globe theater critic Don Aucoin, writer Terry Byrne, WGBH's Jared Bowen, and WBUR ARTery editor Ed Siegel (CAS'69, CAS'71). Monday evening's ceremony is at the Huntington Theatre.
Ranii notes that Matilda sings the refrain "Even if you're little, you can do a lot," which certainly applies to Matilda's actress, 9-year-old Sky Vaux Fuller, who is nominated for Outstanding Lead Performance in a Musical. Matilda also earned nominations for Outstanding Featured Performance in a Musical for Johanna Carlisle-Zepeda and Outstanding Musical Direction by David Freeman Coleman (CFA'93).
WFT has previously won eight Elliot Norton Awards, including Outstanding Ensemble in 2018 for In the Heights.
This year, a number of School of Theatre students also earned nominations, including Mishka Yarovoy (CFA'23), a double nominee for Outstanding Featured Performance, Midsize Theater, for The Inheritance, from the SpeakEasy Stage Company, and Outstanding Featured Performance, Small Theater, for Chicken & Biscuits from The Front Porch Arts Collective.
Sandra Zhihan Jia (CFA'23) was nominated for Outstanding Costume Design, Midsize or Small Theater, for The Chinese Lady, from Central Square Theater in partnership with CHUANG Stage. And Valyn Turner (CFA'23) was part of the cast nominated for Outstanding Ensemble, Midsize Theater, for Seven Guitars, from Actors' Shakespeare Project.
Jorge Arroyo, CFA assistant professor of lighting design, Outstanding Light Design, Large Theater, K-I-S-S-I-N-G, produced by the Huntington Theatre Company and The Front Porch Arts Collective
Patrese D. McClain, CFA assistant professor of acting, Outstanding Featured Performance, Large Theater, K-I-S-S-I-N-
David Remedios, CFA assistant professor of sound design, Outstanding Sound Design, Midsize or Small Theater, The Legend of Sleepy Hollow, produced by the Greater Boston Stage Company
Megan Sandberg-Zakian, artistic director of Boston Playwrights' Theatre, Outstanding Director, Midsize Theater, Much Ado About Nothing, produced by Commonwealth Shakespeare Company
Jon Savage, CFA assistant professor of scene design, Outstanding Scenic Design, Midsize or Small Theater, Seven Guitars, Actors' Shakespeare Project, and Outstanding Scenic Design, Midsize or Small Theater, Ain't Misbehavin', The Front Porch Arts Collective, The Nora@Central Square Theater, and Greater Boston Stage Company
Matthew Stern (CFA'17), CFA lecturer of music theatre, Outstanding Musical Direction, A Gentleman's Guide to Love and Murder, Lyric Stage Company of BostonCristina Todesco (CFA'94,'05,'09), CFA lecturer of scene design, Outstanding Scenic Design, Midsize or Small Theater, The Inheritance
Mark H. Dold (CFA'86), Outstanding Leading Performance, Midsize Theater, The Inheritance
Victoria Omoregie (CFA'22), Outstanding Featured Performance, Midsize Theater, Fairview, SpeakEasy Stage Company
Ivan Cecil Walks (CFA'22), Outstanding Featured Performance, Large Theater, K-I-S-S-I-N-G
Jae Woo (CFA'15), Outstanding Featured Performance, Midsize Theater, The Chinese Lady
Kat C. Zhou (CFA'20), Outstanding Lighting Design, Midsize or Small Theater, The Chinese Lady