Faculty Feature: James Noone
For James Noone, it's important to take chances when it comes to scene design. He instills that mentality in his students and refers to BU's scene design programs as a place where experimentation is encouraged.
As the program head of BU's scene design programs, Associate Professor of Scene Design James Noone has helped the program rank nationally as a top theatre design program. Working as a scene designer since 1983, Noone's teaching is informed by his extensive work on Broadway, Off-Broadway, in regional theatre, and with many major opera companies across America, as well as in national tours and on television. Noone's received numerous awards and nominations including a Drama Desk Award and American Theatre Wing Design Award.
In this CFA Faculty Feature, Noone defines scene design in the present day, why an aspiring scene designer should study at BU, and explains the importance of telling the story of a play.
Q
&

A
AN INTERVIEW WITH JAMES NOONE
CFA:
What does scene design do?
Noone: The scene design is where the story is revealed. It's not a decorative space. It's connected to the drama and the action of the piece. You want to focus on the purpose and reasons behind the stories. The purpose is to develop a deeper understanding of (the story), really engaging them in conversation with the world of the production. I guess what I'm always looking for in the materials and the choices that we make are finding truthful ways of presenting them. How to make it feel truthful — the space needs to be truthful.
CFA:
And avoiding cliché?
Noone: Yes, which is hard. By finding the truth of the play you find the truth of the space that the story needs to be told in. And that's looking at what scenery is a little differently than what most people expect, especially here where we're not looking at a picture at the end of a room on a stage. We're engaging the audience from the moment they come into the room. We can [engage them] that way with the theaters we have here, creating a space that allows the poetics of the play to live in and be heard — not commenting on the play but letting it speak for itself.

Letting it have a platform to live, allowing its voice to come through. Because sometimes we can really deck a room. We can do amazing things and that can be more interesting than what's going on with the actors. So, how do we make the actors connect with the audience, which is what the space if it's designed right, will do. How do we make the space we've created allow the energy and the voice of the play to percolate but not tell us what the play is about? It's easy to design something that says what the play is about. How do we create that conversation area?

Often design has been interpreted as reflecting the metaphors of the play, revealing how the artists feel about the play. You hear a young designer say, "This is how I feel about the play and this is how I want it to look," instead of going a little bit deeper. The question is: what do we want the audience to get from the play and how do all of the elements we're putting into the design free up the audience's imagination to see what's more powerful to them?
CFA:
You're working on opening up deeper levels that the audience is not always conscious of?
Noone: Yes, it's subconscious. The theater should reveal what's under the rug in all its forms. It can be comic or tragic — it can be all those things but in the theater, we can put something under a microscope and examine it. The stories we create reveal what we find there.
CFA:
Why do scene design at BU?
Noone: This program is a place where we can experiment. It's a laboratory where we can try things. We'll fail or succeed, but the important thing is that we can take chances. We're committed to creating new voices. I am not so sure they do that anywhere else.

Also, here at BU, all of the department heads are professionals who work in theatre all over the country. There aren't many places that have that. I can take the work I do here at BU to my professional work and bring my professional work back here. Ideas are moving back and forth between the professional world and the student world.

Boston now has is a really vibrant emerging theater community that's been put forward in large part by the work we've been doing here at BU. Especially in the past 15 years, a lot of our alumni have decided to stay in the area and it's an exciting theater community where young people are creating companies. The work is a little easier to get connected to than in a larger city like New York. Boston has amazing research institutes and there is just so much to draw from here. It's a little trickier in some other cities. Of course, we have lots of graduates doing great work in New York, on and off Broadway.

CFA:
What kind of students do you look for?
Noone: We want people who are interested in examining the world around them, who have an interest in design but really are more interested in the theatre they can make, and the stories that they can tell. I tell my students that the field of scenic design can feel like it puts us in a box when really, we're people who make theater. Our job is to create the space that allows the story to be told in, but we have to be as involved in the entire story and its purpose as much as everyone else.
CFA:
So students interested in the world around them?
Noone: Yes, interested in political things, social things, and in ideas that reveal the human spirit. Theatre was created to examine why we're all here, what we're doing, and how we're reacting to each other, treating, living, and working with each other. Also how we're learning from each other. We want to keep that conversation going. We're looking for people who are interested in that.

People who want to take an ancient Greek play, and find its voice in modern times, or take a modern play and reveal what's going on around us today — in the complicated world we're in. Theater is a place where people gather. It's a community where we experience a story and then have a conversation about it. That doesn't really happen in any other art form. In movies, you sit in your own little world but in theatre, the audience can laugh, and the actors react. The actors should feel alive in front of you. When you're in an overly decorated, old-fashioned design space, you sort of sit back and watch. But (our goal) is to make something alive in the room right here and now.
CFA:
Should applicants to the program come with skills?
Noone: We can teach them skills. They need to have that desire to look under the rug. Scene design is the thing that starts the evening, and gets the piece percolating. You have to be responsible for a lot of information. The space that we create affects everything. A lot of people can make beautiful, magical things on Photoshop but they can't tell a story. It's great that you like to design and make things, but can you tell the story of a play?
CFA:
We've all been to plays where the set is more interesting than the play.
Noone: Which is often the case. To me, that means that people are not investing in the story. They're not taking risks; they're not challenging themselves or their audiences. Theatre is suffocating from what's pleasant, where everybody is supposed to have a nice two hours. Your iPhone can do more than that now.
CFA:
Anything else you'd like to add?
Noone: We're vital, always growing, moving, and changing. We try to avoid the boxes that you can get put into. Some programs are stagnant. They'll say, 'This is how you do the comedy or this is how you do the musical.' Stagnant. There's a lot of praise out there for work that looks similar. People say you did that right because it looks like the original they saw years before. I don't want our students to do that. I want their work to be different and vital. I want to see what they can bring to it that's different.
---

This program is a place where we can experiment. It's a laboratory where we can try things. I can take the work I do here at BU to my professional work and bring my professional work back here. Ideas are moving back and forth between the professional world and the student world.

---
This Series
Also in
March 29, 2023

November 8, 2022

November 1, 2022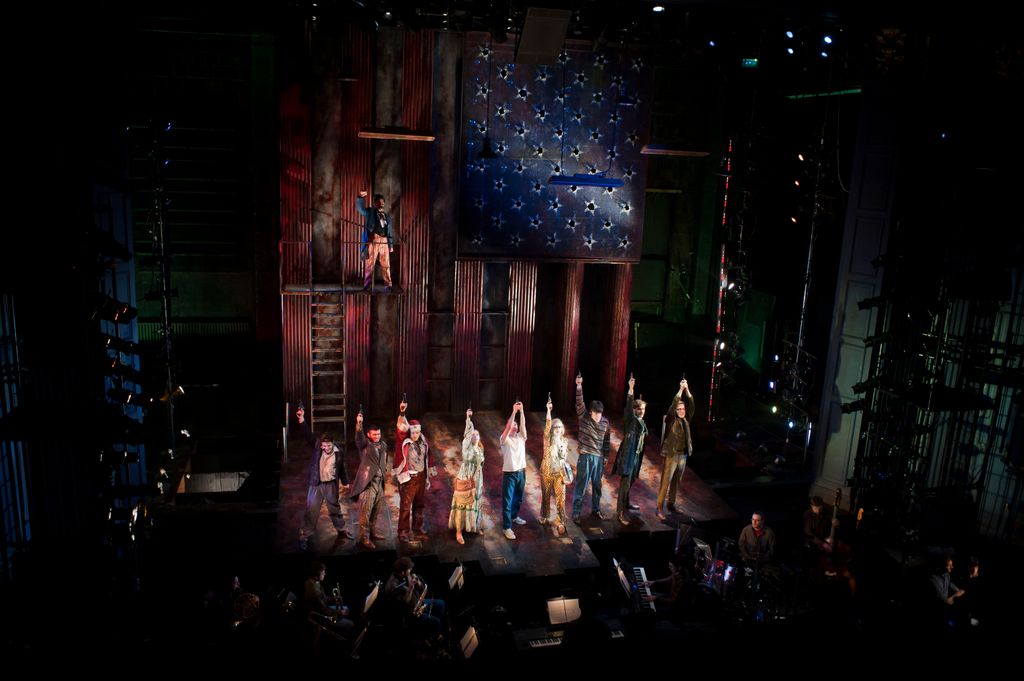 Learn more about BU's Scene Design programs
Find out the types of training and research opportunities BFA and MFA scene design students receive, read our scene design student and alum features, and see for yourself how our students' work goes from a scale model to on stage. No small parts here!