CFA Faculty join BU Center for Antiracist Research Affiliate Faculty Program
Lucy Kim, Jessie Rubenstein, André de Quadros, and Michael Birenbaum Quintero are among a cohort of faculty from across BU and other institutions involved in the Affiliated Faculty program of the Center for Antiracist Research at Boston University.
BU's Center for Antiracist Research has announced the assembly of one of the largest networks of scholars and aspiring scholars studying racism and antiracism in the world. The Center's Affiliate program is an interdisciplinary network of scholars from Boston University and the greater New England area bringing their expertise and unique disciplinary perspectives towards the goal of investigating and dismantling racism at multiple levels, from the structural to the interpersonal.
Several of the cohort are faculty of BU College of Fine Arts, and have unique expertise that will contribute to achieving the goals of the Center for Antiracist Research, including interdisciplinary exchange and innovative research that will help build an antiracist society that ensures equity and justice for all.
The Center is working to effect real change upon the lingering problem of racial inequity and injustice, through four pillars of work: Research, Policy, Narrative, and Advocacy. The Center affiliates will be plugged into each of these pillars based on their area of study, interests, and expertise.
Meet the CFA Affiliated Faculty
André de Quadros
Professor of Music, Music Education
Affiliate faculty, African Studies Center, Center for the Study of Asia, Global Health Initiative, and the Institute for the Study of Muslim Societies & Civilizations
Professor de Quadros directs numerous international ensembles focusing on justice. As a scholar, conductor, educator, and human rights activist, his professional work has taken him to the most diverse ensembles and settings in more than 40 countries, spanning professional ensembles, and including projects with prisons, psychosocial rehabilitation, refugees and asylum-seekers, victims of torture and trauma, and peacebuilding work in the Arab world and Israel. 
Lucy Kim
Assistant Professor of Art, Painting
Lucy Kim is a visual artist who works in painting, sculpture, printmaking, and photography to explore the mechanisms, such as distortion and projection, that are involved in the transition from physical subject to image. Through this exploration, she considers the non-vision-centric potential of images. She is currently working on a project in the BU labs creating photographic prints with melanin produced by a genetically modified strain of E. coli. She began this project while an artist-in-residence at the Broad Institute of MIT and Harvard from 2018 to 2020.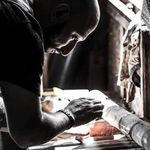 Michael Birenbaum Quintero
Associate Professor of Music and Chair, Musicology & Ethnomusicology
Professor Quintero's work, mostly focusing on Black Colombians, examines musical constructions of blackness, state cultural policy and social movement cultural politics, neoliberal multiculturalism, affective politics, black vernacular technology, musical circulation, violence and trauma, loudness, music streaming algorithms and the affect of late capitalism, Latinx/African-American interactions in Afro-Cuban religion, and ritual soundscapes in Havana, New York City, and Ọ̀yọ̀ (Nigeria). He has directed a grassroots Afro-Colombian community music archive; designed cultural policy initiatives with the Colombian Ministry of Culture; performed traditional music and organized tours with Colombian musicians; and collaborated with the Afro-Colombian activist organization Proceso de Comunidades Negras and with Latinx, Black, and working-class organizers in Massachusetts.
Jessie Marks Rubenstein

Lecturer in Art, Graphic Design
Jessie Marks Rubenstein, founder and creative director at Marks + Spaces, has worked in exhibition for nearly 20 years. Marks + Spaces creates layered, narrative spaces that educate, facilitate dialog, and empower individuals. Producing experiential learning projects with students is an active part of Jessie's design practice. Jessie uses exhibition design as a platform for research on spaces that provoke conversation and offer multiple perspectives on critical topics pertaining to the environment and human equality. Through her work at Experience Design, she has won multiple AAM Muse awards for multimedia installation. She holds an MFA in interior architecture from the School of the Art Institute of Chicago and a BA in psychology from the Colorado College. Jessie is on the Advisory Board for the School of the Museum of Fine Arts at Tufts University.
Get to know more faculty involved with the Center for Antiracist Research initiatives.
---
BU CENTER FOR ANTIRACIST RESEARCH
The mission of the Boston University Center for Antiracist Research is to convene researchers and practitioners from various disciplines to figure out novel and practical ways to understand, explain, and solve seemingly intractable problems of racial inequity and injustice. We foster exhaustive racial research, research-based policy innovation, data-driven educational and advocacy campaigns, and narrative-change initiatives. We are working toward building an antiracist society that ensures equity and justice for all. Learn more at bu.edu/antiracism-center.