BU Art Galleries Presents Josef Albers Formulation Articulation, Steve Locke: Homage to the Auction Block, and Radical Return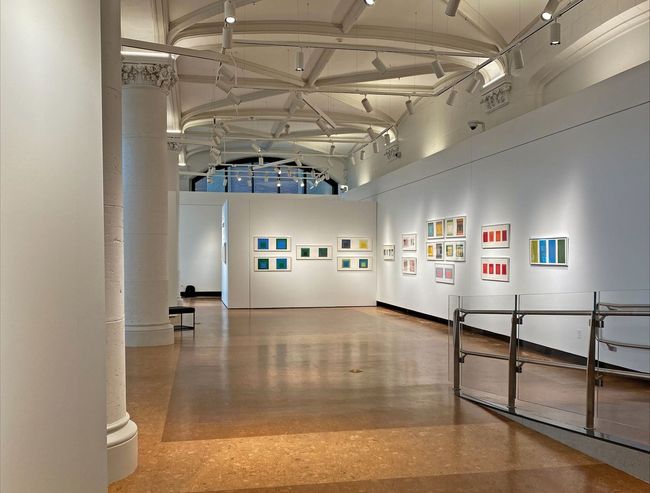 October 1, 2021 –  The Boston University Art Galleries (BUAG) is pleased to present our Fall 2021 lineup of exhibitions which include Josef Albers, Formulation Articulation, Steve Locke: Homage to the Auction Block, and Radical Return. All exhibitions and gallery events are free and open to the public. Face coverings are required in all University buildings.
Josef Albers, Formulation Articulation
October 1 – December 12, 2021
Formulation Articulation is an overview of famed artist Josef Albers' lifetime oeuvre. Published in 1972 by Harry N. Abrams, New York, the works were chosen by Albers himself and produced in silk-screen under his supervision by Ives-Sillman. A legendary modern artist and renowned teacher at the Bauhaus art school, Black Mountain College, and Yale University, Albers used his art and teaching to explore the possibilities and ambiguities of color. This exhibition focuses on Albers' interest in geometric abstraction and color theory, one of the most influential theories of 20th Century art.
In conjunction with Josef Albers, Formulation Articulation, two rotating exhibitions will also be on view in the Stone Gallery: Steve Locke: Homage to the Auction Block and Radical Return. Learn more and see the virtual gallery tour. 
Steve Locke: Homage to the Auction Block
October 1 – 27, 2021
Homage to the Auction Block is a new body of work by artist Steve Locke. Influenced by Josef Albers' Homage to the Square, Locke takes a contemporary approach in exploring color theory and geometric form in these paintings. Using a vibrant color palette, Locke replaces the center square of each work with an auction block motif challenging the viewer to consider the role racial hierarchy has played in perpetuating a white supremacist art history. This body of work is the result of two previous Boston engagements: Three Deliberate Grays for Freddie (A Memorial for Freddie Gray), commissioned by the Isabella Stewart Gardner Museum, and Auction Block Memorial, a proposed work for BostonAIR. Learn more.
Radical Return
November 8 – December 12, 2021
Radical Return is a contemporary Chinese graphic design exhibition curated by Zhongkai Li and Boston University Assistant Professor Mary Yang in collaboration with IS A GALLERY, an independent gallery space located in Jing'an District, Shanghai. Drawing inspiration from Albers' famous "square within a square" design, Radical Return focuses on the
Chinese character "回" (huí) or "return". 回 (huí) means to return, to turn around, to circle, or to reply. "To return" implies movement, but the character must choose the direction. Why return to something? To return to something, someone, or somewhere requires one to retrace a path. This exhibition asks designers to consider what "return" means to them and their design practice. Read more.
Back2BU
Boston University is committed to promoting a safe campus environment for students, faculty, and staff in accordance with current state and local public safety guidelines. For fall 2021, face coverings are still required to be worn indoors in classrooms, offices, galleries, and public common areas. Learn more about campus safety protocols at bu.edu/back2bu.
---
BOSTON UNIVERSITY ART GALLERIES
The Boston University Art Galleries is located at 855 Commonwealth Avenue inside the College of Fine Arts. The gallery is located on the Boston University campus (BU West T stop on the "B" Green Line.) Gallery hours are Tuesday-Saturday from 11 am–5 pm, (Closed Sundays, Mondays, and Holidays.) For more information, visit bu.edu/art.
BOSTON UNIVERSITY
Founded in 1839, Boston University is an internationally recognized institution of higher education and research. With more than 34,000 students, it is the fourth-largest independent university in the United States. BU consists of 17 schools and colleges, along with a number of multi-disciplinary centers and institutes integral to the University's research and teaching mission. In 2012, BU joined the Association of American Universities (AAU), a consortium of 62 leading research universities in the United States and Canada. Learn more at bu.edu.
BOSTON UNIVERSITY COLLEGE OF FINE ARTS
Established in 1954, Boston University College of Fine Arts (CFA) is a community of artist-scholars and scholar-artists who are passionate about the fine and performing arts, committed to diversity and inclusion, and determined to improve the lives of others through art. With programs in Music, Theatre, and Visual Arts, CFA prepares students for a meaningful creative life by developing their intellectual capacity to create art, shift perspective, think broadly, and master relevant 21st century skills. CFA offers a wide array of undergraduate, graduate, and doctoral programs, as well as a range of online degrees and certificates. Learn more at bu.edu/cfa.