Faculty Feature: Christopher Sleboda, Graphic Design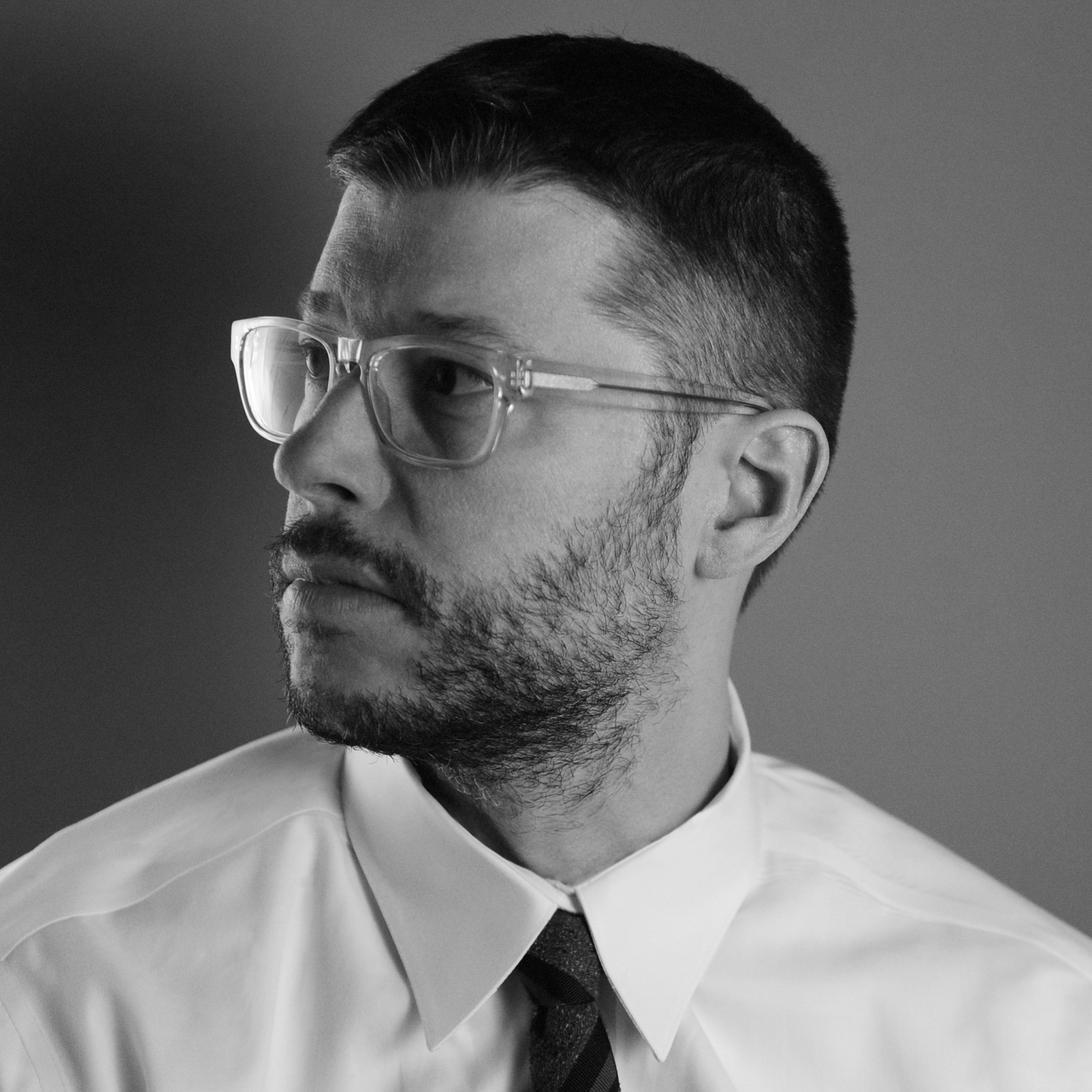 CFA Faculty
Faculty Feature: Christopher Sleboda, Graphic Design
Interview by Alex Ross (COM'22)
Christopher Sleboda, who joined the College of Fine Arts this year as Associate Professor of Art, Graphic Design, shares some thoughts on his favorite design initiatives, being inspired by colleagues and students, and teaching "fearless makers."
Q
&

A
AN INTERVIEW WITH CHRISTOPHER SLEBODA
News:
What inspired you to pursue design?
From a very young age, I was captivated by how things looked and were packaged; skateboard graphics and album art both enthralled me. I began to appreciate the visuals on their own merits, cultivating an early love of the way design could interface with popular culture.

I was in high school when I discovered the world of hardcore punk zines, and they are the items I credit with my formal entry into the world of graphic design. Zines were empowering because they were print media but were relatively easy and inexpensive to produce. While skateboard graphics were not something I had the means to make, I did have access to a typewriter, scissors, glue, and a photocopier, which meant I had the means to design and publish a zine. Participating in zine culture—making, trading, and selling my own while collecting other people's efforts—gave me early hands-on experience working with text, image, and layouts and exposure to a range of approaches to working with print.

I document one of the most personally influential zines that I acquired in the book Hardcore Fanzine: Good and Plenty 1989-1993. For me, discovering this community of makers and creators who worked with print opened my mind to the possibilities and impact of graphic design.
News:
Tell us more about your approach to graphic design.
My approach to graphic design finds its roots in practical, audience-focused applications; however, my interest in education, art, and collaboration also colors and shapes my practice.

Before joining Boston University this summer, I was Director of Graphic Design at the Yale University Art Gallery, a comprehensive teaching museum, for fifteen years. I filtered each project and opportunity that came my way through the lens of education and cooperation: how could I bring graphic design into the museum and create institutional avenues that would allow collaboration with students studying design at Yale? So one additional way I approach graphic design is to see the practice as a way to create community and develop connections between people.
News:
How would you describe yourself as a teacher?
My teaching philosophy posits that to be a successful designer, one must be a fearless maker. The more students produce, the more mistakes they will make: a process that can lead to profound discoveries and personal growth.

In the classroom, the strategies I employ combine practical, real-world knowledge with new and experimental ways of looking, thinking, and talking about graphic design. When developing any assignment or course, I consistently ask, "What is it that inspires and motivates students to create more work? What can this class provide that will help students be more prolific?"
One goal that I set for students—and myself—is to be genuinely engaged with both the work and the process.  I believe that the marriage of research and active teaching creates a fertile space for meaningful contributions to the field of design.
News:
Talk about what it's been like to join CFA, especially in this unique year.
Joining Boston University and CFA has been fantastic. The community of colleagues—both in the College of Fine Arts and at the School of Visual Arts—has been incredibly welcoming. I'm excited when I think about the possibilities for collaboration between departments, with students, and among faculty. I'm looking forward to post-COVID when those types of projects can evolve naturally and spontaneously.
News:
What tools do you equip your students with in order for them to be successful in their practice?
I'm interested in both challenging and encouraging students. I look for ways to reveal connections and threads within their body of work. And I investigate the relationship between what a student is looking at and what they are producing.

I'm also a firm believer that learning occurs first and foremost from making. I devise my courses to activate undergraduate and graduate students to do and make more. I invite students to challenge themselves, utilize the available resources and tools, and engage their making muscles in a supportive, multi-disciplinary environment.

And I believe that the art school critique is a fertile landscape for experimentation in both the presentation of work, student-to-student interaction and conversational knowledge-building that can occur in real-time. It's also vital that students connect themselves to the history and contemporary practice of graphic design. The skills and knowledge, the conceptual and technical foundation they acquire in the BU Graphic Design program, empower students to thrive and continue a path of lifelong learning.
News:
What's your favorite aspect of the graphic design program here at CFA?
I think it's a three-way tie between the faculty, the students, and the facilities.

I've been following the work of BU Graphic Design faculty for several years. Several students who interned with me at the Yale University Art Gallery eventually joined CFA as faculty members. And my colleague, Assistant Professor of Art Mary Yang, an excellent designer who recently spearheaded bringing Jerome Harris's As, Not For: Dethroning Our Absolutes exhibition to campus, TA'd for me when she was a graduate student at RISD. So I had an inkling of what a dynamic pool of talent there was in the program. Still, I'll confess that as I've learned more about the faculty and their commitment to their students and teaching, as well as their impressive personal practices, I've realized that there is even more to admire.

The students in the graphic design program are also a source of inspiration. They come from a range of backgrounds and are producing outstanding projects. I'm looking forward to seeing their vision and skills develop further throughout their time at BU.

And the facilities are among the best I've ever seen. The renovated studio spaces and classrooms, the spacious galleries, and the range of tools in the department and across campus are phenomenal. I love that whatever the students dream of making, they can produce themselves with the resources at their disposal.
News:
Tell us about your favorite design campaign or project. Why is it your favorite?
When choosing a favorite thing, I often turn to recent projects, as those are freshest in my mind. One that stands out for me from the last few years is the catalog and exhibition identity I designed for Place, Nations, Generations, Beings: 200 Years of Indigenous North American Art.

Four student curators (three of whom were Indigenous themselves) curated the exhibition. The exhibition was incredibly important because it was the first time that many of the featured items were presented as art objects. I knew that design could and should play a critical role in amplifying the themes and narratives the student curators wanted to convey. For one thing, presentations about Native Americans can treat their cultures as extinct and historical when, in fact, Indigenous communities continue to thrive and evolve. For this reason, the exhibition has a clean, modern typographic identity that positions the work in a contemporary space, looking forward, as opposed to a historical approach that only looks towards the past.
In a standard museum publication, an artist's tribal affiliation would likely be a detail, presented among other information about an art object and its maker.

However, knowing that Native and Indigenous peoples are not monolithic—and the importance of recognizing the diversity and specificity of each tribe—I designed the size and placement of this information to be prominent.
My favorite curatorial decision was a reconsideration of the term usually used to designate an object whose maker isn't known: "Artist Unknown." The student curators argued that this language wasn't necessarily accurate. Knowledge about an artist's identity might still reside with tribal communities, and it was also essential to recognize the historical extraction of art objects from community contexts. They settled on the identifier "Artist Once Known," adopting language that highlighted items' provenance without anonymizing the artist. This choice perfectly captures how students can bring fresh perspectives to institutional practices, proposing creative alternatives built on research and contemporary theory.

I felt the project encapsulated a lot of what I enjoy about working in design education: everyone was eager to contribute; knowledge sharing and trust were crucial, and together, we were able to lend physical shape to new scholarship. The enthusiasm and cultural knowledge the students brought to bear were impressive and inspiring, reminding me of how powerful and vital diverse perspectives are for any undertaking.
News:
What are you most looking forward to for the rest of this year at BU?
As the semester wraps up, I'm excited to see students complete their work this term and be able to step back to see the progress that they've made. Documenting one's process and reviewing one's work is an integral part of learning how to be a better designer. And it's by looking at a body of work holistically that students can assess their strengths and identify areas they want to continue to develop. I relish how specific themes or interest areas—or approaches to making—can reveal themselves quite plainly. And there's satisfaction in taking a moment to celebrate the breadth and width of work that can be produced by BU's student designers.

The other thing I'm looking forward to is the presentation of second-year MFA students' thesis inquiries on December 2 and 3. I'll be working with the students on their thesis projects and exhibition in the spring. I'm excited about the opportunity to learn about their research and interests as they bring their first thesis term to a close. They've been working with Assistant Professor Nick Rock, who excels at challenging students to develop a coherent visual and conceptual perspective.
Find more from Professor Sleboda on Instagram @christophersleboda.
---
CFA's Faculty Feature series spotlights the exceptional faculty from across Boston University College of Fine Arts. This interview has been lightly edited for clarity.
---
Graphic Design at BU
The Graphic Design program at BU takes a studio-driven approach to design thinking and visual communication. With an emphasis on process and critical design thinking, the program sets itself apart as a maker-based design department set within an art school. The design faculty are leaders in the field who work closely with students to develop their technical and conceptual skills, challenging them to think creatively and strategically and placing them at the forefront of entrepreneurial thinking in the business world. Learn more about studying Graphic Design at BU College of Fine Arts!