BU Today feature: CFA's Victor Coelho Got Plenty of Satisfaction Editing a Book about the Rolling Stones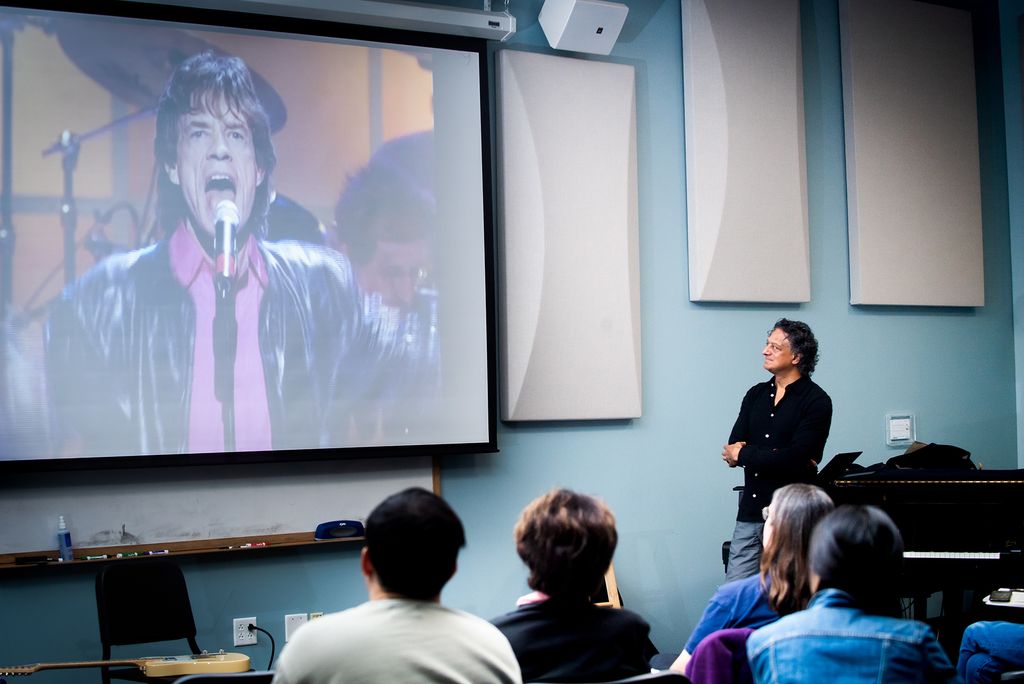 This article was originally published in BU Today on October 10, 2019. By Joel Brown
Victor Coelho knows how to make a class sit up and pay attention: crank up "Paint It Black."
Heads bob and feet tap as the 1966 Rolling Stones hit booms out of the classroom speakers, Mick Jagger ranting as Keith Richards' guitar and Brian Jones' sitar swirl together in a depressive minor key.
"The needles in the studio are all flickering deep into the red," notes Coelho, a College of Fine Arts professor of music. "It's designed to blast out of three-inch car speakers, which was all most people had then."
After the song races to its conclusion, Coelho sits down, picks up his "vintage white" Fender American Performer Telecaster and plays a little of each of the different string parts to show how they fit together. He probably knows the song about as well as Richards does by now: for the past 25 years, Coelho has taught a course that's now called Popular Music & Culture: The Music of the Rolling Stones.
This month Coelho takes a big step deeper into Stones-ology as one of two editors of The Cambridge Companion to the Rolling Stones (Cambridge University Press, 2019), a collection of essays authored by him, co-editor John Covach, a University of Rochester professor of music, and a variety of others looking at the music of the band over time and their place in the rock 'n' roll pantheon.
"The only word I can think of is immense 'satisfaction' to see the book come out, since it underwent a complete overhaul from when I first began the project," Coelho says. "It began in 1997 as a monograph about the Stones from around 1980—a book about how a legacy group navigated the choppy waters of style change, MTV, the beginnings of rap, digital music, etc. I did not then anticipate that their Second Life, starting in 1989 with Steel Wheels, would still be continuing 30 years later. For me it was a really compelling story about how a group curates their own history, and seizes their history so others won't tell it for them."
As time went by Coelho not only recognized the opportunity for a wider focus than his original project, but also began to see how there was a corps of Stones specialty experts, some with niche-y specialties like documentaries on the band and the influence world music has had on their work. "The idea of an edited volume then became very attractive," he says. "The book called for a much broader historical approach, covering sound, revival, their cultural impact, the fan base—in short, their fundamental position and influence in music history as narrated by a team of specialists, and bringing a fresh approach towards studying the group."