CFA's Victor Coelho Got Plenty of Satisfaction Editing a Book about the Rolling Stones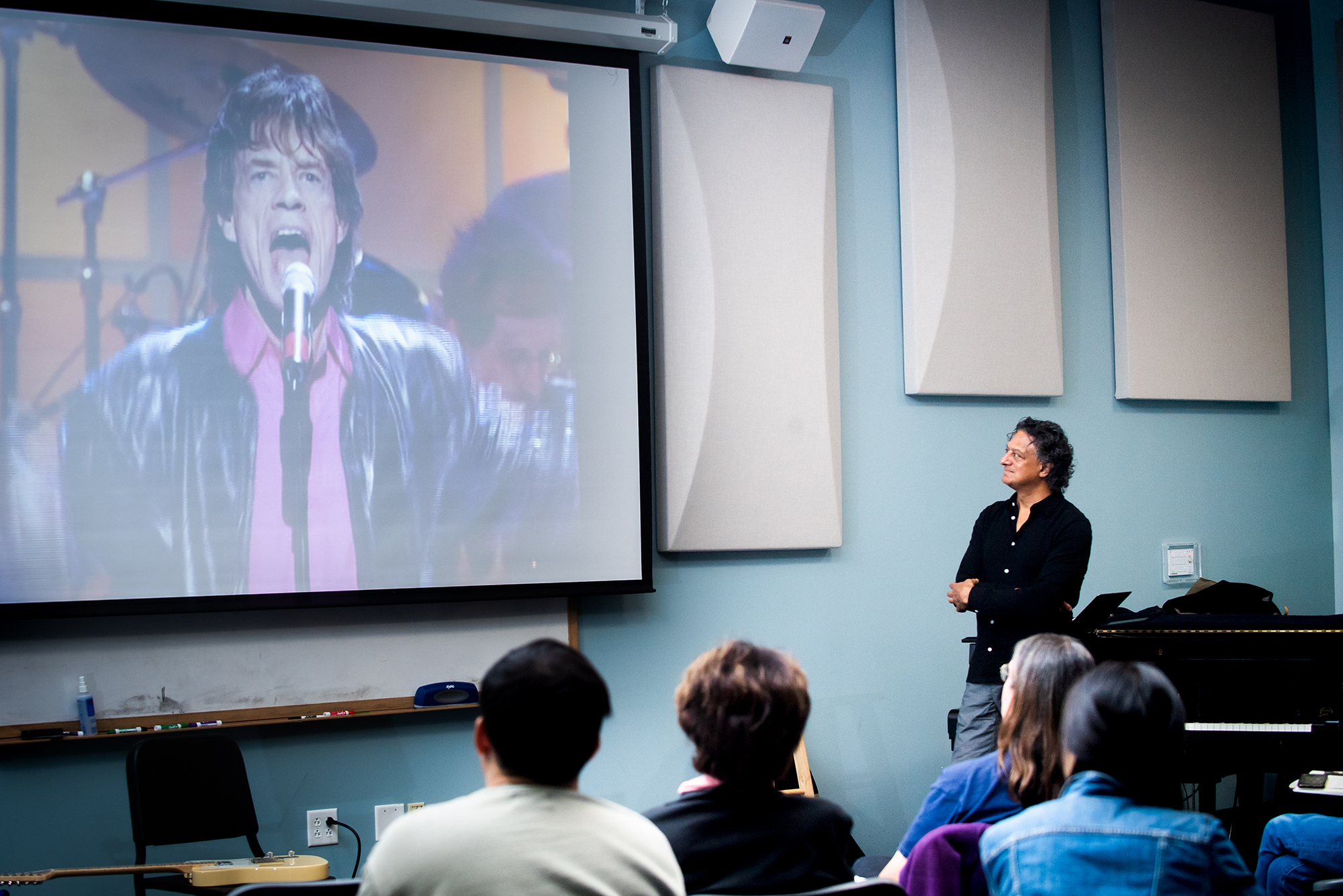 Music
CFA's Victor Coelho Got Plenty of Satisfaction Editing a Book about the Rolling Stones
The music professor picks up his guitar to teach a class about the band, too
Victor Coelho knows how to make a class sit up and pay attention: crank up "Paint It Black."

Heads bob and feet tap as the 1966 Rolling Stones hit booms out of the classroom speakers, Mick Jagger ranting as Keith Richards' guitar and Brian Jones' sitar swirl together in a depressive minor key.

"The needles in the studio are all flickering deep into the red," notes Coelho, a College of Fine Arts professor of music. "It's designed to blast out of three-inch car speakers, which was all most people had then."

After the song races to its conclusion, Coelho sits down, picks up his "vintage white" Fender American Performer Telecaster and plays a little of each of the different string parts to show how they fit together. He probably knows the song about as well as Richards does by now: for the past 25 years, Coelho has taught a course that's now called Popular Music & Culture: The Music of the Rolling Stones.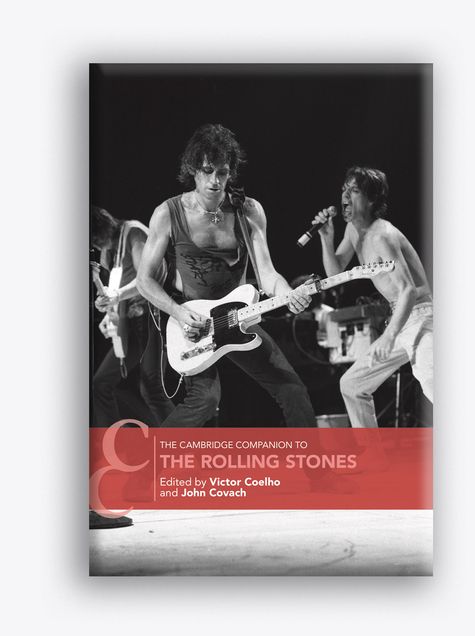 This month Coelho takes a big step deeper into Stones-ology as one of two editors of The Cambridge Companion to the Rolling Stones (Cambridge University Press, 2019), a collection of essays authored by him, co-editor John Covach, a University of Rochester professor of music, and a variety of others looking at the music of the band over time and their place in the rock 'n' roll pantheon.

"The only word I can think of is immense 'satisfaction' to see the book come out, since it underwent a complete overhaul from when I first began the project," Coelho says. "It began in 1997 as a monograph about the Stones from around 1980—a book about how a legacy group navigated the choppy waters of style change, MTV, the beginnings of rap, digital music, etc. I did not then anticipate that their Second Life, starting in 1989 with Steel Wheels, would still be continuing 30 years later. For me it was a really compelling story about how a group curates their own history, and seizes their history so others won't tell it for them."

As time went by Coelho not only recognized the opportunity for a wider focus than his original project, but also began to see how there was a corps of Stones specialty experts, some with niche-y specialties like documentaries on the band and the influence world music has had on their work. "The idea of an edited volume then became very attractive," he says. "The book called for a much broader historical approach, covering sound, revival, their cultural impact, the fan base—in short, their fundamental position and influence in music history as narrated by a team of specialists, and bringing a fresh approach towards studying the group."

Coelho brought in his friend Covach, director of the U of R Institute for Popular Music and an Eastman School of Music professor of theory, as co-editor. The contributors they chose include academics specializing in musicology or pop culture—including BU's own Brita Renee Heimarck, a CFA associate professor of music, musicology, and ethnomusicology—and a couple of ringers, notably Bill Janovitz, Boston band Buffalo Tom guitarist and singer and the author of two previous books about the Stones.

Topics range from a survey of the changes in the band's music through singles and albums to a look at the influence of the late Jones on the group through his interest in world music and from a defense of the group's psychedelic period ("She's a Rainbow") to an examination of its occasional dive into country and western (the satiric "Far Away Eyes").

---

For me it [the Stones'] was a really compelling story about how a group curates their own history, and seizes their history so others won't tell it for them.

---
"Jagger invokes Bakersfield and radio preachers to drench 'Far Away Eyes' in country bona fides," writes Daniel Beller-McKenna, a University of New Hampshire associate professor, in a chapter titled "Driving Stones Country in Five Songs."

"The straight country playing behind the vocal allows the joke to stay front and center throughout.… Ironically, the Stones sound the most convincingly country when they are distancing themselves from it most strongly."

The co-editors each wrote two chapters, Covach the first chapter overview of the band's essential albums and singles from 1963 to 1974 and the chapter "The Rolling Stones in 1968: In Defense of Lingering Psychedelia," while Coelho offers his 1989-and-after insights in a chapter titled "Second Life and the Dynamics of Revival" as well as the  chapter "Exile, America and the Theatre of the Rolling Stones, 1968-72."
The Cambridge University Press Cambridge Companions series offers authoritative guides to subjects in art, philosophy, and culture and topics such as comparative constitutional law, all written by scholars and experts in the fields. Coelho has scholarly as well as rock chops. He chairs the School of Music's musicology and ethnomusicology department, is director of the school's Center for Early Music Studies, and plays a mean lute as well as that Telecaster.
Although The Cambridge Companion to the Rolling Stones has topics like "Guitar Slingers and Hired Guns: The Musicians of the Rolling Stones," it is still decidedly serious and scholarly, extensively footnoted and filled with weighty thought. It captures the gritty darkness at the heart of their sound. In their best albums, from Beggars Banquet through Let It Bleed, Sticky Fingers, and Exile on Main Street, Coelho writes, there was "a deep-seated subversion powered by their reverential identification with African-American and rural idioms; and, importantly, an obsession with the exiled, with Blackness, and culture at the margins, exposing 'fantasies of low life and life below the stairs.'"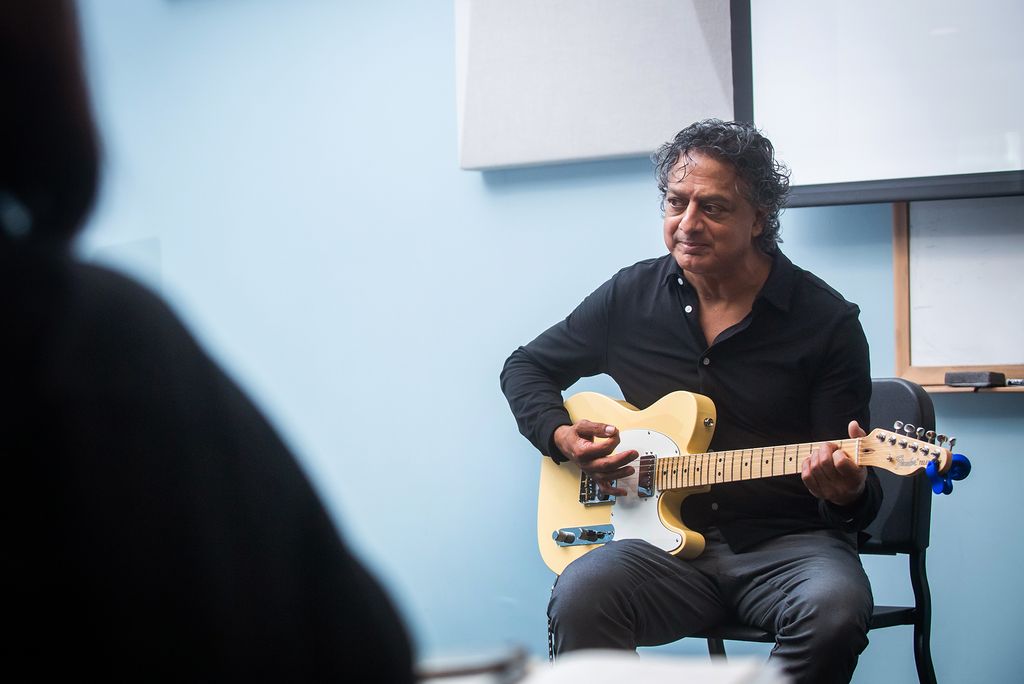 One thing to glean from Coelho's Rolling Stones class is how much all of this means to a generation of undergraduates young enough to be the band's grandchildren—or even great-grandchildren.

"I've been playing guitar since I was five or six, and the Stones are a big part of my musical vocabulary," says Gabe Haydar (CGS'20), who hopes to work in the music industry, as he helped fold up chairs after class. "I was probably introduced to them by my parents. Ironically, I think 'Paint It Black' was the first Stones song I heard. And [the video game] Guitar Hero helped too."

"I've never heard a Stones song before," says Abigail Grote (CFA'21). "I grew up in classical music—I play bassoon—and we listened to a lot of Beatles in my house growing up. But I am required to take a music history elective. I'm going into music education, and I could teach a rock class one day. Having a little bit of knowledge of how rock music works, and guitars even, is a large part of what I wanted. I definitely understand a lot more than I did before."
Coelho himself latched onto the Stones when he was very young. "I was living in Paris because my father took a position there and sometime in 1965 my older brother took me to a record store where you could hear singles in these small booths," he says. "We heard the Stones' 'The Last Time' and the Who's 'A Legal Matter'—both songs are actually very similar—and I was blown away by Richards' and [the Who's Pete] Townshend's guitar riffs in both songs. The two are still my favorite guitarists."

A book release party for The Cambridge Companion to the Rolling Stones will be held today, October 10, from 4:30 to 6:30 pm at Eastern Standard, 528 Commonwealth Ave., Boston. Victor Coelho will read from, and sign copies of, the book and other contributors will be on hand. The event is free and open to the public; an RSVP to blues@bu.edu is requested as space is limited.

Victor Coelho and his friends in the Rooster Band, including Daniel Beller-McKenna, will explore the blues, R&B, and country-and-western roots of the Stones' songs in Rolling through Stones Country, at Loretta's Last Call, One Lansdowne St., Boston, on Friday, October 18, from 6 to 8 pm.