Tarish "Jeghetto" Pipkins: Puppeteer Empowers Community
BU Arts Initiative and CFA School of Visual Arts present artist-in-residence Tarish Pipkins at BU & Puppet Showplace Theater
November 4-10, 2018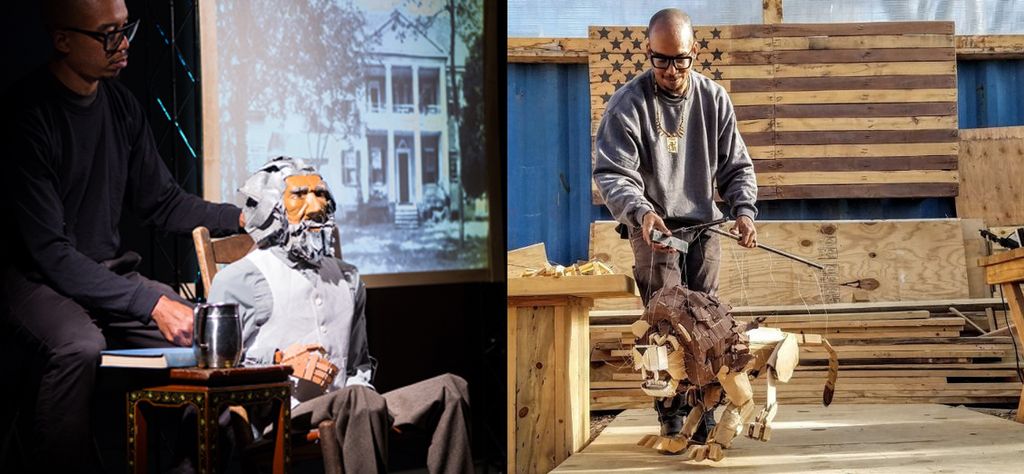 Boston University is pleased to join forces with Puppet Showplace Theater in Brookline to welcome artist-in-residence Tarish Pipkins to Boston from November 4-10, 2018. Also known as "Jeghetto", Tarish is a self-taught, interdisciplinary artist whose recent puppetry work has been featured in Missy Elliott's Where They From Music Video, in an Alexa Super Bowl ad featuring Alec Baldwin, at the Brooklyn Academy of Music, at the Chicago International Puppet Theater Festival, and at Blackspace, an Afrofuturism arts collective and makerspace in Durham North Carolina. This November marks his Boston debut. In 2016, Jeghetto was named Best Puppet Theatre by Indy Weekly.
At Boston University, Tarish's residency is sponsored by the BU Arts Initiative and the College of Fine Arts School of Visual Arts. "Tarish is exactly the kind of artist/educator that we want to present through the Arts Initiative. He is an accomplished artist who is committed to exploring contemporary issues through his work, and we are pleased to be able to partner with Puppet Showplace Theater to make this happen," says Ty Furman, managing director of the BU Arts Initiative. Felice Amato, Assistant Professor of Art Education and faculty partner in planning the residency echoes that sentiment; "Tarish is an inspiration. I am so excited for the BU community, particularly those involved in k-12 education, to experience his boundless inventiveness and positive approach to life and building community through puppetry and art."
While in Boston Tarish will participate in a panel discussion on Afrofuturism on Wednesday, November 7 at 7 pm with Boston resident Barrington Edwards of Studio Vexer and College of Fine Arts alum Joel Gill (CFA'04) of Strange Fruit Comics and the New Hampshire Institute of Arts. During the week he will also be hosting a discussion on the use of puppets in special education classes, a puppet building workshop, and a puppet slam, all of which are free and open to the public.
Tarish's show, Just Another Lynching: An American Horror Story, will be presented at Puppet Showplace Theater in Brookline on November 8 and 9 at 7 pm Framed as a man's eulogy to his lost friend, the play unfolds as a series of touching memories that refuse to be ignored. Jeghetto's ghostly, large-scale puppets combine with extraordinary sound and projections, creating a space where contemporary audiences can reflect, bear witness, and engage in radical honesty. Roxanna Myhrum, artistic director of Puppet Showplace Theater, notes that "Boston is currently engaged in difficult conversations about racism and systemic injustice towards the Black community. Jeghetto brings a master craftsman's sensitive eye and careful touch to this incendiary topic. We are proud to partner with him and a team of local artists to empower our community through an act of radical imagination." The show will be followed by a discussion between the community and the creative team.
Tickets are available through Puppet Showplace Theater at a cost of $15 for general public and $10 for members. This show is recommended for adults and teens. Full residency schedule and reservation information can be found at bu.edu/arts/jeghetto.
The Boston University Arts Initiative in the Office of the Provost was established in 2012 with a mission to ensure that the arts are a vital component of the student experience at Boston University, and to build community awareness of and engagement in the arts at BU. Our programming is developed in collaboration with university faculty and reflects the interdisciplinary, global, and urban nature of Boston University.
Puppet Showplace Theater (est. 1974) is dedicated to presenting outstanding professional puppetry to diverse audiences through performances, workshops, and community outreach activities. Just Another Lynching: An American Horror Story is presented as part of Puppet Showplace Theater's Puppets at Night series for adults and teens. These evening performances explore thought-provoking topics and showcase an astonishing array of puppetry styles. During the 45th anniversary season, "Puppets for the People," Puppets at Night harnesses the power of puppetry to strengthen our human community by presenting works that builds empathy, defy expectations, engage imaginations, and inspire action on both the theatrical and political stage.