School of Theatre's professional collaboration redefines the student-teacher relationship
Spark Volume 3, Issue 2 | by Anna Whitelaw (COM'19)
It's a rare opportunity for students, professors, and alumni to be on the same playing field. We're used to the standard relationship — one in which a student learns, and a professor teaches. This is far from the case for the artists within the CFA community who are involved with BCAP.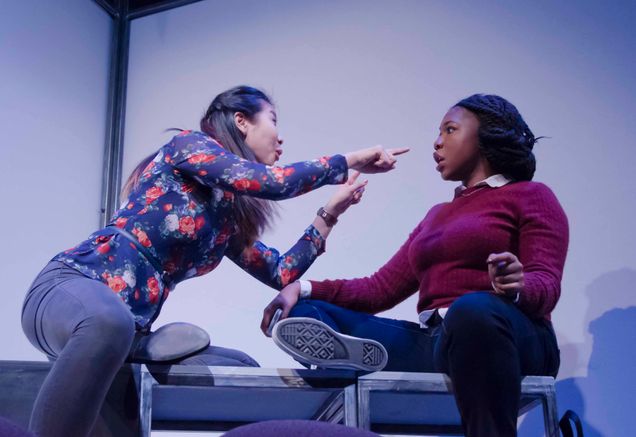 The Boston Center for American Performance, now celebrating its tenth year, has been revolutionizing this relationship since its founding. BCAP, as it is commonly known on campus, is a professional initiative that bridges the gap between collegiate training and the profession, giving students and faculty the opportunity to collaborate across differing levels of experience.
Liz Mazar Phillips, BCAP's Managing Director and Business Manager of the School of Theatre, said that BCAP gives faculty and staff the space to collaborate with students as peers. Each production offers a unique intergenerational learning experience.
To broaden its scope of work, BCAP frequently partners with other professional companies. Recently, BCAP has collaborated with Boston Playwrights' Theatre (also in residence at Boston University) and New Repertory Theatre.
School of Theatre Director and BCAP Artistic Director, Jim Petosa, says, "BCAP activates the artistic relationship between teacher, student, alumni, and guest artist by providing invigorating laboratories to discover new approaches to existing plays and the development of new work. As a professional extension of the BU School of Theatre, BCAP productions create an artistic home for all of its artists. BCAP, contributing to the region's vibrant mosaic of theatre activity, can rightfully celebrate ten years of performances and productions in which the School and all of its many artists can take great pride."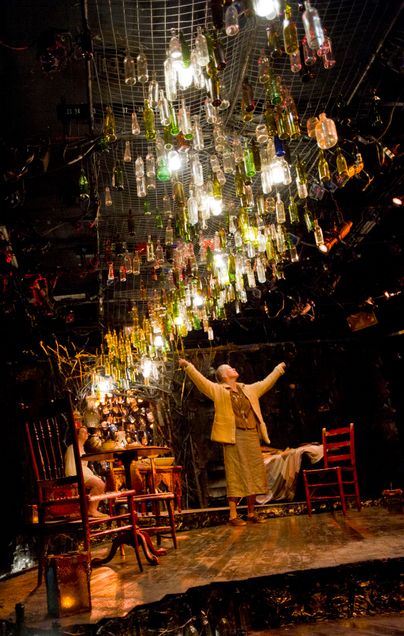 Each BCAP experience is different, said Phillips, but each and every one asserts SOT's aesthetic in the professional community.
Phillips mentioned that BCAP, the BU Professional Theatre Initiative, and BU New Play Initiative continue to set the School of Theatre apart from other theatre conservatories across the country because these special initiatives are designed to integrate BU students into the profession in advance of graduation.
"We are bringing the work of students forward and making them more aware of the theatre community at-large," said Phillips. "By partnering with other professional companies, and engaging the press to tell our story, we bring our students to the forefront of the theatre community."
By collaborating with local professional companies, BU talent and creative research is being infused into the Boston theatre culture. The program, according to Phillips, gives students a sense of what life will be like beyond our stretch of Commonwealth Avenue.
Each production is composed of a combination of professional actors and designers (often BU alumni) and artists from the BU community, said Phillips. Faculty, staff, students, and alumni—they all become a part of the cast and design and production team, on a level playing field. These experiences develop relationships that push past the classroom and the rehearsal room to impact the future of SOT students.
"BCAP is different from other resident theatre companies housed within University settings because the initiative is fully integrated into the life of our undergraduate and graduate programs," said Phillips. "BCAP is really an effort to blur the lines between academic programs and the professional, to ease the transition and reinvigorate the profession."
Several students, alumni, and faculty expressed how BCAP has impacted their academic experiences and professional endeavors.
Judy Braha, a School of Theatre assistant professor, has been both a director (The Road to Mecca) and a performer (Wit) in BCAP productions. BCAP reawakened an aspect of her creative self and made her realize that some aspects of teaching need to be reinvented in light of this process.
"It has been amazing both as an actor and a director to experience this crisscrossing of professional and student actors in plays produced by the school," Braha said. "It makes the old tradition of apprenticing alongside veteran actors in the theater a lively part of our training and gives so much to faculty, students and audiences in the realm of actualizing a play in a unique and revelatory way."
Braha is a dedicated advocate of the initiative, saying that "it has inspired many, many students, both inside and outside of these processes, to look deeper, to take greater risks, and to step bravely into the profession before their graduation from the school."
Timothy Spears (CFA'06,'16), who was involved in BCAP as a student, and continues to be involved as an alumnus and BCAP staff member, praised the program. As a professional extension within an academic setting, students are given the opportunity to perform on a higher caliber.
"It represents what Jim Petosa refers to as the horizontal hierarchy—no matter where we are in our training or career there is always a lot we can learn from each other at any level and it makes the art better as well," said Spears who has been a featured actor in several BCAP productions (House—IRNE Award nomination for Best Solo Performance, Monster, A Question of Mercy) and directed the recent BCAP and New Repertory Theatre remount of Good as performed for BU Freshmen Orientation.
Mary Eleanor Stebbins (CFA'11), a lighting designer who was named a "Young Designer to Watch in 2014" by Live Design magazine, designed the BCAP production of A Taste of Honey. She commended BCAP for the opportunity to connect students to professional experiences.
"It encourages students to step up and professionals to be mentors," Stebbins said. "As a student, I learned a lot from my collaboration with Jim and others that helped me transition into the professional world a more confident designer. As a professional (and alum) I had a chance to reflect on my personal design process and growth through working and talking with current students."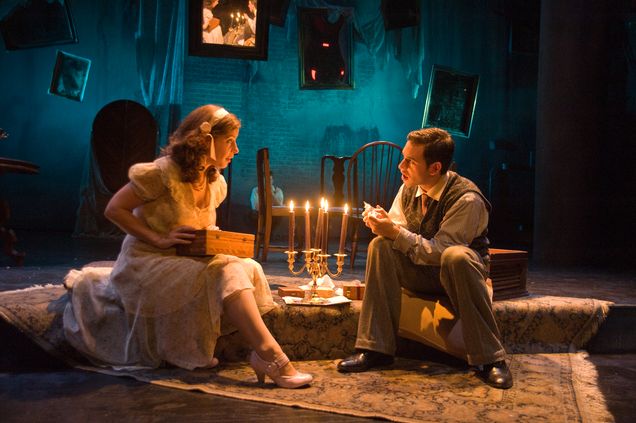 Along with celebrating the 10-year anniversary of the program, the College of Fine Arts is also celebrating the many students, faculty and alumni that have participated in and benefitted from the BCAP initiative. Talented and successful students have gone on to work in theatre communities around the country, alumni have come back to make an influence on their peers, and—in an exciting change of pace—teachers have the opportunity to learn from their students.
Join us this season! Tickets at www.bu.edu/cfa/bcap. Help us celebrate 10 years of BCAP by sharing your experiences with the initiative using #bcapboston on Instagram, Facebook, and Twitter!
SEASON SNAPSHOT
BCAP's 2017-2018 season celebrates both the initiative's long-standing partnership with New Repertory Theatre and its commitment to creating new work and new approaches to existing work. The season includes a quartet of co-productions with New Rep: Ideation by Aaron Loeb, a darkly comic psychological thriller; Lonely Planet by Steven Dietz and Statements After An Arrest Under The Immorality Act by Athol Fugard, presented in rep; and Ripe Frenzy by Jennifer Barclay, winner of the National New Play Network's 2016 Smith Prize for Political Theatre. BCAP's 10th season will conclude the first annual InMotion Theatre production of The Journey, a devised movement piece based on Moby Dick and curated by Yo-EL Cassell that will mark BCAP's first production in Boston University's new Joan & Edgar Booth Theatre. Learn more and find tickets at bu.edu/cfa/bcap.