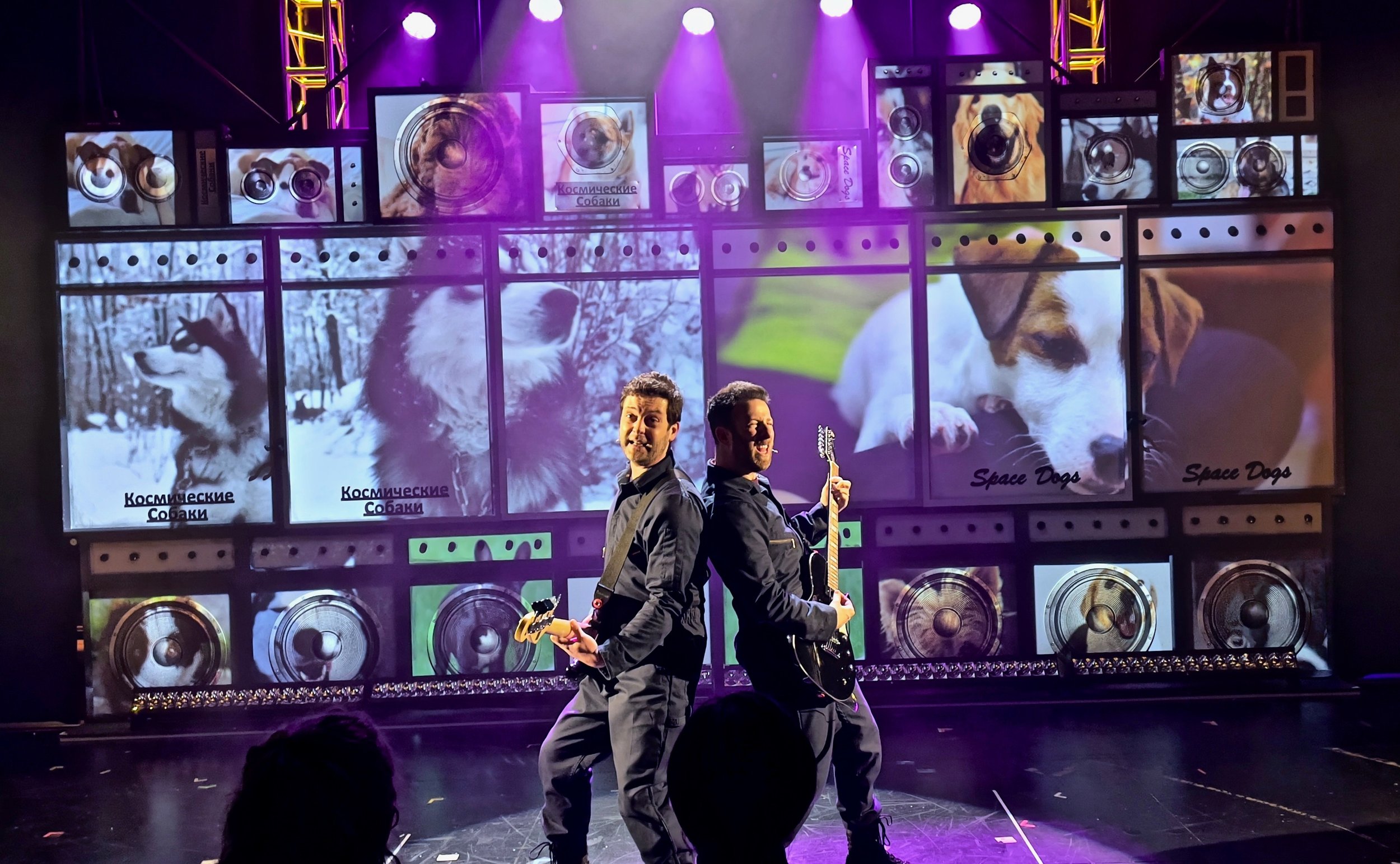 Theatre
Class Notes
Summer 2023
Write to us!
We want to hear what you've been up to. Send us your stories and photos, and we'll share the highlights here. Email cfaalum@bu.edu to start the conversation.
1960s
Susan Surman ('60), an award-winning playwright and actress, published the romance novel Trade Off (Indigo Sea Press, 2022).
Anabel Graetz ('66) appeared in the 2021 movie Free Guy, starring Ryan Reynolds. Graetz's other screen credits include the independent film Island Zero (2018), The Greatest Beer Run Ever (2022), and the NBC series New Amsterdam. Graetz was the founder, director, and a soloist with the women's a cappella ensemble Laduvane. In 1995 she teamed up with Deborah Anne Goss ('70) to form the Proper Ladies, a duo that performed songs and parlor ballads of 19th-century America throughout the United States.
Mike Moran ('66) is leading the Kitt Moran quartet, which plays jazz regularly at Allegro Bistro in Venice, Fla., and the Grill at 1951 in Port Charlotte, Fla. The quartet has put out several CDs, and many of their songs are available on YouTube. They have collaborated with celebrities over the years, including Merv Griffin, Rosemary Clooney, Don Sebesky, Ron Carter, Burt Bacharach, and Teo Macero.
1970s
Lee-Alison Sibley ('72), who was a vocal performance major, received the Indo-American Chamber of Commerce Leadership Award in November 2022 for her contributions to improving relations between India and the US during her seven years living and working in Kolkata and New Delhi. Through her music and performance of Rabindra Sangeet (songs of Tagore), she forged friendships and was able to raise funds for many NGOs in West Bengal. She received the Woman of the Decade Award for leadership in 2017 from the Women Economic Forum. Sibley lives on Marrowstone Island, Wash.
Stewart Lane ('73) produced the Broadway show Pictures from Home, starring Nathan Lane, Danny Burstein, and Zoë Wanamaker, which opened in February 2023. The production, based on the photo memoir by Larry Sultan, is a comic and dramatic portrait of a mother, a father, and the son who photographed their lives.
Paula Plum ('75) starred with her husband, Richard Snee, in Grand Horizons, the Tony-nominated play about the changing nature of love in marriage. The production ran from July through August 2022 in Gloucester, Mass. Plum is an acting coach and was appointed the 2020–2021 Monan Professor of Theatre Arts at Boston College. She is interim artistic director of Gloucester Stage Company.
Grant H. Drumheller ('76,'78) exhibited his work from January through March 2023 at the University of New Hampshire (UNH) Museum of Art. He is an emeritus professor of art at UNH, having taught there for 32 years. Drumheller will participate as one of six artists at the Museum of New Art/ Portsmouth's show Six, in recognition of the 400th anniversary of the founding of Portsmouth, N.H. His work will also be featured at the Fine Arts Fair of the Hamptons, in Southampton, N.Y., in July 2023.
Rick Heinrichs ('76) was the production designer for the Amazon Prime Video series The Lord of the Rings: The Rings of Power and the Netflix film Glass Onion: A Knives Out Mystery. Heinrichs won the Art Directors Guild award for Contemporary Feature Film and was nominated for the Set Decorators Society of America, USA, award for Best Achievement in Decor/Design of a Contemporary Feature Film for Glass Onion.
Shaun Miskell ('78) retired from the Lab School of Washington in June 2022 after 40 years as the director of performing arts. The school opened the Shaun Miskell Theater in October 2019. After almost 45 years in Washington, D.C., Miskell looks forward to moving back to Massachusetts.
William B. Spencer ('78,'85) had double reed music published by Trevco Music, including an arrangement of The Stars and Stripes Forever for bassoon quintet, The Screamin' Double Reed Blues for three oboes and three bassoons, and a Little Suite for flute and bassoon.
Marsha Goldberg ('79) was represented by Adah Rose Gallery and had work on display at ART FAIR 14C in Jersey City, N.J., in November 2022. Goldberg also had two pieces in The New Jersey Arts Annual: Reemergence at the New Jersey State Museum in Trenton, which ran through April 2023, and a solo show that surveyed her work from the past decade at the Hostetter Arts Center Gallery in Basking Ridge, N.J., from November through December 2022. Goldberg was a resident artist at the Ucross Foundation in Wyoming from August through December 2022.
1980s
Julia Shepley ('80) finished a series of 16 unique prints for an artists' book collaboration with poet Susan Roney O'Brien and 11 other printmakers and artists.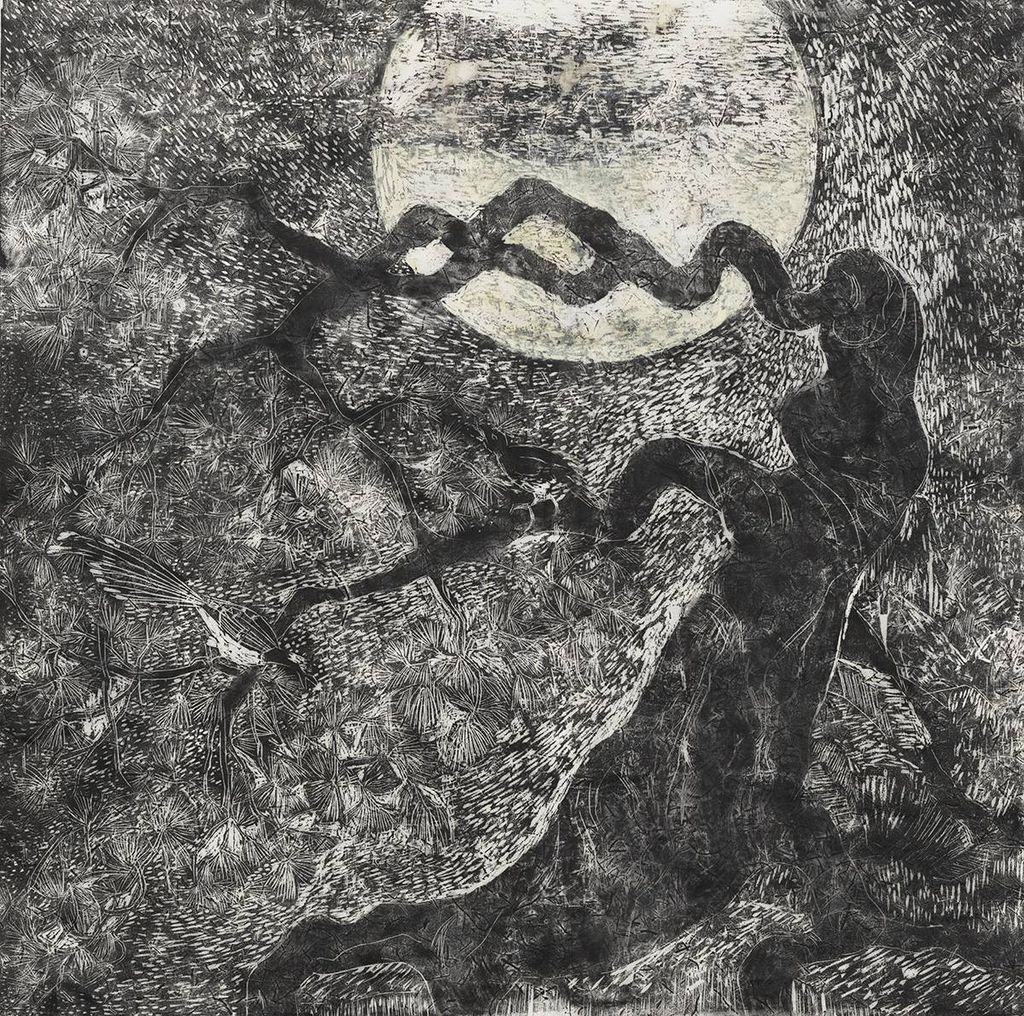 Jason Alexander ('81, Hon.'95) directed the Los Angeles run of the play If I Forget, which portrays the Fischer family in Washington, D.C., at the turn of the 21st century, exploring both the personal and political issues plaguing them. Alexander was also part of the ensemble for the Comedy Central film Out of Office and appeared in the 25th anniversary special for Rodgers and Hammerstein's Cinderella in August 2022.
Julia Freifeld ('81) published In Each Other's Bones: A Memoir of Love, Loss, and Living (LaGana Publishing, 2022), which chronicles Freifeld's journey from being caregiver and wife to finding a separate identity for herself during her husband's terminal illness.
Gary Ginstling (BUTI'83,'84), former executive director of the National Symphony Orchestra, became executive director of the New York Philharmonic in November 2022. Ginstling will succeed Deborah Borda as president and CEO of the New York Philharmonic in July 2023 after she retires.
Julianne Moore ('83) was named a founding board member for the Equal Rights Amendment Coalition's satirical campaign "WOMAN Corp," which highlights how corporations have more rights than women and calls for the addition of the Equal Rights Amendment to the US Constitution more than 50 years after the Senate passed it.
Michael Chiklis ('85) starred in the inaugural episode, "Scott's Story," of the Fox anthology series Accused in January 2023.
Frank Meissner ('85), Emily Ranii ('13), James Rotondo III ('17,'23), and Steven Doucette ('19) worked on Wheelock Family Theatre's (WFT) fall 2022 production of Roald Dahl's Matilda the Musical. Ranii is the WFT artistic director and was director of the play, Doucette was props designer, Meissner was lighting designer, and Rotondo was shadow puppeteer and scenic painter.
Joel Mroz ('85) recently completed the 25-minute music piece Three Emily Dickinson Poems for Soprano and Orchestra. The piece is both a song cycle and a tone poem.
Suzanne Wilson (BUTI'88) was the Phoenix Symphony Orchestra's president and CEO from 2020 to 2022. She has since moved to London with her family. She previously was executive director of the Midori Foundation, an organization that provides high-quality music education to New York City public school students in underserved communities.
Mark Cantrell (BUTI'84,'85,'87, CFA'89) was named president and CEO of the Florida Orchestra in 2019. He strives to make orchestras accessible to all. He was previously executive director of the Boston Philharmonic Orchestra and CEO of the Wisconsin Chamber Orchestra. Cantrell also became a trained and licensed pilot and flew shuttle planes out of New York's LaGuardia Airport.
1990s
Mary Ann Lanier ('93,'23) published the article "Experiences of Musical Improvisation: Self-Individuation and Participatory Sense-Making" in the peer-reviewed journal Update: Applications of Research in Music Education in June 2022.
Robert Davison ('97) is creative director of print and photography at Boston University Marketing & Communications. He exhibited his work in the 2022 MassArt x SoWa Design Biennial, a juried exhibition featuring select work from faculty, students, alumni, and staff of the college's graduate and professional certificate programs in design.
Matthew Spivey (BUTI'98) was appointed CEO of the San Francisco Symphony Orchestra in 2022 after joining the organization in 2015. Spivey was instrumental in the appointment of conductor and composer Esa-Pekka Salonen as the orchestra's 12th music director and has developed new ideas, including innovative digital projects and imaginative performance concepts in a variety of concert formats.
Shoshana Telner (BUTI'92,'93, CFA'98), a Canadian pianist, closed out the Les AMIS Concerts at the Loft Cinema in August 2022 in Cobourg, Ontario. This was the last Les AMIS concert at the Loft and it included a variety of genres, from Haydn to contemporary styles.
2000s
Gregg Mozgala ('00) starred in the Broadway production of Martyna Majok's Pulitzer Prize–winning play Cost of Living, which highlights the complexities behind caretaking. Mozgala starred as John, a Princeton graduate student who lives with cerebral palsy.
Ginnifer Goodwin ('01) joined the ensemble for Buddy Games 2, the sequel to the 2019 comedy Buddy Games. She also will star in Disney's Zootopia 2, in which she voices the character Judy Hopps.
Ashley Williams ('01) played Aunt Pam in the Apple TV+ television series Amber Brown, based on the children's book series by Paula Danziger.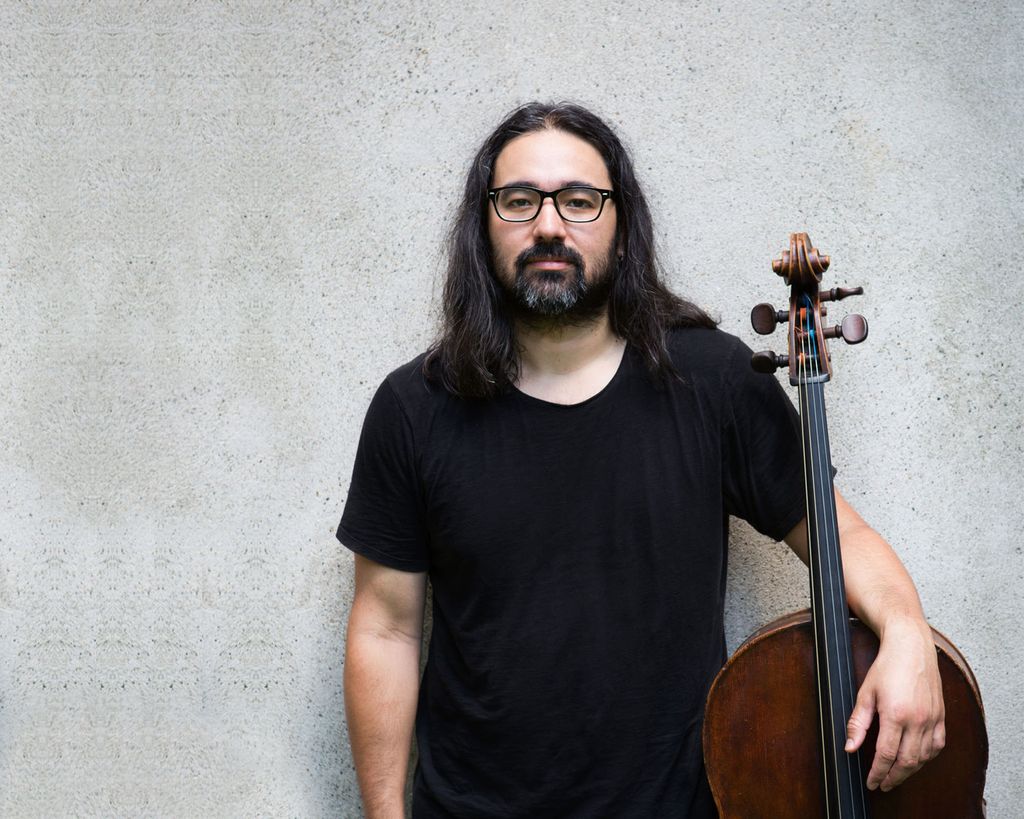 Sarah Davis Eaton ('02) was a soprano soloist in Handel's Messiah for the Master Chorale of Sterling's 30th Christmas concert in December 2022 in Sterling, Colo.
Kayla Mohammadi ('02) presented her work in the exhibition Overlap from August to September 2022 at the Caldbeck Gallery in Rockland, Maine.
Elissa Von Letkemann ('02) became design director, brand and marketing, at Winter Holben Architecture + Design in Kittery, Maine. In 2023, Von Letkemann was elected to serve on the board of the American Institute of Graphic Arts Maine.
Arturo Chacón-Cruz ('03) performed in La Traviata and The Tales of Hoffmann in Spain, a concert of opera highlights at the Lincoln Memorial in Washington, D.C., Lucia di Lammermoor at the LA Opera, and Un Ballo in Maschera in Maryland in 2021 and 2022.
Amber Gray ('04) was featured in Stacy Kray and Yair Evnine's Love the Struggle, which was presented in concert at Joe's Pub in New York City in December 2022. Love the Struggle takes inspiration from 20th-century French philosophers and challenges conventional notions of love, freedom, and gender roles. Ticket proceeds were donated to Maestra, a nonprofit organization that provides support, visibility, and community for women and nonbinary musicians in the musical theater industry.
Tetsuo Tamanaha ('04), an assistant professor of fashion design at the Fashion Institute of Technology (FIT), created educational components such as muslin reproductions, videos, and digital patterns that illustrated the complexities of haute couture construction for Dior + Balenciaga: The Kings of Couture and Their Legacies, an exhibition at the Museum at FIT in the summer and fall of 2022.
Nathan Troup ('04), a CFA opera lecturer, was the stage director for Our Town, an opera based on the Pulitzer Prize–winning play by Thornton Wilder. The production was presented in October 2022 as part of CFA's 26th Fringe Festival.
Uzo Aduba ('05) will star in The Supremes at Earl's All-You-Can-Eat, a film based on the 2013 book of the same title by Edward Kelsey Moore. Aduba also will star in Painkiller, a Netflix series dramatizing the origins of the opioid crisis in the US.
Na Sun ('05), a member of the New York Philharmonic, was a soloist in the fourth annual The Sound of Spring: A Chinese New Year Concert with The Orchestra Now,a collaboration between US-China Music Institute of the Bard College Conservatory of Music and the Central Conservatory of Music, China, which took place in January 2023. The concert celebrated the Chinese Year of the Rabbit and featured Sun performing Butterfly Lovers Violin Concerto.
Leslie Sears ('06) and Brian August ('10) coauthored an article on the state of opera stage management in the country. The article is one of the American Guild of Musical Artists' most interacted-with articles and was shared on the official AFL-CIO website.
Rachelle Reichert's ('07) artwork was commissioned for permanent exhibition at the Ritz Mandarin Oriental in Madrid, Spain, and Meta headquarters in Menlo Park, Calif. She is exhibiting artwork at the Contemporary Jewish Museum in San Francisco, Calif.
Judy Braha ('08) and David Keohane ('13) were a part of the Great Barrington Public Theater's Things I Know to Be True in August 2022. The drama centers on the complexities of family dynamics, self-identity, and love. Braha, who was the recipient of the Association for Theatre in Higher Education's 2022 Oscar Brockett Outstanding Teacher Award, directed the play. Keohane was part of the cast.
Brian Major ('08,'10), a baritone, was featured in the January 2023 issue of Opera News.
Christopher Bannow ('09) was cast as Peter in Soho Repertory Theatre's Wolf Play, which ran from February 13 through April 2, 2023, at MCC Theater's Susan & Ronald Frankel Theater in New York City.
David Gram ('09), an assistant professor of theatre at Oakland University, is working on a book for Routledge on contemporary farce and his perception on the genre's evolution and significance as a mode of theater in the 21st century. He focuses on reviewing how playwrights of the global majority have embraced, subverted, and paid homage to the form to comment on social, political, and cultural issues.
Alex Wyse ('09) and John Zdrojeski ('12) are in the cast of the Broadway musical Good Night, Oscar, starring Sean Hayes, which premiered in April 2023.
2010s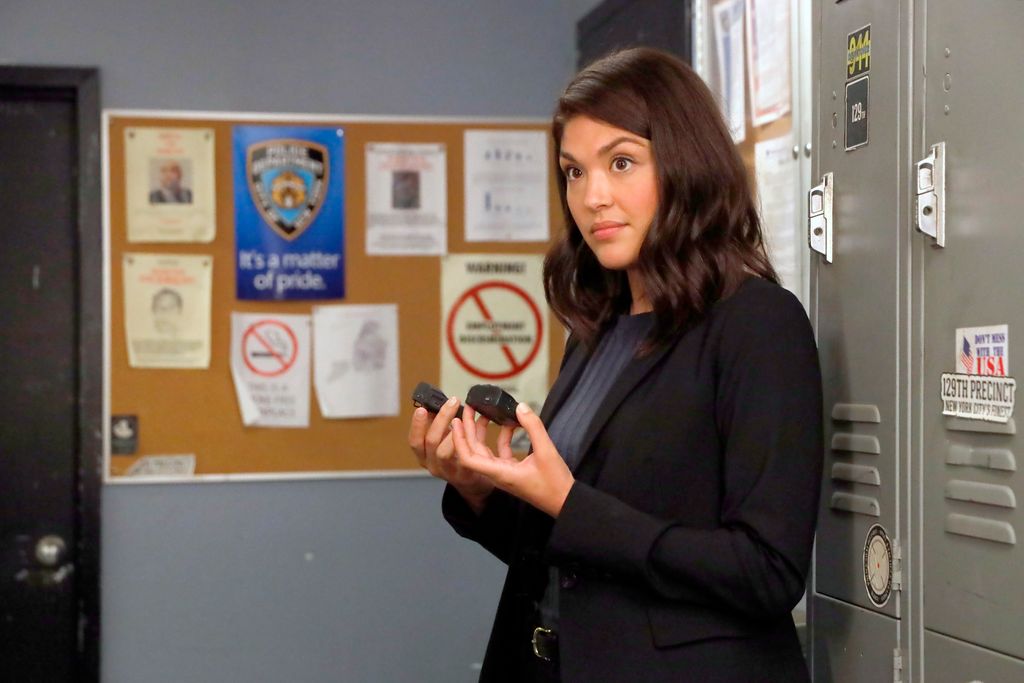 Jackie Grant ('10) joined Rainier Youth Choirs for its 16th season as the director of colla voce for grades 6–8. Grant also teaches private voice and piano lessons in Maple Valley, Wash.
Annabel Osberg ('11) contributed to photographer Liz Nielsen's monograph Apparitions. She has contributed to two other monographs this year: on Los Angeles abstractionist Dion Johnson and on London-based painter Daniel Crews-Chubb. Osberg recently showed her paintings at the LA galleries Ladies' Room and Serious Topics.
Ellie Heyman ('12) was the director of Space Dogs, a musical about the true story of Laika, a stray dog, and the Chief Designer, the top-secret Russian scientist who sent her into space during the Cold War.
Space Dogs is available for viewing on BroadwayHD, the streaming platform that Stewart F. Lane ('73) and his wife, Bonnie Comley, created. Lane and Comley were also executive producers of the show, and Mary Ellen Stebbins ('11) was the production's lighting designer. Heyman's The Great Work Begins, a livestream benefit performance of scenes from Angels in America in support of amfAR's Fund to Fight COVID-19, made the New York Times Best Theater of 2020 list. It featured Glenn Close, Laura Linney, and Brian Tyree Henry. Photo by Wilson Chin
Seth MacLeod ('12), principal cellist of the Cape Ann Symphony and Wellesley Symphony Orchestra, played in the Musicians Unleashed concert series on October 29, 2022, at the Unitarian Universalist Church in Gloucester, Mass., where he joined other Cape Ann Symphony musicians in performing compositions by recently appointed concertmaster Scott Moore, William Grant Still, the Grateful Dead, Rachel Grimes, and Dvořák.
Kenneth Moore ('12) is the band director and chair of the music department at Dexter High School in Michigan and was one of the three conductors asked to participate in the return of the annual Bowling Green State University High School Honors Band event in November 2022.
Mason Morton ('12,'15) and Kendall Ramseur ('12), along with Cordaro Rodriguez (LAW'12) and Micah Christian (STH'12), members of the quartet Sons of Serendip, performed for the Boston Common Tree Lighting Celebration in December 2022.
Hyun-ji Kwon ('13), a cellist, was a soloist in the first performance of the Augusta Symphony Orchestra's 2022–2023 season in November 2022 in Augusta, Maine. Kwon has performed in master classes for renowned cellists such as Natalia Gutman and Anner Bylsma. She is on the cello faculty at Colby College, Phillips Exeter Academy, and Project STEP, and she is a member of the Meadowlark Trio, Echo Bridge Cello, and Korean Cultural Society of Boston.
Ruth Debrot ('16), a lecturer in music education at CFA, presented a session titled Popular Music, Technology, and Dance in the Middle School at the Association for Popular Music Education conference in the summer of 2022. Debrot also presented a performance ethnodrama and scholarly panel in the summer of 2022 at the International Conference on Narrative Inquiry in Music Education, along with CFA faculty members Diana Dansereau, Tawnya Smith, Kelly Bylica, and Karin Hendricks. Their presentation was titled Interrogating the Myth That the Music Education Academy Is No Longer Sexist.
Chengcheng Ma ('17,'24) and Hsing-Ho Hou ('22,'24, CAS'22) participated in the adult division of the Student Concerto Concert of the Illinois Summer Piano Institute in July 2023. Ma performed Maurice Ravel's Piano Concerto for the Left Hand and Hou played Franz Liszt's Totentanz.
James Rotondo III ('17,'23) and Marcella Barbeau ('19) are recipients of the 2022 Robert L.B. Tobin Director-Designer Prize. Along with a team of creative artists, Rotondo (set designer) and Barbeau (lighting designer) created a production concept for the opera Fellow Travelers.
Kristoffer Danielsen ('18) taught at the University of Massachusetts Amherst during the fall 2022 semester as a sabbatical replacement for Gregory Spiridopoulos ('00).
Desiré Graham ('18) cocreated Still a Quiet Afternoon, a play that features two people who witness several apocalyptic events through their window. The mythic, musical tragicomedy ran in July 2022 at Steppenwolf's 1700 Theater in Chicago, Ill.
Aaron Michael Smith ('18) completed his first feature-length film score for the 2023 film Playland, which is centered around the Boston gay bar the Playland Café throughout its history, from 1943 to 1999. It premiered at the International Film Festival Rotterdam in January 2023.
Kyra Tantao ('18) played A-Li in the Disney+ original movie Zombies 3.
John DeMartino (BUTI'14,'15, CFA'19,'22), a double bassist, joined the Boston Music Project as the Rimsky Orchestra Director.
2020s
Jose Martínez ('20), a tubist, was named ambassador for the Chicago Luminarts Cultural Foundation in December 2022 and has been a fellow there since 2016. Martínez participated as a guest tuba artist at the brass festival Isla Verde Bronces in Isla Verde, Argentina, in January and February 2023.
Julian Manjerico ('21) was cast as Beppo the Clown in the Tom Hanks comedy A Man Called Otto.
Shantel Miller ('21), a painter and 2021 CFA Kahn Award winner, won the 2022 Boston Artadia Award. The decision was reached after an extensive two-tiered jurying process culminating in virtual studio visits.
Hexing Ouyang ('22) was hired as a music enrichment teacher at the Tianjin Juilliard School in China.
Keianna Samantha Wen (BUTI'17, CFA'22) attended the Kent Blossom Music Festival in the summer of 2022 and began her Master of Music in horn performance at McGill University on a full scholarship in the fall of 2022.
This Series
Also in
August 8, 2023

June 14, 2022

October 5, 2021