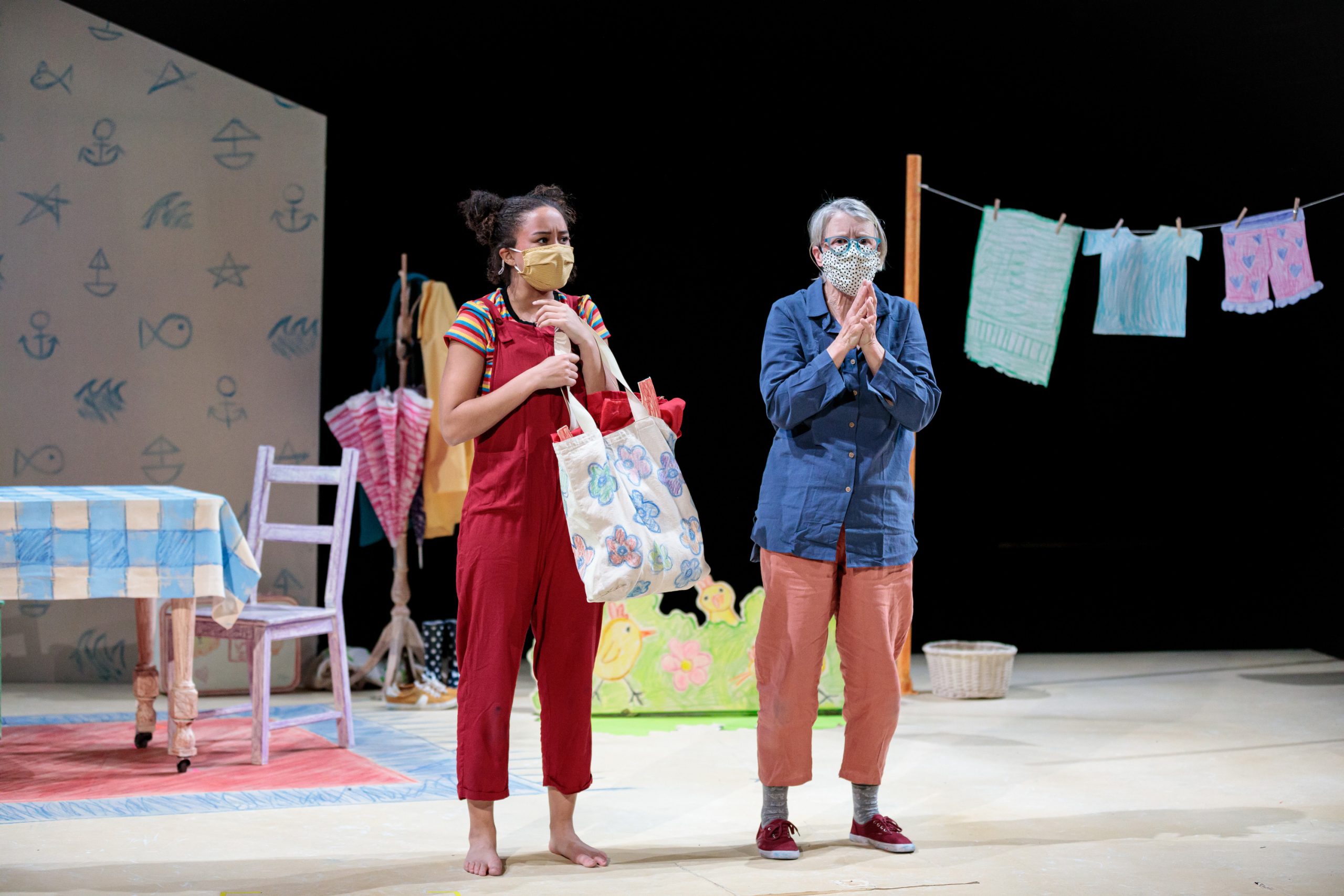 CFA Alumni
Class Notes
Fall 2021
1950s
Liz Gribin ('56, PAL'56) received a plaque from Marquis Who's Who for her award-winning paintings. She is represented by several galleries around the country and works in her studio in Needham, Mass.
1960s
Susan Surman ('60) wrote the short play Moving Day, which had two performances in June 2021, at the Stained Glass Playhouse in Winston-Salem, N.C., as part of its "10-Minute Windows," a virtual short play festival in partnership with Winston-Salem Writers. Festival viewers selected Moving Day for the event's best play, best director, and best actor awards. The play can be viewed on Stained Glass Playhouse's Facebook and YouTube channels. Surman invites fellow alumni to contact her at susansurman@yahoo.com.
Cynthia Maurice ('63,'65) showed her work in the solo exhibition Clues: New Drawings and Prints at Galatea Fine Art in Boston in March 2021. The prints were influenced by the 1600s writing genre cento, which involved clipping words from other works.
Mike Moran ('66) has worked as a jazz pianist, performing in jazz clubs in the New York area, Atlantic City, and Las Vegas. Moran has often accompanied singers, including his wife, the painter, actor, and playwright Kitt Moran. They have published an album, Kitt Moran Sings the Mike Moran Songbook, which includes an instrumental cut called "I'll Remember Erroll," a tribute to pianist Erroll Garner.
Alaina Warren Zachary ('68) wrote the comedy sitcom Crankey Village, N.M., which is finding success on the festival circuit and has won multiple awards.
1970s
Ruth Mordecai ('70,'80) showed 21 new paintings in an exhibition at Matthew Swift Gallery in Gloucester, Mass., in fall 2020.
Ellen Wineberg ('70) is the director of the Watertown, Mass., art gallery Storefront Art Projects, which presented an exhibition of paintings, drawings, and sculptures by artists from Gateway Arts, a workshop and gallery for artists with disabilities in Brookline, Mass., in summer 2021. In spring 2021, the gallery also featured work by Nancy Schieffelin (CAS'68, SSW'72) and Sachiko Akiyama ('02) in the exhibit Essential Work/Essential Workers, which celebrated the creative human spirit during the pandemic.
Lorraine Shemesh ('71) had a solo exhibit, Holding On, at Dartmouth College in Hanover, N.H., where she was artist in residence from September through November 2021.
Lesley Cohen ('74) showed her work in (IN)Between at the Bromfield Gallery in Boston, Mass., in May 2021. The exhibit showcased abstract drawings that explore "the ambiguity of transitional space." Cohen says the drawings also are metaphors for the "meanwhile-times" in the middle of the pandemic. "Each piece is a network of seemingly disconnected, disparate, but inseparable relationships all held in a complex, delicate balance."
Sara Nealy ('75) is the executive director of the Kahilu Theatre in rural Waimea, Hawaii, which produces a wide variety of performances and cultural activities and has two art galleries and an arts education program. With the launch of Kahilu.TV, their Vimeo digital platform, Kahilu Theatre has audiences from Austria to Japan.
Caren Canier (BUTI'73, CFA'76) had two paintings on display at the Albany International Airport Gallery in the exhibit Sunrise Sunset in spring/summer 2021.
Christopher Gowell ('77) juried the sculpture exhibit Positivity, which was on view at the Newburyport Art Association's Hills Gallery in May 2021. A sculptor herself, Gowell founded the Sanctuary Arts School and Sculpture Center in Eliot, Maine.
Susan Catherine Collyer ('78) is an actress turned director/producer. She recently created the video The Meaning of Memorial Day: Stories of Sacrifice, in which Rhode Island veterans share their stories. The video screened at the Barrington Public Library and Bay Spring Community Center in Barrington, R.I., in May 2021.
Burt Hara (BUTI'79) is the associate principal clarinet in the Los Angeles Philharmonic.
Joe Joyce ('79) was named the new musical director at Baldwin High School in Baldwin, N.Y. The first show he produced in this new role was Once Upon a Mattress, which had performances in April 2021.
1980s
Jason Alexander ('81, Hon.'95) will star in a new scripted podcast, Bedtime Stories of the Ingleside Inn, inspired by the memoir of Melvyn Haber, who owned the infamous Melvyn's Restaurant and Ingleside Inn in Palm Springs, Calif. Alexander will play Haber. He also starred in Tide's 2021 Super Bowl commercial.
Margo (Fisher) Lemieux ('81) had a painting on the cover of the summer 2021 issue of the poetry magazine Rattle. She recently retired from her faculty position in the art and graphic design department at Lasell University and was awarded emerita status. While at Lasell, Lemieux helped organize the Vietnam Shoulder-to-Shoulder Experience for students, taking students to Vietnam during their winter break to develop an understanding of Vietnamese arts and culture.
Kathleen Gurchie ('83) was a juror for the Art League of Long Island's virtual exhibition Awakening. Gurchie carefully selected 59 of 221 works submitted by artists to display in the exhibit, which ran from July 17 through September 6, 2021.
Julianne Moore ('83) voiced Cora Prescott in the animated movie Spirit Untamed, a spin-off of 2002's Spirit: Stallion of the Cimarron. Moore is also set to star alongside Natalie Portman in the film May December, which will begin production in 2022.
Laurence C. Schwartz ('83) directed the world premiere of the comedy-murder-mystery play Case Closed: The Dorian Corey Story, which closed its six-week run at the Gene Frankel Theatre in Manhattan in October 2021. The play centers on the discovery of a mummified corpse in drag performer and fashion designer Dorian Corey's closet shortly after her death in 1993.
Michael Chiklis ('85) appears in the upcoming Netflix film Don't Look Up, which stars Leonardo DiCaprio and Jennifer Lawrence and was filmed in Boston for three months in fall and winter 2020.
Carlos Maldonado ('86) is a member of the Afro Latin Jazz Orchestra, which won Best Latin Jazz Album for its album Four Questions at the 63rd Annual Grammy Awards in 2020.
Gretchen Seifert (BUTI'81,'86) showed her work in a solo exhibition, Gretchen Seifert: In Abstraction, at the Canal Street Art Gallery in Bellows Falls, Vt., in spring 2021. Seifert's artwork is influenced by her background in classical cello.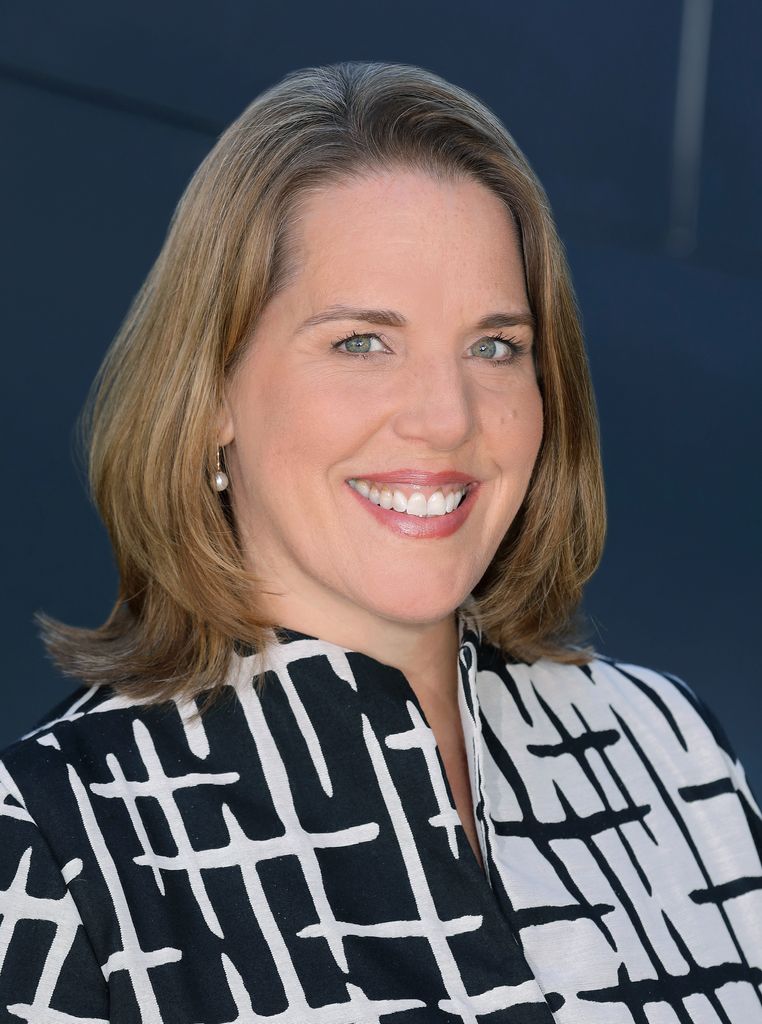 Gail Samuel (BUTI'87) was named president and CEO of the Boston Symphony Orchestra (BSO). Previously COO of the Los Angeles Philharmonic, Samuel is the first woman to lead the BSO.
Sonya White Hope (BUTI'83,'84, CFA'88,'90,'16) codirected SankofaSongs Summer Institute: A Virtual Conference for Music Educators and Administrators, PreK–College, in July 2021. The 2021 institute followed the theme of Scott Joplin's grand opera Treemonisha, and offered three days of programming to music teachers, arts administrators, collegiate music education faculty, music education majors, and homeschooling and other interested parents, as well as high school students interested in careers in music education.
1990s
David F. Coleman (BUTI'86, CFA'93) is the director of choral music at the Dana Hall School and the director of the Tufts University Gospel Choir, which has 225 members. He is also an associate professor of theater at Boston Conservatory at Berklee, a member and featured soloist with the Boston Landmarks Orchestra, and was a featured performer in a Boston Pops performance in June 2021. In 2020, he was nominated for an Elliot Norton Award for Outstanding Music Direction for Choir Boy at SpeakEasy Stage.
Larry Groff ('93) displayed his oil paintings in the exhibit Through a Grain of Sand, Inventions from the Microscopic Landscape at the Santa Ysabel Art Gallery in California in July and August 2021. The exhibit's title was inspired by the first line in William Blake's poem "Auguries of Innocence."
Elaine Vaan Hogue ('97) portrayed Grammy Sofie in Wheelock Family Theatre's production of Walking the Tightrope, which streamed on May 1, 2021. She starred alongside current CFA student Valyn Turner ('23). The play, which tells the story of a granddaughter and grandmother learning how to deal with loss, was a collaboration between Wheelock Family Theatre and Boston University School of Theatre.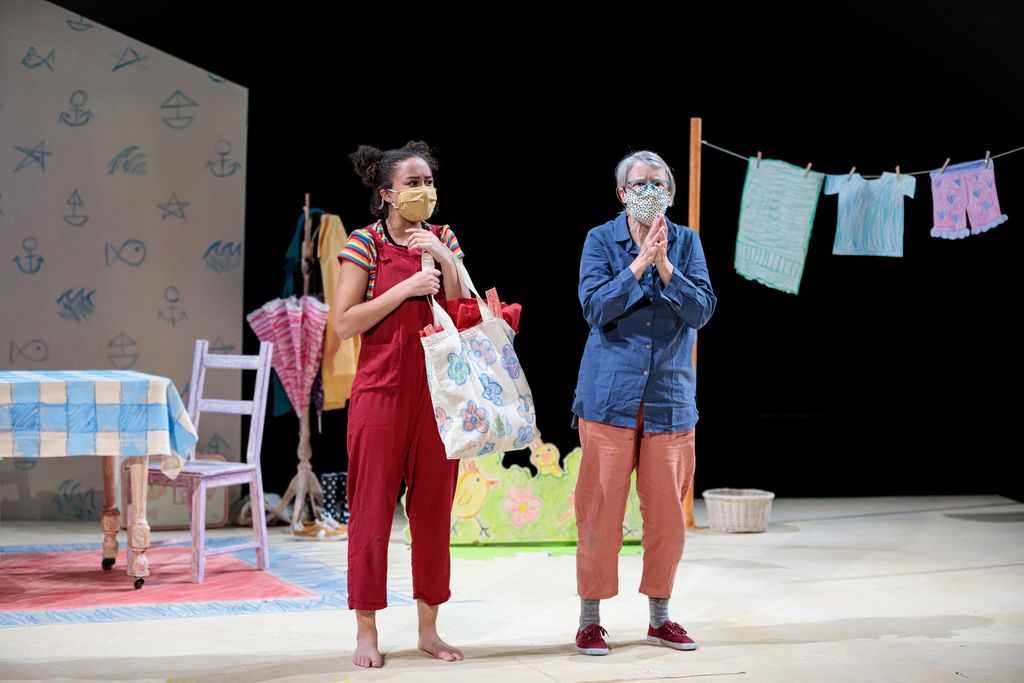 2000s
Mark Holloway (BUTI'97,'98, CFA'02) is a member of the Pacifica Quartet, Indiana University's quartet-in-residence. The group's album, Contemporary Voices, won Best Chamber Music/Small Ensemble Performance at the 2021 Grammy Awards. The Chicago Tribune praised the album, calling their recording of composer Shulamit Ran's "Glitter, Doom, Shards, Memory–String Quartet No. 3" one of the best classical recordings of 2020, "dispatched with unmistakable and apt ferocity."
Elissa Von Letkemann ('02), a graphic designer and artist, is the recipient of two 2021 Graphic Design USA Packaging Design Awards for her branding and packaging work with Portsmouth Soap Company and Sweet Grass Farm. See these projects and more at elissavonletkemann.com.
Lisa Flanagan ('04,'09) is an award-winning audiobook narrator and voice actor. In March 2021, she received her third Audies nomination for her voice role in the audiobook for The Trial of the Chicago 7: The Official Transcript (Simon & Schuster Audio, 2020). She also received her tenth Earphones Award from AudioFile magazine for narrating the audiobook for Elizabeth Becker's You Don't Belong Here (Hachette Audio, 2021). Flanagan is also the librettist for the opera We the Innumerable, composed by Niloufar Nourbakhsh.
Jorge Villavicencio Grossman ('04) was promoted from associate professor to professor in the Ithaca College School of Music's Department of Music Theory, History and Composition.
Uzo Aduba ('05) starred as therapist Dr. Brooke Taylor in the fourth season of HBO's In Treatment and as Sasha in Amazon's anthology series Solos. Aduba is set to star in and executive produce the forthcoming CBS drama Low Country, in which she will play a gay deputy sheriff working in the Deep South.
Angela DiBartolomeo (BUTI'00,'01, CFA'06,'23) presented her paper "Distant Stars: A Performer's Analysis of O. Messiaen's Appel Interstellaire & P. Dukas' Villanelle" at the 2021 virtual International Horn Symposium.
Anthony R. Green ('06) founded the concert and educational series Castle of Our Skins, which is dedicated to celebrating Black artistry through music. It also invites exploration into Black heritage and culture, spotlighting unsung and celebrated figures of past and present. CFA's School of Music welcomed Castle of Our Skins for Black Love, a three-day residency in April 2021.
Yevgeny Kutik (BUTI'00, CFA'07), a violinist, shared a five-installment docu-recital series, Finding Home: Music from the Suitcase in Concert, which was filmed at the Shalin Liu Performance Center in Rockport, Mass., on his YouTube and Facebook channels in February and March 2021. The 30-minute to 40-minute episodes featured music performances, including works from his 2014 album Music from the Suitcase, as well as Kutik's personal narrative storytelling. Kutik also made his solo debut with the Boston Civic Orchestra, performing Beethoven's Violin Concerto in June 2021.
Laura Parrish ('07) collaborated on the event Moby's at The Melville in July and August 2021 in New Bedford, Mass. For the event, Parrish, who operates The Whalehouse, the onetime home of Herman Melville's sister, as an Airbnb, featured sculptures of whales in the home's garden area while a local gallery displayed Moby-Dick–related paintings.
Autumn Ahn ('08) had her work exhibited at the gallery Selebe Yoon in Dakar, Senegal, from May 20 through July 31, 2021. Ahn also participated in a five-week residency at the gallery.
2010s
Lidiya Yankovskaya ('10), Taichi Fukumura (BUTI'12, CFA'14), Nathaniel Efthimiou ('20), and Lina Gonzalez-Granados ('20) were four of the 15 recipients of the 2020 Career Assistance Awards from the Solti Foundation U.S.
Geneviève Leclair ('11), an assistant professor of conducting at Berklee College of Music, was announced as one of four guest conductors for the 2021–2022 season of the Oakville Symphony in Oakville, Ontario, Canada.
Bryan Powell ('11), Jennifer Greene ('15), Warren Gramm ('21), and Jonathan Dillon ('25) presented at the National Association for Music Education Eastern Division Conference in April 2021. Their topics of discussion included modern band, music technology, and diversity.
Olivia Rose Barresi ('13) played Hermes in a modern adaptation of Prometheus Bound, which was filmed at The Tank in New York City. It streamed in spring 2021 and is now available on-demand through Vimeo.
Katrina Galka ('13) and Kaileigh Riess ('21) advanced to the finals of the Lotte Lenya Competition, which recognizes talented singer/actors of all nationalities, ages 19–32, who are dramatically and musically convincing in repertoire ranging from contemporary Broadway scores to opera/operetta. Galka also made her Zurich Opera debut as Olympia in Les contes d'Hoffmann in April 2021.
Alexia Mouza ('13), a pianist, performed in a livestreamed concert at the Rubinstein International Piano Competition in Tel Aviv, Israel, in spring 2021. Mouza was awarded the Best Performer of a Chopin Piece Prize and Audience Favorite in Stage II at the competition.
Louise Billaud ('14), a professor of music and the concert pianist in residence at New River Community College in Dublin, Va., taught a 10-week online course, Music in Society, in spring 2021. The class explored the language of music through an introduction of basic elements, forms, and styles through time.
Jamie Hillman ('14) was named associate professor of music, director of choral studies, and the Elmer Iseler Chair in Conducting at the University of Toronto, Canada, in summer 2021. Hillman conducts the University of Toronto MacMillan Singers and leads the master's and doctoral programs in choral conducting.
Anna Arazi ('15) gave a virtual recital featuring prominent Israeli composer Verdina Shlonsky as part of the International Stretto Piano Festival in May 2021.
Yoni Battat ('15) was featured in Newton Cultural Development's Parlor Performances, which showcased music from local musicians over six weeks in winter and spring 2021. Battat is a multi-instrumentalist (viola, violin, oud), vocalist, and composer, specializing in contemporary and traditional Jewish music from Eastern Europe and the Middle East.
Nicholas Brown ('15) is principal clarinet with the New Bedford Symphony, second/bass clarinet with the Boston Lyric Opera, and a clarinetist with Hub New Music. Brown also launched and serves as executive director and principal clarinet for the Boston Festival Orchestra, which had its inaugural season in July 2021.
Ellen Humphreys ('15) appeared in the Netflix thriller Deadly Illusions.
Rebecca Ness ('15) exhibited her work in the solo shows Windows and Worlds at Carl Kostyal Gallery, London, in 2021, and Pieces of Mind at Nino Mier Gallery, Los Angeles, in 2020. Her work focuses on the domestic, on ritual, and the home.
Anthony Trecek-King ('15) wrote and hosted the radio show The Silent Canon, which was commissioned through a partnership between Classical 90.7 KVNO and the Omaha Symphony. The show highlighted the rich contributions of Black artists to the Western classical canon and aired for 13 weeks on Classical 90.7 KVNO in winter and spring 2021.
Wenzhuo Zhang ('15) played five pieces on her yangqin, an 18th-century Chinese stringed instrument, presented a brief historical background on the instrument's origin, and discussed its continued usage through the present day in a virtual performance in spring 2021.
Brittany Lasch ('16) published Book of Arias, a collection of 33 opera arias transcribed for the trombone. The book includes opera synopses, full libretti, translations, downloadable piano scores, and performance notes from Lasch.
Viviana Vargas ('16) created the podcast Building Our Own Tables with Boston's HowlRound Theatre Commons. The podcast conveys lessons from BIPOC founders of various organizations in and related to the theater industry.
Isaac Kim ('17,'19) made his debut on the bass with the Korea National Opera in a concert titled Opera Journey in April 2021.
Daniel Takacs ('18) wrote the play An Institution, which was presented at the Jocunda Festival on April 12, 2021, in New York, N.Y.
Joyce Chiung-Hsien Huang ('19,'24) won first place in the college students and professional musicians category of the American Protégé International Piano and Strings Competition 2021 in New York, N.Y. She will have the opportunity to perform at Carnegie Hall's Weill Recital Hall in 2022.
Elizabeth Flood ('19) was selected for the 2021 Real Art Awards, presented by Real Art Ways of Hartford, Conn., and received $2,500 and a solo exhibition. Her work uses drawing and painting to survey the complex layers of violence and extraction within the American landscape.
2020s
Marie Graham ('20) gave a talk titled "Why Your Young Child Needs Music" at the Forsyth County Public Library–Cumming Library in Cumming, Ga., on March 20, 2021. She discussed the important role music plays in young children's intellectual and kinesthetic development and provided applicable ways that music can help children process information, develop coordination, and build brain power.
Anna Harris ('20), a violinist, performed in Boston Public Library's Concerts in the Courtyard series on June 25, 2021.
Alyssa Primeau ('20,'22) is a flute fellow with the Civic Orchestra of Chicago for the 2021–22 season.
Darryl Singleton ('20) joined Washington State University School of Music as part of the cluster-hire program "Racism and Social Inequality in the Americas," which aims to bring more faculty of color across all colleges and departments within WSU. Singleton is teaching the courses Black Music in America, Music & Social Justice, and Jazz Drums.
Matthew Xiong ('20) teaches musicians of all levels and specializes in helping his students work through performance anxiety issues. Xiong began embracing the techniques and psychology behind defeating performance anxiety after battling his own stage fright issues as a pianist.
Emily Trantanella ('21) and Micah Rosegrant ('21) created a biweekly arts newsletter, Begin. Subscribe to it at beginnewsletter.substack.com.
Mosheh Tucker ('21) and Bridget Bailey ('21) were featured in the Boston Globe as two of five art school grads to watch. Tucker was also named the summer 2021 artist in residence at Gallery 263 in Cambridge, Mass.
This Series
Also in
August 8, 2023

May 24, 2023

October 11, 2022