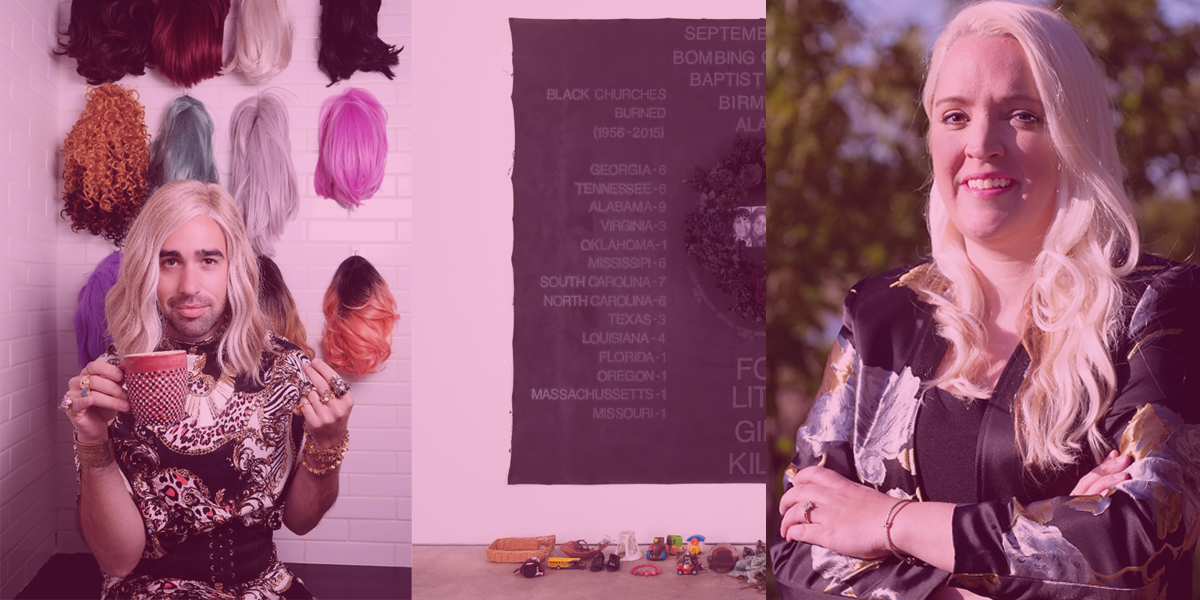 CFA Alumni
Class Notes
Spring 2021
1960s
Howardena Pindell ('65) showed her work in an exhibition titled Rope/Fire/Water at The Shed in New York, N.Y., from October 16, 2020, through March 28, 2021. The museum billed it as "an exhibition about the brutality of racism and the healing power of art." Pictured here: Four Little Girls (2020) Mixed media on canvas, 108 x 120 in. The painting refers to the 16th Street Baptist Church bombing in Birmingham, Ala., in 1963.
Erica Miner ('67), an award-winning author and former Metropolitan Opera violinist, released Staged for Murder (Twilight Times Books, 2020), the newest installment in her popular Opera Mysteries novel series. The novel is set at the San Francisco Opera.
Larry Marsland ('68) performed during the 17th Annual Telethon for Hope, a daylong fundraising event that culminated with an evening of music to celebrate the work the Housing Assistance Corporation Cape Cod is doing to keep people safely housed throughout Cape Cod, Martha's Vineyard, and Nantucket, Mass.
Philip G. Simon ('69) retired from his position as director of bands and associate professor of music at Wilkes University in Wilkes-Barre, Pa. Simon was appointed professor emeritus in June 2019 and continues to teach part-time in the music program at Wilkes. He is active as a conductor, private teacher, arranger, music festival adjudicator, and performer in the northeastern Pennsylvania region.
1970s
Winifred McNeill ('72) presented her recent ceramic sculpture and charcoal drawings at the Art House Gallery in Jersey City, N.J. She completed the work shortly before the lockdown was issued during the COVID-19 pandemic.
Nancy Hankin ('73) received a Henry Award from the Colorado Theatre Guild for costume design for the production of The Great American Trailer Park Musical at the Butte Theater, Cripple Creek, Colo. The Henry Awards honor outstanding achievements during the past season and serve as the Colorado Theatre Guild's annual fundraising event.
Robert Braczyk ('74) had his open form, wooden sculptures from his series A Vocabulary of Trees included in the exhibition Moments in Time… at Carter Burden Gallery in New York, N.Y. An environmentalist, Braczyk uses his work to call attention to climate change.
Katherine Austin ('75,'78) creates realistic oil paintings of classic and antique cars. You can see her work at katherineaustin.com.
Carol Barsha ('75,'77) had a solo exhibition of her art, Within My Meadow, at Gallery Neptune & Brown in Washington, D.C., in fall 2020. She also had her work featured in the exhibition Landscape in an Eroded Field at the American University Museum at the Katzen Arts Center in winter 2020. Barsha's work explores nature through mixed media.
Jane Musky ('76) cochaired the Americares Airlift Benefit Livestream. The benefit raised $1.8 million for the health-focused relief and development organization's programs worldwide.
Anne Lucas' ('77) play, Good Morning, was streamed in January 2021 from the Warner Theatre in Torrington, Conn., as part of the virtual 9th Annual International Playwrights Festival.
Robert Stuart ('77) exhibited his paintings in two shows: Linear Rhythms, an exhibition by Garvey|Simon Gallery at the Artisan Lofts in New York, N.Y., and #stillcontemporary at Hodges Taylor in Charlotte, N.C., which celebrated the gallery's 40th anniversary.
Chris Byrne ('78), known as "The Toy Guy," appeared on Live with Kelly and Ryan in December 2020 to highlight the season's hottest toys.
Pat Walker ('78) was the juror for the Wellesley Society of Artists (WSA) annual exhibit in Wellesley, Mass., which featured works by 45 WSA artists, including paintings in oil, acrylic, watercolor, and mixed media. Walker is an artist, teacher, and arts administrator.
1980s
Ben Aronson ('80,'82) participated in a virtual conversation about his paintings with gallerist Karen Jenkins-Johnson in July 2020.
Peter Del Vecho ('80) produced the animated film Raya and the Last Dragon, which was released in March 2021 on Disney+ and in theaters.
Peter Krasinski ('80, STH'98), a world-renowned organist and silent film accompanist, became the house organist for the Providence Performing Arts Center in Providence, R.I. Krasinski is the theater's first house organist in 22 years.
Lynne Kwarcinski ('82, Wheelock'86) retired from her 38-year career teaching music in Concord, Mass., public schools.
Julianne Moore ('83) participated in a virtual reading of Peter Hedges' play Good as New for the MCC Theater in New York, N.Y., in July 2020. Proceeds from the performance and a subsequent Q&A benefited the theater and its Be Our Light Campaign.
Michael Chiklis ('85) appeared in Adam Sandler's Netflix comedy Hubie Halloween as the preacher Father Dave. His show, Coyote, premiered on CBS All Access in January 2021. Also in January, he participated in a virtual conversation with CFA to discuss the series and his career. He is set to play former Boston Celtics coach Red Auerbach in an upcoming HBO series about the Los Angeles Lakers in the 1980s.
Dianne Betkowski ('86) is the cellist for Miguel Espinoza Flamenco Fusion, a Denver-based world music band. The band is working on its third CD and eighth music video.
1990s
Lourdes De La Mata Little ('90) is the vice president of marketing and communications for Goodwill South Florida. She served as the executive director of Goodwill South Florida's award-winning documentary, For Once in My Life, which "chronicles the struggles and triumphs of a unique and diverse band of singers and musicians, with a wide range of mental and physical disabilities." Goodwill South Florida celebrated the 10th anniversary of the film in September 2020.
Erik Blome ('92) created a bust of Jean-Baptiste Pointe DuSable, who is known as the "Founder of Chicago." The bust has been on the north side of the Michigan Avenue Bridge (DuSable Bridge) since 2009. Blome is now working on a similar sculpture of DuSable's wife, Kitihawa.
Anne Harley ('94,'96,'06) is an associate professor of music at Scripps College in Claremont, Calif. She is the founder and director of Voices of the Pearl, which commissions new contemporary classical music settings of texts by and about female esoteric practitioners from all world traditions from composers around the world. Voices of the Pearl recently released its third album, which includes two pieces that were awarded the National Endowment for the Arts Art Works grant.
Tanya Saracho ('98) joined many Latinx show creators, showrunners, and writers in penning an open letter calling for systemic change in the entertainment industry and diversity in Latinx storytelling and hiring. It was inspired by Saracho's Untitled Latinx Project initiative, an advocacy group formed to increase Latinx representation in television, broadcast, cable, and streaming platforms through content created by Latinx writers.
Thea Lobo (BUTI'99,'00, CFA'09) and Sam Nelson ('18) created the Indictus Project, a nonprofit organization dedicated to amplifying the voices of underrepresented composers.
2000s
Kate Elliott ('00) recently left her 20-year career working in and around the New York City theater scene. She previously worked with RCI Theatricals as the general manager of Broadway's Jagged Little Pill, the national touring company of Oklahoma!, and the Huey Lewis–inspired musical The Heart of Rock & Roll.
Howard Tran ('00), a professor and chair of the art department at Lycoming College in Williamsport, Pa., exhibited his work at the school's 2020 studio art faculty show. Tran explores his Vietnamese/Chinese background through work that ranges from figurative sculpture to two-dimensional pieces.
Ginnifer Goodwin ('01) is one of many celebrity guests on the Disney+ series Earth to Ned, in which alien Ned hosts a late-night talk show.
Ashley Williams ('01) played Shanann Watts in Lifetime's Chris Watts: Confessions of a Killer, an adaptation of a true crime story. Williams also appeared in two Hallmark Christmas movies, Christmas in Evergreen: Bells Are Ringing and Never Kiss a Man in a Christmas Sweater.
Baron Vaughn ('03) was a guest on NPR's Ask Me Another. He spoke about his Comedy Central stand-up and sketch series The New Negroes, and his Funny or Die topical web series Call and Response.
Uzo Aduba ('05) won the 2020 Emmy for Outstanding Supporting Actress in a Limited Series or Movie for her role as Shirley Chisholm in Mrs. America. Aduba, amongst many other celebrities, used the moment to spotlight the Black Lives Matter movement and chose her outfit to call attention to the murder of Breonna Taylor. Additionally, the Creative Coalition honored Aduba at its Television Humanitarian Awards Virtual Gala. The Emmy week event honors individuals from the television industry who have used their platform for social change.
Adam Kassim ('05,'21) is one of four recipients of the 2020 National Directors Fellowship, an 18-month program that connects early-career directors to new writers and provides professional support services.
Julia Noulin-Mérat (MET'06, CFA'08) was named the general director and CEO of Opera Columbus in Ohio in January 2021. Noulin-Mérat previously served as associate producer of the Boston Lyric Opera and co-artistic director of Guerilla Opera, also in Boston. Photo by Jack McGovern
Janos Stone ('07) launched a Kickstarter for his unique, foldable playhouse design for children called Haus. Stone hopes the playhouse engages young children in activity, exploration, and creativity at home.
Autumn Ahn ('08), Erik Grau ('10), Marc Schepens ('12), Julian Parikh (COM'15, CFA'20), Tyler Sorgman ('16), Joshua Duttweiler ('17), Ania Garcia Llorente ('20), Julian MacMillan ('20), Josh Richards ('20), Charles Suggs ('20), and Madison Vander Ark ('20) were featured in Area Code, the first art fair exclusively featuring contemporary artists with ties to New England, in August 2020.
Sarah Atwood (BUTI'08, CFA'14), the principal second violin in the Boston Lyric Opera and the Portland Symphony, created the "Pandemic Paganini Project," for which she learned and recorded all of Paganini's 24 Caprices. All videos were posted on YouTube.
Mario Arévalo ('09) is an opera tenor and Goodwill Ambassador for Culture and Fine Arts for The United Nations Association of El Salvador. Arévalo helped raise funds for the construction of a cultural center for poor families in San Vicente, El Salvador, the first of its kind in the area. Arévalo is also the founder of the organization Una Voz, Un Mundo (One Voice, One World), an arts initiative committed to humanitarian aid, arts advocacy, and the celebration of cultural openness and diversity. The organization focuses on the artistic contributions of women and people of color.
Michael Judson Berry ('09) gained a large following for his comedic content on TikTok. His impressions of Catherine O'Hara's Schitt's Creek character, Moira Rose, have amassed millions of views and drawn praise from O'Hara herself. Photo by Curtis Brown
2010s
Paul dePoo ('10) and Ellie Heyman ('12) conceived The Great Work Begins, a benefit performance of scenes from Tony Kushner's Angels in America, in support of amfAR's Fund to Fight COVID-19. The cast included Glenn Close, Paul Dano, Patti LuPone, and Laura Linney. The 60-minute performance was livestreamed on Broadway.com's YouTube channel on October 8, 2020. DePoo served as the creative director and Heyman as the director.
Bryan Powell ('11) cowrote Popular Music Pedagogies: A Practical Guide for Music Teachers (Routledge, 2020). Powell is an assistant professor of music education and music technology at Montclair State University.
Carolyn Regula (BUTI'11, CFA'15,'18) was featured in the performance The Twelve Days of (a Cellist's) Christmas. The production, which mixed in some classical music humor, included Regula and 11 other cellists from around the world, and was created to provide holiday cheer and show the perseverance of musicians. It is available to watch on YouTube.
Marc Schepens ('12), a painting lecturer at CFA, received the 2020 Blanche E. Colman Award. The award grant, which was established in 1959 in honor of Colman, a former art instructor at BU, is given to New England artists who have completed their formal education and exhibit considerable talent in painting, sculpture, drawing, printmaking, mixed media, or photography.
Gail Shalan ('12) is an actor, audiobook narrator, and puppeteer. She recently narrated Saadia Faruqi's middle grade fiction book A Thousand Questions for HarperAudio Kids, Alexandra Rowland's Finding Faeries for Simon & Schuster, and Project Runway judge Nina Garcia's The Little Black Book of Style for Tantor Audio. She also launched the StoryLight podcast, a serialized release of beloved childhood classics read by actors from around the world, in response to the pandemic.
Erika Wastrom ('12), a portrait painter and 13th-generation Cape Codder, had her work featured in an exhibition at the Gaa Gallery in Provincetown, Mass.
Peter Archer ('14), a music educator and professional trumpet player, served as one of several music consultants on Pixar's Soul. Archer weighed in on the characters, animation, and script.
Jamie Hillman ('14) joined the faculty at Longy School of Music of Bard College in Annandale-on-Hudson, N.Y., in summer 2020. He teaches graduate conducting and various graduate music education courses.
Kyung-ah Kim ('14), who is on the piano faculties of the Seoul National University and the Seoul Middle School of the Arts, gave a piano recital at the Seoul National Arts Center on October 20, 2020.
Jennifer Greene ('15), Matt Koperniak ('15), Laura Moates Stanley ('15), and Heather Katz-Cote ('16) had their article "A Foot in Both Worlds: Navigating the Landscapes of P–12 Education Postdoctorate" published in the Journal of Music Teacher Education. The piece is a report on their collective autoethnography, in which they explored their experiences teaching music in P–12 schools after completing an online doctorate at Boston University.
Kelley Hollis ('15) was featured in the October 2020 issue of Gramophone magazine for her work as a soprano.
Hannah Lynn Cohen (BUTI'16, CFA'19) performed with Jeremiah Blacklow as part of The Evolution of The Violin Duo at Bobbie's Fall Series with the Berkshire Theatre Group in Stockbridge, Mass., in September 2020. The performance included selections from the baroque era up to contemporary 20th-century duets.
Brian Robillard ('16), Aja Jackson ('18), Sarah Shin ('19), and Micah Rosegrant ('21) worked together on Central Square Theater's production of The First Pineapple and Other Folktales, which was part oral history, part play, and part concert. Rosegrant was the writer and performer, Shin was the director, Jackson was the lighting designer, and Robillard worked in management.
Erin Zaffini ('16) and Nicholas Quigley ('19) had articles published in the January 2021 issue of the Massachusetts Music Educators Journal.
Marcio Candido ('17), a violinist, released the album Brazil x Argentina with pianist Katia Balloussier in July 2020. It is available on all digital platforms.
Chengcheng Ma ('17,'23), a pianist, was the first prize award winner and recipient of the John Liu New York State Senator Award at the 2020 Manhattan International Music Competition.
Matt Scinto ('17) founded the Cape Cod Orchestra and has built collaborative programs around the Cape Cod area. The orchestra, which includes many BU alumni, has recorded several virtual concerts for this season.
Russell Wagoner ('17) participated in a livestream Christmas concert to raise money for mission outreach at Jesse Lee United Methodist Church in Easton, Conn.
DuWayne Dale ('18) was named the District 8 College/University Teacher of the Year by the Kentucky Music Educators Association. Dale is an assistant professor of music and director of bands at Morehead State University in Morehead, Ky.
Trevor Kowalski ('18) is a composer, pianist, arranger, and songwriter. After CFA, Kowalski took part in an internship at Hans Zimmer's studio in California. He has worked with award-winning filmmakers, game developers, singers and soloists, animators, orchestras, and theater directors, and is currently working on soundtracks and studio recordings.
Ashlee Lamar ('18,'20) received the Encouragement Award from the Connecticut District Metropolitan Opera National Council Auditions.
Jin Yu ('18) has recently performed in major performance venues in China, including Changsha and Shenzhen Concert Halls; Hangzhou and Zhuhai Grand Theatres; and Suzhou Culture and Arts Center. Yu is an assistant professor at Jin'an University in China.
Emilie Faiella ('19) was a winner at the 2020–21 Utah District Metropolitan Opera National Council Auditions and competed at the Rocky Mountain Regionals.
Xiao Liu ('19) joined the Chinese Instrument Orchestra at the Xinghai Conservatory of Music in fall 2020. Liu writes that she is dedicated to creating a bridge between flute and Chinese music and hopes to present the traditions in a new way.
Logan Lower ('19) was the Super Bowl LV Halftime Show TAIT Towers project manager. TAIT Towers, the shop that built all of the scenery for the show, is the leader in "designing, constructing, and delivering world-class solutions for live experiences."
Michael Pfitzer ('19) is the director of choral studies at the State University of New York at Albany. He participated as a conductor in a drive-in a cappella performance in Stow, Mass., in fall 2020.
Alex Schneps (CGS'10, COM'12, CFA'19) is the events and programming manager at WBUR CitySpace. In 2020, Schneps was involved in WBUR's virtual series Black Boston, which featured transformative Black leaders from across the city.
2020s
Megan Callahan ('20), a mezzo-soprano, was awarded an Encouragement Award at the North Carolina District Metropolitan Opera National Council Auditions.
Caroline Corrales ('20,'22) was chosen as a finalist in the Artist Division of the Carolyn Bailey and Dominick Argento Vocal Competition hosted by the National Opera Association.
Julian Parikh (COM'15, CFA'20) was selected for AIGA NY's annual student showcase celebrating graduate education. In their graphic design work, Parikh explores narrative storytelling and how queer forms of experimentation can help us better communicate content and ideas.
This Series
Also in
August 8, 2023

May 24, 2023

October 11, 2022