Conversation: Joel Christian Gill & Charles Suggs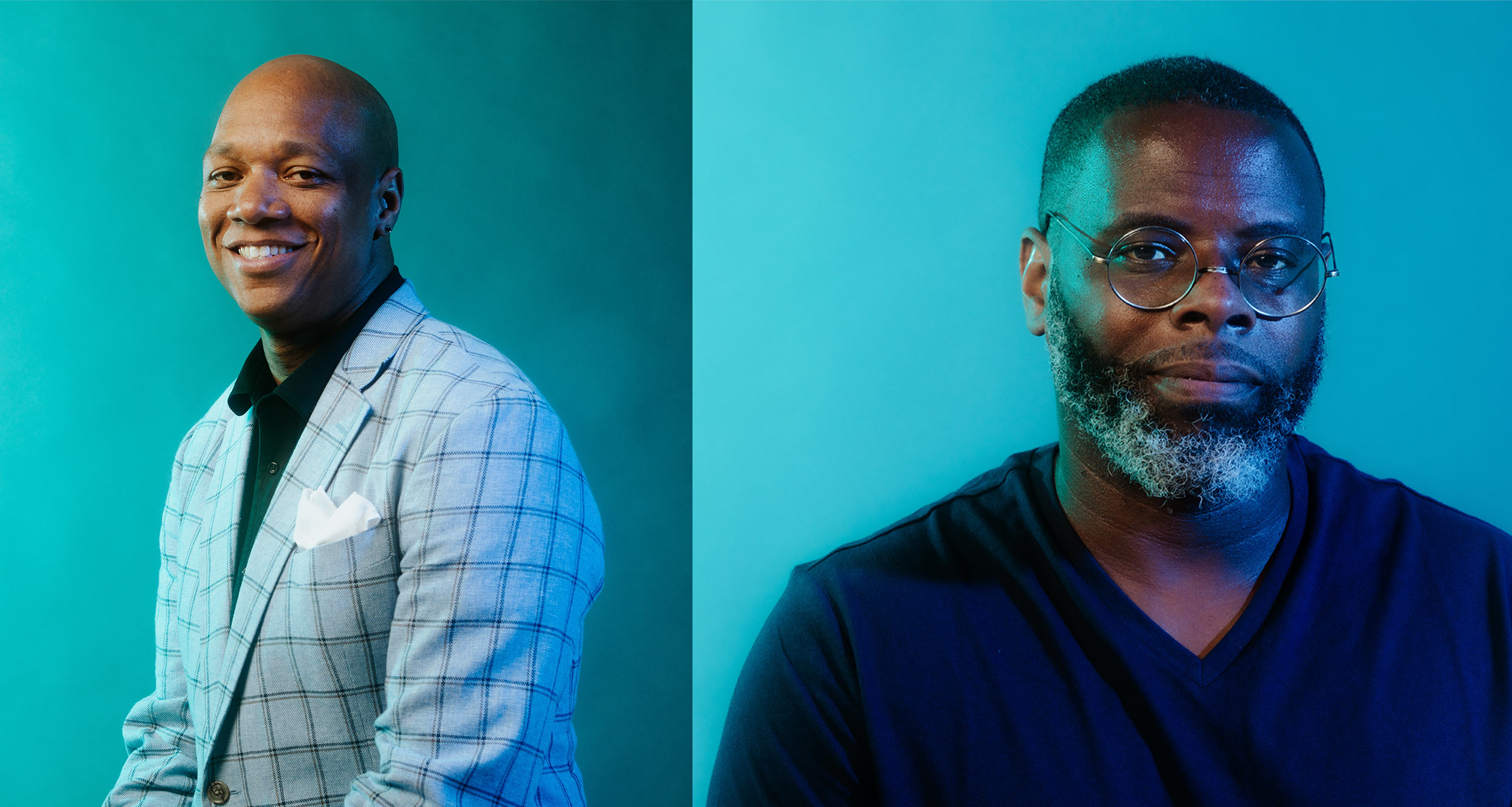 CFA Alumni
Conversation
Artists Joel Christian Gill and Charles Suggs discuss using their work to tell lesser-known stories from Black history
In the wee hours of May 13, 1862, Robert Smalls, an enslaved Black man, stole the Confederate ship the CSS Planter. It was the middle of the Civil War, and Smalls, one of the Planter's eight enslaved crew members, steered the ship away from a dock in Charleston, S.C., after its white captain, pilot, and engineer disembarked for the night. Donning the captain's hat as a disguise, Smalls picked up his family and the families of other crew members and sailed out of Confederate waters and into freedom.
Little-known stories from Black history, like that of Robert Smalls' sail to freedom, fascinate Joel Christian Gill, an associate professor of illustration at Massachusetts College of Art and Design. Gill ('04) explains that he's not exclusively interested in stories about "Black firsts—like the first person to do this or that," but rather moments in history "that would be amazing no matter what race a person is—like, stealing a Confederate warship is amazing, but stealing a Confederate warship when you're an enslaved African is doubly amazing."
Inspired by the comics he loved to read and draw growing up, Gill tells these stories in graphic novels, starting with Strange Fruit, Volume I: Uncelebrated Narratives from Black History (Fulcrum, 2014), which chronicles the lives of figures like Theophilus Thompson, a former enslaved person who became the first Black chess master, Marshall "Major" Taylor, a world champion bicycle racer, and many others. The New York Times said of the book that "at a moment when racial inequities have ignited this nation, Mr. Gill offers direction for the road ahead from the road behind."
Gill has gone on to write and illustrate Strange Fruit, Volume II: More Uncelebrated Narratives from Black History (Fulcrum, 2018) and a memoir, Fights: One Boy's Triumph Over Violence (Oni Press, 2020). He is also the author of the Tales of the Talented Tenth series, which comprises individual graphic novels about notable figures in African American history, and the children's book Fast Enough: Bessie Stringfield's First Ride (Oni Press, 2019), and has illustrated a forthcoming graphic novel adaptation of Stamped from the Beginning by Ibram X. Kendi, the Andrew W. Mellon Professor in the Humanities at BU and director and founder of BU's Center for Antiracist Research.
Like Gill, Charles Suggs is fascinated with researching lesser-known stories from Black history and exploring them in his art—a passion he only started pursuing recently. For many years, Suggs ('20) worked as an administrative assistant at Massachusetts Institute of Technology, but he finally decided to apply to BU's MFA program. "I was feeling restless. I want to do this, why am I not? I want to be a professional artist," he told the Boston Globe, which in May 2020 named him one of "5 outstanding art-school grads for 2020."
Suggs admits that "sometimes I'll end up spending so much time on research that I have to just shake myself and tell myself, 'Get to work on something now, or else you never will.'" At first, Suggs was making mostly drawings, then transitioned to working with oil paints. "But, there were so many different mediums that I liked and wanted to use, like watercolor markers. I wanted to find a way to use them all in one way, so to speak." That's when he started experimenting with video and animation. "With video, you can see all the different work that I'm doing, all the mediums I'm working with. Video is a format that can output it all."
This is evident in his video Shadrach, which tells the story of Shadrach Minkins, a Black man who fled slavery and went to Boston, only to be arrested in 1851 under the Fugitive Slave Act. Members of an abolitionist organization infiltrated the courtroom where Minkins was being tried and helped him escape to Canada via the Underground Railroad. The piece blends video footage, animated pencil drawings, digital drawings, and prints along with images from Suggs' research.
Gill and Suggs spoke this summer over Zoom about why it is important to tell little-known stories from Black history through their art and using their work to address issues of race and racism.
Joel Christian Gill: Charles, I don't know about you but I think for the first couple of weeks after George Floyd was murdered, I spent a lot of time just avoiding. I bought a grill and decided to try to do some really long cooking—like briskets cooking for about 12 to 15 hours—just to have something to focus on to not think about what was going on.
---

"For me, it was like "not again." It feels like America has had this great awakening to this thing called racism that has existed and has been happening for years and years."

---
For me, it was like, "Not again." It feels like America has had this great awakening to this thing called racism that has existed and has been happening for years and years. The only thing different is that the cell phone footage is showing us the things that have been happening behind the scenes for all those years. Honestly, I drew a comic about it that was just me sitting at my drawing tablet with a word balloon that just said "F*ck." Because that's how I felt.
But at some point, when you have a platform, whatever that platform may be, it's your responsibility to say something. So, slowly, I started to creep out and make art related to what's happening. I got on a soapbox on social media. My work is telling stories about obscure Black history. That has always been what I do. I'm just doing what I normally do. It's almost like I was already over here, and I feel like everybody else is coming now. And they're like, "Hey, this is a really new thing you're doing, why don't you explain it to us?" And I'm like, "I've been here for a long time, I'm settled. The grass has grown around me. I know exactly what's going on." So, that's kind of how I feel. What about you, Charles?
Charles Suggs: Quite similar, honestly. All of these historical things are coming into focus again. Now it's people saying "Wow," about what happened in Tulsa in 1921, and I'm like, "I've always thought about that." I think about that a lot, especially around Juneteenth time. When I saw the George Floyd footage, I was just thinking, "Man, if there wasn't such a thing as cell phone video, we wouldn't be here discussing what happened." It would have just been what the police said, end of story.
I was absorbing all of this at that time, and I wasn't doing a lot of drawing. But what started me drawing again was when [New Orleans Saints quarterback] Drew Brees said he doesn't agree with kneeling during the national anthem. He said something like, "My grandfathers fought in World War II for this country," and I started thinking about Black grandfathers who fought in World War II and what they came back to. There are historical stories about that and I started sketching some of them. One of them is a very brutal story about a Black soldier returning from World War II who happened to be wearing his army uniform. He was attacked by a mob, and they gouged his eyes out. And that's not an isolated story. I want to compare how some people came back to a hero's welcome—if you were a white soldier. But, what was that like for a Black soldier?
JCG: In the case of Drew Brees, this is the height of privilege—never having to think about this other thing and to only be self-centered on what your family has done. That's the thing people like Drew Brees need to understand—we're not talking about you right now. White men between the ages of 35 to 40 are not many times more likely to be killed by police. If you say Black and white people are the same, then the only thing you can point to that is the difference here is systemic racism. There are people who refuse to understand that, and it makes me angry.
CS: That makes me angry, too, and I spent a lot of time trying to check my anger. I was yelling at the TV on a lot of things. The fact is that these are people who are dying over something like selling cigarettes.
JCG: It's like the bar has been moved for what the death penalty is: It's "Oh, he ran"; "He was asleep in a Wendy's parking lot." Those should not be death sentences. But they are if you are Black. And that goes back to the history of what has happened to Black men.
History doesn't lie. I try to just tell the truth with my work. When I say truth, I mean what people were saying at the time, because you can't really argue with that. I try to be as honest with history that I think that you possibly can. With that honesty, you have to understand that, in this context, history is super complicated in that sometimes it's not black or white. Sometimes it is gray. Ibram Kendi, who I'm collaborating with on the Stamped from the Beginning graphic novel, says in the book that anyone is capable of holding racist ideas—Black, white, anybody. When you look throughout history, it's been as recent as Senator Tim Scott of South Carolina saying, "We are not a racist country." People of all cultures and races can hold racist ideas, and in order to dispel them as a country, we need to acknowledge we have a problem.
---

"It's striking to me that law [Executive Order 13678], which came about three years ago, is so similar to the Fugitive Slave Act from 170 years ago. They're so similar in language and execution."


---
CS: With my work, I like to compare something from history and bring it back into the present. With the Shadrach Minkins piece I did, I focused on the Fugitive Slave Act of 1850, which forced local municipalities and police forces in the North to help the federal government retrieve people who ran away from slavery and send them back into slavery. I compared that with Executive Order 13678—I actually remember that number by heart now. And that is a part of a federal act that was enacted in 2017 by the Trump administration that basically says local municipalities, police forces, must help the federal government in rounding up people who they suspect are illegal immigrants in this country. It's striking to me that that law, which came about three years ago, is so similar to the Fugitive Slave Act from 170 years ago. They're so similar in language and execution.
JCG: The more things change, the more things stay the same. Through the years, there has been significant progress, but then significant setbacks, and I think that those setbacks are a direct result of us not dealing with the fact that this is a racist country. It was built for straight, cisgender, white, land-owning men of a certain age—that's codified in our Constitution. And there hasn't been a law that has changed that. We tweaked it a little bit. We have never dealt with the underlying problem of why we have these issues in America in the first place.
CS: Do you think we're on that road of dealing with the underlying problem now? Does it feel different? I keep hearing people say, "Things feel like they're going to be different now."
JCG: Honestly, not with the politicians that we have in charge right now. They just don't believe it. To support a racist system, all you have to do is follow the rules set in place by the people who built that system. I think as long as people like Tim Scott will stand on the floor of the Senate and say we're not a racist country,
we're going to have this problem.
This Series
Also in
March 16, 2023

December 21, 2022

June 17, 2022