Visual Arts
Summer 2022 Class Notes
A group of BU alums working together on the set of worked on the set of the Bravo television series Dirty John
1950s
Esther Roberts Sokol ('52) is a pianist and teacher. She performed works by Mozart, Beethoven, and Dvorak during the 10th year of her August chamber music workshop in New Hampshire. She also has formed the Atlanta Clarinet Trio (clarinet, viola, piano) with principals from the Georgia Philharmonic.
Paul Bordeleau ('54) is the playwright and composer of Uncle Mort's Funeral, an original historical musical comedy set in 1961. The show was performed in November 2018 at The Derryfield School in Manchester, N.H. In September 2019, a condensed version was performed live at American Legion Sweeney Post 2 in Manchester, and was broadcast on BCTV-NH, the local community access television station. Bordeleau also is the author of Mysteries of Musical Education: and Beyond (Borkey, Inc., 2017).
Martin Barooshian ('58, GRS'58) is a painter and printmaker with works in major international museums. During his 70-year career, Martin writes that he has been at the epicenter of the post-war art scenes of New York and Paris, and has experienced the tumult of the Atomic Age and the Cold War and the social and political upheaval of the '60s.
1960s
Bob Lehan ('60,'63) wrote Lovesong, The Waiting Room, Lifeguards, Three Fables, and A Bagful of Fables (5 Plays), all of which are one-act plays published at pioneerdrama.com.
Mary Leipziger ('60) showed her photography in the exhibition India through a Jewish Lens at Hillel at UCLA from September 2019 through June 2020.
Brice Marden ('61, Hon.'07) exhibited his latest works in It reminds me of something, and I don't know what it is. at the Gagosian Gallery in New York, N.Y., in fall 2019.
Linda Webber ('64) displayed her work in the exhibition Now and Then in Connecticut from July through August 2019. Webber's paintings utilize impressionistic color, line, and texture in various media to modify the visible world.
Harold Andrews ('69) left his position as organist and choirmaster at St. Mary's Episcopal Church in High Point, N.C., in September 2019 after 55 years of service. He now holds the title of organist and choirmaster emeritus.
1970s
Lorraine Shemesh ('71) displayed paintings and ceramic vessels in her show The Space Between Us, which ran from September 12, 2019, through October 16, 2019, at the Gerald Peters Gallery in New York. Her body of work in this show "represents an investigation of movement, pattern, and dialogue."
Gary Shankman ('72) has retired from Sage College of Albany in Albany, N.Y., after teaching there for 32 years. Upon his retirement, he had a solo art exhibition at the college, Gary Shankman 1986-2018: A Retrospective. He plans to move back to Maryland and continue to teach for the Smithsonian Associates.
Susan Gregg ('73) was selected by the Ashland, Ohio City Schools Foundation and the Ashland High School (AHS) Distinguished Alumnus Award Committee as a member of the Distinguished Alumnus Award Class of 2019. The biennial event honors AHS graduates who have made significant achievements as adults in their careers or who have served as benefactors to others.
Ival Kovner ('73) displayed drawings and watercolors at the Southbury Public Library's Gloria Cachion Art Gallery in Southbury, Conn., in August 2019.
Kenny Morse ('73) has been a rehearsal actor and stand-in for the Golden Globe Awards, the Emmys, the Daytime Emmys, and the SAG Awards, as well as for American Idol and America's Got Talent. He can also be seen as Dr. Kenny from time to time on ABC's General Hospital and as regular contributor, Mr. Traffic, on Fox 11 News in Los Angeles.
David Garrison ('74) played Richard Nixon in the play The Great Society on Broadway in fall 2019. The play celebrates Lyndon B. Johnson's legacy.
Alfre Woodard ('74, Hon.'04) received the Icon Award from the Newport Beach Film Festival on November 3, 2019.
Clare Meeker ('75) is an accomplished children's book author who has published Growing Up Gorilla: How a Zoo Baby Brought Her Family Together (Millbrook Press, 2019).
Kathryn Picht Read ('77) is a cellist in the Avanti String Quartet, which features members of the Philadelphia Orchestra. The quartet performed at the Friends of Moorestown Library's inaugural fall fundraiser in Moorestown, N.J., on October 20, 2019.
Christopher Byrne ('78), widely known as the "Toy Guy," appeared on Live with Kelly and Ryan in December 2019 to highlight the hottest toys for the holiday season.
Gail Olszewski ('78) released an album called Northern Lights: Finnish Favorites with Centaur Records. The album contains piano solos by late 19th- to early 20th-century Finnish composers, such as Sibelius, Merikanto, and Melartin.
Marsha Goldberg ('79) is the artist-in-residence at Gallery Aferro in Newark, N.J. She had a solo exhibition, Smoke and Ruins: Palmyra, at the Inquiry Art Gallery in Boonton, N.J., from November 3, 2019, to December 15, 2019, described as "an elegy for the world cultural site of Palmyra in Syria."
1980s
Ben Aronson ('80,'82) had a solo exhibition of his work, The Essence of Light, at the St. Botolph Club in Boston in 2019. The show included a retrospective of selected paintings he created from 1987 to today. The exhibition was curated by Shaw Sprague ('73,'81).
Peter Del Vecho ('80) is the producer of Frozen II.
Jason Alexander ('81, Hon.'95) joined the cast of the indie comedy Faith Based, a Christian film industry satire in which two friends come to the realization that faith-based films are "extremely profitable and set out on a mission to make one of their own." He is also part of the voice cast for DC Universe's animated series Harley Quinn and guest-starred on seasons 1 and 2 of Young Sheldon and season 3 of The Marvelous Mrs. Maisel.
Julianne Moore ('83) will star in the upcoming film adaptation of the forthcoming book Mothertrucker (Little A Books/Amazon Publishing, 2022) by Amy Butcher. The book chronicles Butcher's friendship with the late Instagram celebrity and female ice road trucker Joy "Mothertrucker" Wiebe. She is also set to appear in the Apple TV+ limited series Lisey's Story, based on the novel of the same name by Stephen King.
Joy Friedman Hoffman (CGS'79, COM'81, CFA'84) cofounded The Joy of Art, a weekly painting, photography, and age-appropriate yoga class for children grades K–5.
Michael Chiklis ('85) stars as Frank in the Lionsgate crime thriller film 10 Minutes Gone, which premiered in select theaters and on demand September 27, 2019. He also voices Deathstroke in the CW Seed animated series Deathstroke: Knights and Dragons and will star in the Paramount Network series Coyote.
John R. Near ('85) has authored a new book: Widor on Organ Performance Practice and Technique (University of Rochester Press, 2019), a companion to his award-winning biography Widor: A Life Beyond the Toccata (University of Rochester Press, 2013).
Guiomar Turgeon (BUTI'85,'86, CFA'92,'94) played the violin in a Baroque concert, which featured period instruments, for the close of the Rochester Chamber Music Society's 25th summer season in Rochester, Vt., on August 11, 2019.
Austin Tichenor ('86) has been the artistic director of the Reduced Shakespeare Company (RSC) since 1992 and has produced and hosted the weekly RSC Podcast since 2006. He also coauthored Pop-Up Shakespeare (Candlewick, 2017), and cowrote and codirected the prequel play Hamlet's Big Adventure, which had its world premiere in Israel in November 2019.
Marisa Tomei ('86, Hon.'02) starred in the production of The Rose Tattoo at the American Airlines Theatre on Broadway in fall 2019.
Colin Berry ('87) is represented by Quidley & Company Fine Art Galleries, which has locations in Boston, Nantucket, Mass., Westport, Conn., and Naples, Fla. He also shows his work with the North Water Gallery on Martha's Vineyard, Mass.
Lucia Giannetta ('88) had a role as the wife of the character Anthony "Tony Pro" Provenzano in Martin Scorsese's The Irishman.
Carole Rabe ('88) had work featured in the exhibit Real and Imagined: Paintings, Prints and Collages at the Five Points Annex Gallery in Torrington, Conn., in September 2019.
Valerie Coleman (BUTI'89, CFA'95) returned to BUTI in 2019 as a visiting artist, where she gave master classes to flutists and composers and performed in a trio with two students in a community engagement concert at the Berkshire South Regional Community Center in Great Barrington, Mass.
1990s
Sandra Kim Moon ('90) was named Art Patron of the Year by Fashion Group International at a gala in Dallas on November 15, 2019. She was honored for her work with Sam Moon Group, her family business, which sells fast fashion and accessories and develops real estate and hotels.
Jonathan Newman (BUTI'90, CFA'94) composed "Tender Hearts," a piece written for a wind ensemble to accompany a silent film of the same name. Two symphonic bands from West Aurora High School in Aurora, Ill., performed the piece on December 12, 2019.
Kim Raver ('91) reprised her role as Dr. Teddy Altman for season 16 of Grey's Anatomy.
Erik Blome ('92) created a bronze sculpture of John B. Stetson, the namesake of Stetson University in DeLand, Fla., who also invented the cowboy hat.
Karla Hartley ('92) is the producing artistic director of Stageworks Theatre in Tampa, Fla. She directed the summer 2019 production of Fun Home at the American Stage Theatre Company in St. Petersburg, Fla.
Nancy Hudgins ('93) is a French horn player who was a featured solo performer in the Holiday Concert presented by the North Shore Chorale in Beverly, Mass., on December 15, 2019. She has also performed with the Boston Ballet and the Boston Lyric Opera.
Joyce Kim Lee ('93) is a costume designer for Disney Channel's part scripted, part improv sitcom Just Roll with It.
Michaela Watkins ('94) plays Delia in the CBS comedy The Unicorn. She also appears in the film Brittany Runs a Marathon, which was released in August 2019.
Eva Kaminsky ('95) is a member of the ensemble of Broadway's Harry Potter and the Cursed Child, Parts One and Two.
Michael Kaye ('95,'99) starred in SpeakEasy Stage's production of Admissions by Joshua Harmon, which ran in fall 2019 in Boston.
Kathy McCafferty ('96) played Blanche DuBois in the Palm Beach Dramaworks production of A Streetcar Named Desire, in fall 2019.
Richard Doubleday ('97), a former assistant professor at CFA and current associate professor of graphic design at Louisiana State University, received a Fulbright Senior Scholar Fellowship at Tsinghua University in Beijing. His research involves examining contemporary Chinese graphic design that has flourished since Deng Xiaoping's 1978 Open Door Policy and China's modern economic transformation in the aftermath of the Great Proletarian Cultural Revolution.
Christopher Mir ('97) exhibited his paintings at Saint Anselm College in Manchester, N.H., in an exhibition titled Dream State, which ran from September 16, 2019, through November 6, 2019.
Susan Wagner ('97), a Tony-winning producer, and her business partner John Johnson have launched Wagner Johnson Productions, through which they will continue to produce and manage theatrical productions.
Angela Fraleigh ('98), chair of the Moravian College art department, was commissioned by the Bethlehem Area Public Library in Bethlehem, Pa., to paint a portrait of late, Bethlehem-born, poet H.D. (née Hilda Doolittle). The portrait hangs permanently in the main library.
Tanya Saracho ('98) was recently named one of "9 Latinas Who Are Changing Hollywood" by hiplatina.com. She has been the showrunner of the Starz series Vida since 2018. She also helped launch a campaign called the #OneVidaAtATime Challenge, which supports asylum-seeking families.
E. Loren Meeker ('99) has been named the general and artistic director of Opera San Antonio.
Vadis Turner ('99,'00) showed her series of sculptures entitled Megaliths, inspired by the Neolithic era, at the Ent Center for the Arts at the University of Colorado Colorado Springs from September 5, 2019, through December 8, 2019.
2000s
Yevgeny Kutik (BUTI'00, CFA'07) made his debut at the El Paso Symphony Orchestra with his performance of Tchaikovsky's violin concerto on October 18, 2019.
Chris Thorn ('00) played multiple roles, including Montfleury and Count De Guiche, in the Two River Theater production of Cyrano by Jason O'Connell, an adaptation of Cyrano de Bergerac. The show ran from September 21, 2019, through October 13, 2019, in Two River, N.J.
Moritz von Stuelpnagel ('00) directed the off-Broadway play Seared by Theresa Rebeck. The comedy tells the story of a visionary, hot-headed chef navigating the food world. The show ran from October 28, 2019, through December 1, 2019, at the Robert W. Wilson MCC Theatre Space in New York City.
Emily Borababy (BUTI'01, CFA'06) was appointed the new chief advancement officer of the Celebrity Series of Boston, a nonprofit organization that promotes the performing arts through special programming.
Naomi Forman ('01) has joined the board of the Manitoba Arts Council. Forman has been a voice instructor at Brandon University in Brandon, Manitoba, Canada, for the past 15 years. In November 2019, she sang with the Manitoba Opera and the Winnipeg Symphony Orchestra at the Centennial Concert Hall in Winnipeg.
Ginnifer Goodwin ('01) will lend her voice to the Disney animated film Zootopia 2, which has an anticipated release date of November 24, 2021. Additionally, the CBS All Access series, Why Women Kill, in which she stars, has been renewed for a second season. She also starred in an episode of the Netflix series Dolly Parton's Heartstrings.
John Bartnicki (BUTI'02, CFA'07), coproducer of the 2019 Lion King film, is also a coproducer on The Mandalorian, a Star Wars series on Disney+. The series premiered in November 2019.
Samuel N. Dorf ('02, CAS'02) was named an associate professor of musicology at the University of Dayton in Ohio. He published Performing Antiquity: Ancient Greek Music and Dance from Paris to Delphi, 1890–1930 (Oxford University Press, 2018).
Chris O'Hara ('04) is a member of the Philadelphia-based Illumine Trio, a classical music group.
Greg Hildreth ('05) played the salesman in the Broadway production of The Rose Tattoo at the American Airlines Theatre, which ran from October 15, 2019, through December 8, 2019.
Clay Hopper ('05) directed the two-man show Charles Dickens' A Christmas Carol, a Play with Music.
Teresa Wakim ('05) was nominated for a Best Opera Recording Grammy in 2019 for her performance of the Baroque works Les Plaisirs de Versailles and Les Arts Florissants by Marc-Antoine Charpentier.
Yiannis Hadjiloizou ('07) made his Carnegie Hall debut as the artistic and music director of the Athens Philharmonic. He also runs the Cyprus Philharmonic Orchestra and is a guest conductor of the Cyprus Symphony Orchestra.
Lea Madda (BUTI'07, CFA'12) appeared in the cast of Knot Free Production's musical In Trousers, which ran from October 11, 2019, through November 3, 2019, at the Lounge Theatre in Los Angeles, Calif.
Clare Longendyke ('09) is a pianist. She performed at the Saco River Theatre in Buxton, Maine, on September 15, 2019.
2010s
Lidiya Yankovskaya ('10) is the music director of the Chicago Opera Theater, now in its 47th season.
Lucy Chen ('11,'15) was named the head of music programs for the Count Basie Center for the Arts in Red Bank, N.J., and is director of the organization's Monmouth Conservatory of Music.
William Lake, Jr. ('11) was named an assistant professor of band at the Crane School of Music at SUNY Potsdam in Potsdam, N.Y. Previously, he was the director of the wind ensemble, symphony orchestra, wind chamber ensemble, and athletic band at Southeastern University in Florida.
Haeshin Shin ('11,'18) was appointed to the full-time piano faculty at Wisconsin Conservatory in September 2019.
Edmund Donovan ('12) appeared in the Lincoln Center Theater production of Samuel D. Hunter's play Greater Clements. The show opened on December 9, 2019, and closed January 19, 2020. Edmund was previously nominated for a 2019 Drama Desk Award for Outstanding Actor in a Play for his performance in Lewiston/Clarkston.
Adrienne Stein ('13) had a solo exhibition of her paintings, Elementals, at Gallery 1261 in Denver, Colo., inspired by the Renaissance concept of elements embodied by mythic beings. The paintings depict figures that evoke the elements of earth, fire, water, and air. The show ran from January 11, 2020, through February 1, 2020.
Hye Min Choi ('14,'16) performed on viola with the Colby Symphony Orchestra in Maine on November 23, 2019. She was invited to join Colby College professor Eric Thomas in playing his composition "Threnody for Ann Arceneaux Double Concerto for Clarinet and Viola."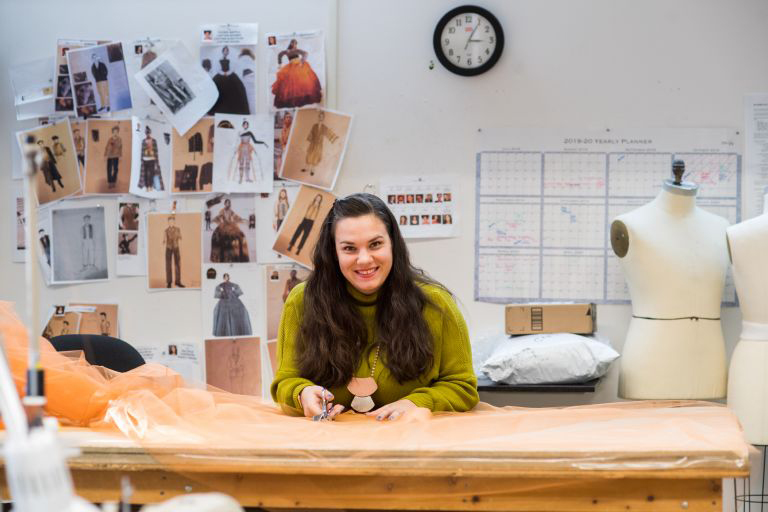 Mia Cross ('14) showed her paintings in an exhibit titled The Painted Place at the Trustman Art Gallery at Simmons University, Boston, in fall 2019.
Becca Jewett ('15) designed the costumes for New Repertory Theatre's production of Trayf, which opened October 12, 2019, and ran through November 3, 2019, in Watertown, Mass.
Benjamin Arnold ('16) was appointed assistant vice president for academic affairs of Lincoln University in Jefferson City, Mo.
Bryn Boice ('16) was appointed associate artistic director of the Commonwealth Shakespeare Company in Boston, in September 2019.
Jordan Matthew Brown ('16) joined the national tour of The Book of Mormon as a standby for the role of Elder Cunningham after graduating from BU. He was playing the role on his second national tour of the show until COVID-19 postponements.
Yui Kitamura ('16,'17) played a solo piano recital at the Brookline Public Library in Brookline, Mass., on December 29, 2019, featuring selected works of Boulanger, Prokofiev, Liszt, Ravel, and Kapustin.
John Austin ('17) played the role of Derril Lark in the world premiere of the drama Right to be Forgotten, which ran from October 11, 2019, through November 10, 2019, at the Arena Stage in Washington, D.C.
Nicholas Chen ('17) opened Tavern of Tales, an immersive board game café in Boston. The café features board games with elaborate sound effects. He came up with the idea while working on his sound design thesis.
Kelly Galvin ('17) directed Native Gardens—her directorial debut—at the Gloucester Stage Company in Gloucester, Mass., as part of its 40th Anniversary Season. The show ran from September 27, 2019, through October 20, 2019.
Nicholas Mancini ('17) was the 2018/19 artist-in-residence at the Umbrella Arts Center in Concord, Mass. He had a solo exhibition of work he made during the residency from August 1, 2019, to September 15, 2019.
Gigi Mitchell-Velasco ('17) opened the Music at St. Anthony's 2019-2020 Concert and Recital Series at St. Anthony of Padua Church in New Bedford, Mass., with a performance on a historic 107-year-old Casavant pipe organ on September 29, 2019.
Jenny Pinkerton ('17) has created a series of art books for children, lil smARTies, published by Penguin Workshop. The books are products of Jenny's thesis research from BU, which looked at engagement strategies used by museum educators to engage with children in story time.
Joshua Rohde ('17) was named the musical director of the Rhode Island Civic Chorale and Orchestra. He also teaches music at the Worcester Polytechnic Institute in Worcester, Mass., and directs four different choirs.
Matthew Scinto ('17) is the founder and conductor of the Cape Cod Chamber Orchestra. The orchestra had four performances as part of its 2019–2020 season, all directed by Matthew.
Amalia Zeitlin ('17) is the executive director of and a violinist in Camerata del Sol, a professional string orchestra serving Las Cruces, N.M., El Paso, Tex., and Juarez, Mexico.
Jasmine Brooks ('18) was chosen as one of five first-year producers in residence by the National New Play Network for 2019–2020. She is completing her residency at Company One in Boston.
Tommy Walsh ('18) starred in the play Grounded in Varna by Jody O'Neil at the Wellfleet Harbor Actors Theater in Wellfleet, Mass., in November 2019.
Zhi Yin ('18) began a full-time position at the Central Conservatory of Music in Beijing.
Dev Blair ('19) released their album Femmetasy in December 2019, a combination of spoken word, singing, and rapping, drawing influence from artists like SZA, Noname, and Lizzo. Blair's goal is to increase visibility for fellow black, queer, and nonbinary artists.
Kristen R. Bromley ('19) released her album Simply Miraculous in June 2019. The album celebrates her return to playing professional guitar following a severe break to her left arm.
Alex Hatcher ('19) was named one of Milwaukee Repertory Theater's 2019/2020 Emerging Professional Residents. The program provides young professionals with the opportunity to make connections with directors and actors across the country.
Sara Shin ('19) returned to BU to direct Amputees, one of the three shows produced as part of the 23rd annual CFA Fringe Festival. Amputees was written by Quentin Nguyen-Duy ('20) as part of BU's New Play Initiative.
Jen Tao Yu ('19) played works by the British composer David Ibbett in the performance Multiverse: Hidden Worlds at the Charles Hayden Planetarium at the Museum of Science, Boston on December 13, 2019. The concert focused on the connection between music and science.
Zachary Zamsky ('19) played Laertes in the Gloucester Stage Company production of William Shakespeare's Hamlet in Gloucester, Mass., in fall 2019.
This Series
Also in
August 8, 2023

May 24, 2023

October 11, 2022