BU Art Galleries Presents Field Visions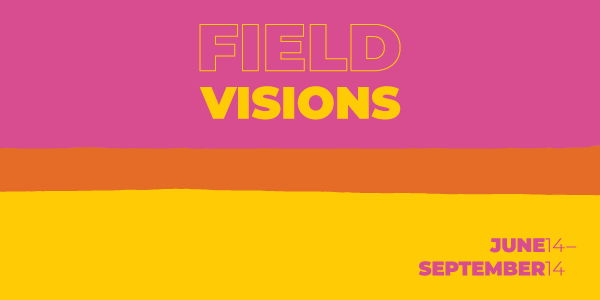 June 20, 2022 | Boston, MA – Boston University Art Galleries (BUAG) presents the exhibition Field Visions, on view from June 14 through September 14, 2022, at Boston University's Faye G., Jo, and James Stone Gallery.
Field Visions, curated by artist Matt Murphy, explores the possibilities of landscape – specifically, how abstraction, metaphor, and materiality are leveraged to open up these possibilities, and in doing so, render nature into an abstraction that becomes landscape. While each artist propels their unique poetic visions through an established genre, they also push material and the fiction outward, tree-like, proving that the field of landscape painting is not only pliable but expansive, and imagination is constantly unfolding and inventing new spaces.
"Each artist in the show beings their own unique perspective on the idea of landscape in the contemporary world," says Lissa Cramer, managing director of Boston University Art Galleries.
For any painter, the assumption of the field must eventually be addressed. While the picture plane isn't always front and center in the pretense of the painting, it is always front and center. It is an area where transformation is wrought. For some painters, this space is narrative; for others, referential – but for all artists, this field is what hedges in their creative energies and allows them the freedom to give it shape.
The field of landscape is rich with metaphoric possibilities. It is a space for cultivation, for battle, for death and rebirth. It implies transformation, as the artist reconstructs material into something greater than its original state. Consider the bronze shield of Achilles – the blacksmith portrays life in wartime contrasted with life in peace. It is a field within a field, a story within a story. Not only are battles won and lost in these fields, but plowmen furrow their rows and reap their harvests, lovers pluck and feed each other grapes, and dogs protect their herd from the lions that stalk them. These featured artists are working in their own fields – spaces serving as canvas for the human drama and narrative conflict, as well as a reminder that we are simultaneously above the field and within it.
In these landscapes, conflict plays out with nature. In one work, harvests are gathered against the rigorous and indifferent seasonal change; in another, the regularity of the tides marks the force of seasonal change itself. For other artists, the conflict lies within. Whether rummaging through memory or struggling to make the emotive sensate, these artists search for something inherently non-visual, layering mark over mark and color over color in an attempt to find it. For others still, conflict lies in the unseen. The fear of the unseen brings more fear – who is lurking just over the horizon? What are their intentions? Is there a future in this landscape? Will nature be benevolent? Will we be benevolent?
ARTISTS ON VIEW
Riley Brewster • Jennifer Caine (CFA'05) • Matt Hufford (CFA'19) • Masako Kamiya • Wilhelm Neusser • Anthony Palocci Jr. • Stephanie Pierce • Samnang Riebe • Sarah Stewart • Michael Zachary
GALLERY HOURS
Tuesday-Saturday, 11am-5pm | Closed on Sunday, Monday, and Holidays
All exhibitions and gallery events are free and open to the public.
---
Boston University Art Galleries
The Boston University Art Galleries is located at 855 Commonwealth Avenue inside the College of Fine Arts. The gallery is located on the Boston University campus (BU West T stop on the "B" Green Line.) Gallery hours are Tuesday-Saturday from 11am–5pm, (Closed Sundays, Mondays and Holidays.) For more information, visit bu.edu/art.
Boston University
Founded in 1839, Boston University is an internationally recognized institution of higher education and research. With more than 34,000 students, it is the fourth-largest independent university in the United States. BU consists of 17 schools and colleges, along with a number of multi-disciplinary centers and institutes integral to the University's research and teaching mission. In 2012, BU joined the Association of American Universities (AAU), a consortium of 62 leading research universities in the United States and Canada. Learn more at bu.edu.
Boston University College of Fine Arts
Established in 1954, Boston University College of Fine Arts (CFA) is a community of artist-scholars and scholar-artists who are passionate about the fine and performing arts, committed to diversity and inclusion, and determined to improve the lives of others through art. With programs in Music, Theatre, and Visual Arts, CFA prepares students for a meaningful creative life by developing their intellectual capacity to create art, shift perspective, think broadly, and master relevant skills. CFA offers a wide array of undergraduate, graduate, and doctoral programs, as well as a range of online degrees and certificates. Learn more at bu.edu/cfa.