The Virginia Sapiro Academic Enhancement Fund (AEF) enables CAS faculty members to build unique learning opportunities into their undergraduate CAS course syllabi, using historic and contemporary Boston as an extended classroom and taking advantage of the city and University as magnets for leading academics, artists, and experts. The events or activities should be complementary or enriching; other sources of funding should be sought to support activities that are integral to the course design or that provide a required component of the curriculum. Awards are typically between $300 and $500.
Common uses of funds include, but are not limited to:
Cultural experiences
Visiting exhibitions
Guest speakers (honoraria not to exceed $250/person)
Live performances (e.g., plays)
Field trips (e.g., museums, research facilities)
Experiential course materials (i.e. new tools to be used for a one-semester trial)
Funds may not be requested/used for:
Local transportation expenses for locations that are accessible by the T or bus lines
Standard course materials (materials needed every semester)
Recurring events (e.g., events occurring or required every semester)
Featured Events Funded by the AEF
Ken Alba brought students from his course EN 130, "Science/Fiction," to the Brattle Theater in Cambridge for a viewing of Metropolis, Fritz Lang's 1927 sci-fi classic. Students enjoyed the full movie theater experience while considering relevant themes of dystopian societies, technology, and humanity in a film that greatly influenced the development of the science fiction genre.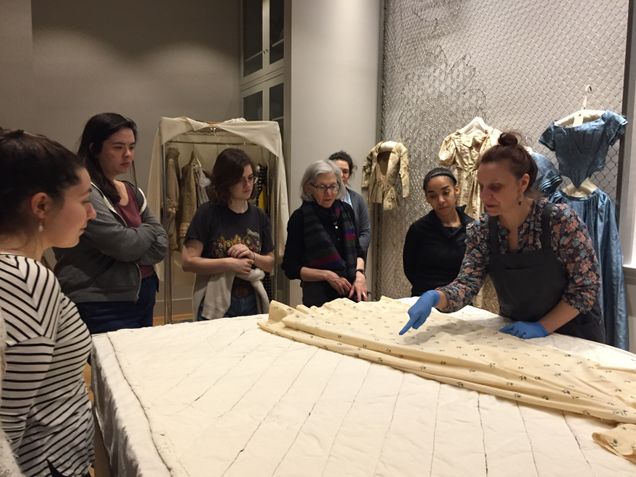 Arianne Chernock and her students from HI 451, "Fashion as History," took a trip to the Rhode Island School of Design to view its high-quality textile collection. They visited with curators who hand-picked items for their consideration, providing them with a firsthand look at historical fashion and with ideas for their academic research.
Anne Short's "Environmental Justice" class (GE 524) took a field trip to Chelsea, MA, to visit GreenRoots, an environmental justice group working to ensure sustainability, depollution, and access to open spaces in the community. The class held discussions with GreenRoots representatives and took a walking tour of the area. One student remarked that it was "an amazing opportunity that illustrated how the concepts we discuss in class function in real life."
Svitlana Malykhina invited Dr. Danielle Jones, a writer and literary translator, to give a talk to her class on "Topics in 20th Century Russian Literature" (LR 456), which had the theme of Short Stories for the Spring 2018 semester. Dr. Jones spoke on the importance of language translation in social and cultural contexts as well as the nature of translation itself. The talk was opened to all World Languages & Literatures students as well as the interested public.
Christopher McVey and Sarah Madsen Hardy, both teaching WR 100 courses on "Creative Nonfiction," brought their students to a Moth Grand Slam, a competition where local storytellers share 5-minute true stories with a live audience. This event helped students prepare for the Story Slam hosted by the Writing Program later in the semester, in which they were given the opportunity to present their own Moth-style stories to a BU audience.
For her course "Arts of Africa & Its Diaspora" (AA 215), Cynthia Becker invited Harvard Anthropology Fellow Dr. Abidemi Babtunde Babalola, a Nigerian researcher who worked on the excavation of medieval city Ile-Ife in Nigeria, to talk to her students about the art of the city during the medieval period. He provided students with his personal insights on the site and on the complementary nature of archaeology and art history.
The fund is administered by CAS Associate Dean for Strategic Initiatives Lucy Russell and Rachel Daigle, Administrative Coordinator in the CAS Dean's Office. Each request is evaluated on a rolling basis.  Please be sure to allot ample time between your funding request submission and the date on which you will need the funding.  Funding requests submitted too close to the date of an event, speaker, etc., are not guaranteed to be reviewed.
If your request is approved, the College will require the submission of a written description of:
How the funds were used
The benefits derived by use of the funds, as well as photos, when applicable.
Submission is required for reimbursement within two weeks of the event.
This application process is for undergraduate CAS courses only.
Applications can be submitted here for Fall 2018.
The AEF does not provide funding for summer classes.
Questions should be directed to Rachel Daigle at rdaigle3@bu.edu.